Ashton triple bill, Royal Ballet review – fond farewell to Zenaida Yanowsky |

reviews, news & interviews
Ashton triple bill, Royal Ballet review – fond farewell to Zenaida Yanowsky
Ashton triple bill, Royal Ballet review – fond farewell to Zenaida Yanowsky
The prima ballerina bows out in 'Marguerite and Armand' as Akane Takada makes a lovely debut in 'The Dream'
A farewell to Armand: Zenaida Yanowsky and Roberto Bolle as the titular characters in Frederick Ashton's 'Marguerite and Armand'.
Nicely covering the many bases of Frederick Ashton's genius, the Royal Ballet triple bill which opened last night is a chance to see both the company and its founder choreographer on top form.
The Dream
shows Ashton at his narrative best, handling comedy and kisses with equal aplomb.
Symphonic Variations
displays his slightly less well-known talent for abstract
ballet
, and is one of the most enjoyable 20 minutes in the entire repertoire. And
Marguerite and Armand
commemorates his abiding fascination with Margot Fonteyn, who inspired him more than any other dancer except perhaps Pavlova.
The Dream is one of the loveliest one-acters there is, and the Royal do it beautifully. Last night, Akane Takada made a very pretty debut as Titania. With her tiny frame, Takada is a convincing fairy, but she is also a convincing interpreter of Ashton: her amorous encounters with both Bottom (Bennet Gartside, sweet as always) and her husband Oberon (pictured right) sparkled with that inimitable Ashton sexiness, all orgasmic flutters and shivers. McRae is splendidly fey as Oberon, and has all the sprezzatura that taller dancers struggle to find in the part's show-off turning variations. All four of the human lovers handled their comedy antics with aplomb; spiky Itziar Mendizabal is particularly funny as Helena, confused by Demetrius's sudden change of heart. Valentino Zucchetti's Puck looked surprisingly stilted at times - surprisingly because the last time I saw him in this role, he seemed to be made of rubber, and his bouncy levity was a joy to behold. The corps de ballet, the four leading fairies, the orchestra under Emmanuel Plasson and the London Oratory Junior Choir were all perfectly in tune with the spirit of the piece: the warm tones and airy fantasies of Mendelssohn matched to the charming, rustling flights of petit allegro Ashton gave to the corps as fairies.
Symphonic Variations (1946) (pictured below left) tends to send writers off on exuberant rhetorical flights as they try to explain what's so marvellous about it. I can't even apologise for joining in; it's just too delicious. The neoclassical graces of Balanchine's Apollo are combined with Ashton's own famed lightness of touch and step: six dancers trip and glide airily across the stage, not in the fussy, fairy fashion of Dream, but with a joyful serenity that suggests angels, minor deities, or perhaps the souls of the blessed. The black armbands worn by two of the male dancers nod at the still-fresh wounds of wartime bereavement, but one feels here that Ashton, who had been reading St Teresa of Avila, wanted to see the dead in happy communion with eternity: this is not an anthem for doomed youth but a vision of paradise regained. In their trim white costumes, against a backdrop green like sun-bleached grass, the dancers could be so many gilded debs, magically restored to a pre-war idyll of eternal summer, lawn tennis and house parties. And yet, the shadows of suffering are there in the seriousness, the poise and the patience displayed in the steps. The main couple wait for what seems like an age, quite still, on opposite sides of the stage, while the other four whirl distractingly between them: when they finally come together it is with the deep joy of longed-for reunion.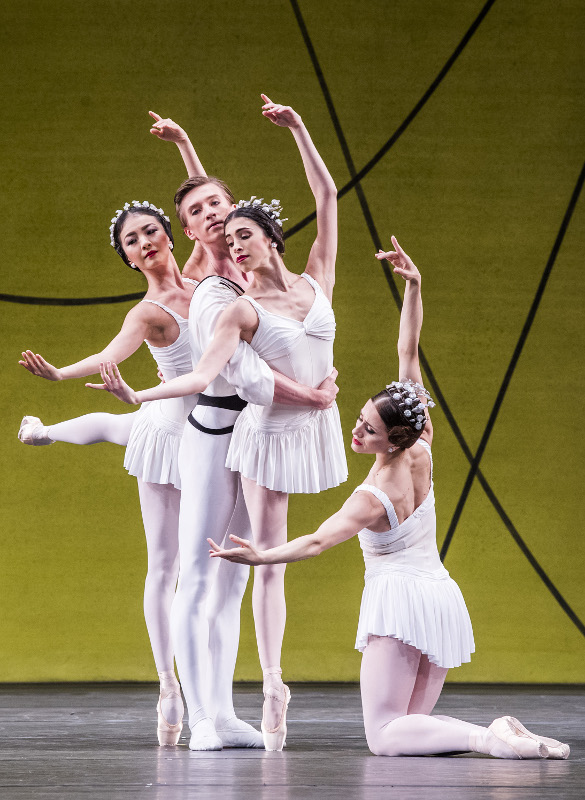 It was in this piece three years ago that I first saw Marianela Nuñez partnered by Vadim Muntagirov, and observed the germ of the glowing partnership theirs has now become. Last night's performance drove home how beautifully Muntagirov is developing. The sweetness of character, the golden elegance of body he has always had are still there, but now suffused with a magnetic dignity and command. The boy is becoming a man. For several minutes at the beginning, Muntagirov stands stock still with his back to the audience while the three women dance in front of him; my eye was drawn to him more than the ladies, so centred and assured is his presence. He has danced Apollo before, but not, I think, recently: splendid as a young god, it's surely time to give him the role again. Franck's Variations Symphoniques were handled slightly too heavily for my taste in the first half by Paul Stobart on the piano, but the last three sections were as heartfelt as one could wish, building to an exuberant climax that would – surely – wring a smile from a corpse.
Marguerite and Armand is like one of those temperamental plants that thrive only in very specific conditions, the ones that gardeners seem doomed to find always either wilting from too much sun, rotting from too much water, or succumbing wanly to aphids. An impressionistic retelling of the Dame aux Camélias plot (cf La Traviata), its filmic montage of set-pieces stands or falls by the chemistry between the main characters, which must be so violent, so compelling, that we have no attention spare to notice the creakings of melodrama or the quite challenging lifts in the pas de deux. Famously a vehicle for Fonteyn and Nureyev, some think it should have died with them. Tamara Rojo's extraordinary farewell performance with Sergei Polunin in 2013 prevents me from sharing that opinion, but the Ashton Foundation's recent willingness to license practically any casting is a huge mistake.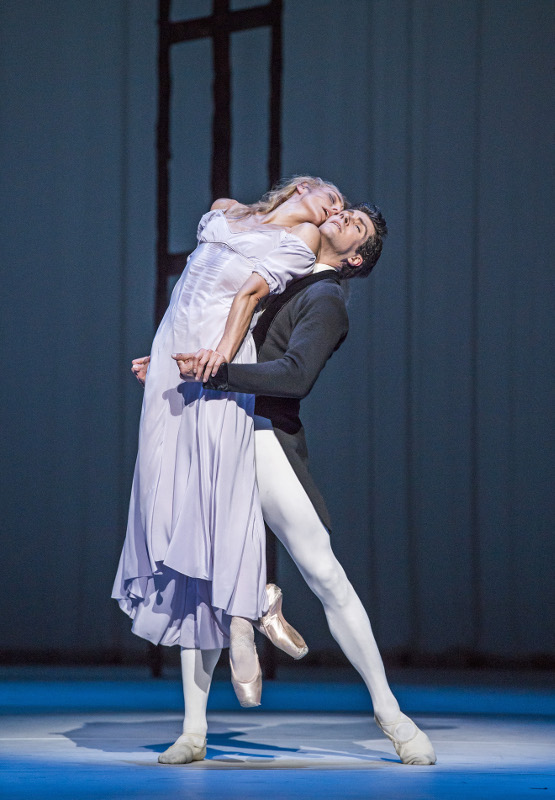 I sympathise with the impulse which prompted Kevin O'Hare to give retiring dramatic ballerina Zenaida Yanowsky another crack at Marguerite for her last run at the Opera House, and to her credit, she throws herself at it body and soul. But she's just too tall, even for imported Italian stallion Roberto Bolle: in the famous final pas de deux (pictured right), where the lady of the camellias is supposed to look like she's floating up to heaven, Bolle must bend backwards at a nasty angle to get Yanowsky's feet high enough off the ground. Plus, handsome and committed he may be, but at 42, Bolle is actually older than Yanowsky and, with all the goodwill in the world, doesn't look much like a lovesick youth.
Bringing in an external star also militates against the chance that the pairing will be lent oomph by the spark of a pre-existing partnership, which of course was precisely what made the Fonteyn/Nureyev piece work. When Armand rushes into the party, locks eyes with Marguerite, and WHAM! both experience a coup de foudre, I see Nureyev, who famously used to hurtle across the studio to embrace Fonteyn when they rehearsed together. In the fragile ecstasies of Marguerite I see the middle-aged Fonteyn, whose fading career was given quite unexpected new life by the young Russian emigré. Ashton was quite capable of creating steps to create certain emotions, but here he created them to express emotions that already existed.
It's not the dancers' fault here: they both did their best (unlike Diana Vishneva a couple of years ago, who flagrantly sulked when she had to perform it with a partner she clearly thought inappropriate). But it shouldn't have been cast this way. In this run two more company dancers will perform with imported stars: Natalia Osipova with the Mariinsky's Vladimir Shklyarov (and not former Royal Ballet dancer, fine Armand, and her current boyfriend Sergei Polunin as originally intended), and Federico Bonelli with retired La Scala principal Alessandra Ferri; it will be interested to see whether they do better.
As to supporting characters, music etc - well, the Liszt piano sonata in B Minor in Robert Clark's hands hammered us over the head with drama, Christopher Saunders plays Armand's father stiffly, the admirers in the party scene pootle about. Like I said: it stands or falls on the principals' chemistry, and last night was a fall. I'm glad for Yanowsky that she was so splendid in Liam Scarlett's Symphonic Dances last month; for my taste, that was a more fitting valediction for this intelligent, powerful principal. She will be missed.
The Royal Ballet perform The Dream/Symphonic Variations/Marguerite and Armand at the Royal Opera House until 10 June. The triple bill will be broadcast live to cinemas around the world on Wednesday 7 June.
Akada sparkles with Ashtonian sexiness, all orgasmic flutters and quivers
rating
Share this article