Ashton Mixed Bill, Royal Ballet |

reviews, news & interviews
Ashton Mixed Bill, Royal Ballet
Ashton Mixed Bill, Royal Ballet
Symphonic Variations is the highlight among fine works by supreme British choreographer
Happily brilliant ensemble: Yasmine Naghdi, Vadim Muntagirov, Marianela Nuñez and Yuhui Choe in Symphonic Variations.
This morning, those who follow ballet on both sides of the Atlantic might be feeling a bit like the male soloists at the beginning of Ashton's Scènes de Ballet: turning their heads sharply, almost pantomimically, from side to side. Over there, in New York, Wendy Whelan, the prima ballerina retiring after a 30-year career with City Ballet, made her farewell in a programme heavy on modern masters Wheeldon and Ratmansky, including a world première.
Over here, in London, the Royal Ballet performed a quadruple bill of works by Frederick Ashton, its revered and adored founder choreographer, the newest of which are from 1976, when Whelan and Ratmansky were in primary school and Wheeldon in short trousers.
Scènes de Ballet (1948) is not always lovable, but it is impressive. It's a thrill to see those geometric figures executed flawlessly by the corps, a slightly more edge-of-the-seat thrill to see if the five male dancers can nail all the beats and fiendish changes of direction. Last night the usually pristine Steven McRae was not quite on top form, fluffing the odd landing, while the ebullient Fernando Montaño's tremendous elastic jetés kept pulling him off the music. Sarah Lamb was crisp, faceted and correct, as always, but I was feeling the love more for Stravinsky's magnificent score than for anything I saw on stage.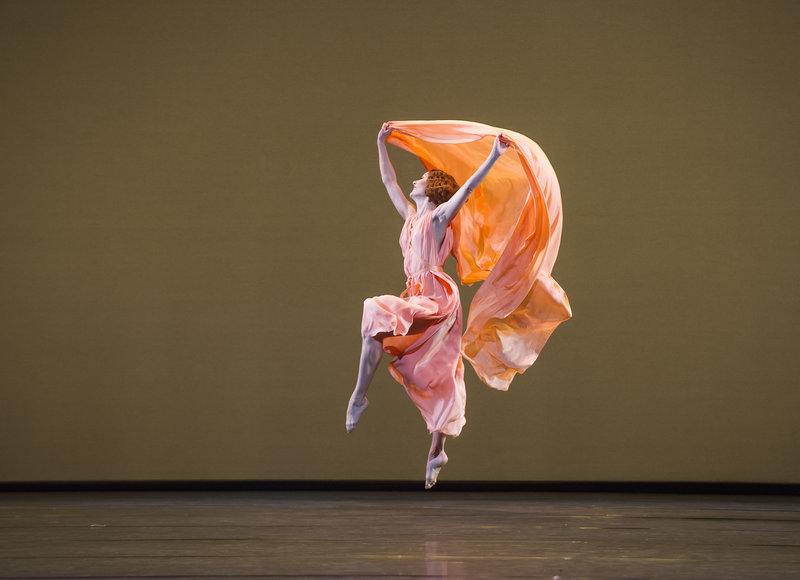 It's hard for a ballet dancer to channel natural dance pioneer Isadora Duncan, because Duncan was the anti-ballerina, railing against ballet's "affected grace and toe-walking". Lynn Seymour, the original dancer of the Five Brahms Waltzes in the Manner of Isadora Duncan (1976), may have pointed her feet more than Duncan would, but Ashton chose her because shared Duncan's essential expressiveness (the critic Arnold Haskell called Seymour "a woman who can convey woman's emotions"). Helen Crawford puts a commendable effort into the waltzes, but she still looks like she's performing a piece, rather than giving unvarnished expression to a natural urge to dance. She's better in the fourth waltz (pictured above right), when a huge silk scarf forces her to run and twirl with more abandon: in her fluttering speed there, and in the scattering rose petals of the fifth waltz, I caught a tiny glimpse of the fascination Duncan herself must have had for her audiences.
Casting changes often cause weeping and gnashing of teeth, but some days they produce miracles. Witness the replacement of Matthew Golding by Vadim Muntagirov in Symphonic Variations (1946) last night: Muntagirov was simply perfection as the male lead, filling the stage with lordly, gracious confidence, partnering Marianela Nuñez with easy assurance, and nailing every position, every landing as if nothing could be more natural to him. It's a particular joy to see Muntagirov finally acquire a regal bearing to match his wonderful physical talents, but he was really only the first among equals in a happily brilliant ensemble completed by Yuhui Choe, Tristan Dyer, James Hay, and Yasmine Naghdi, alongside Nuñez.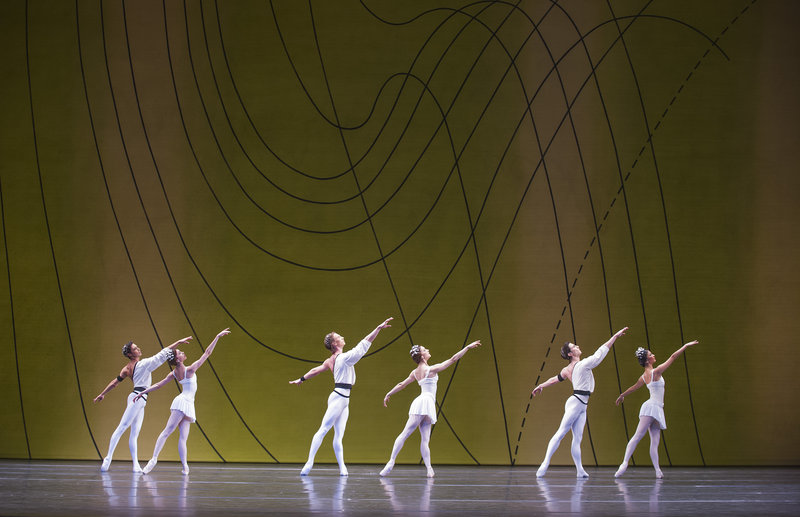 The six of them amply justified critic James Monahan's belief that Symphonic Variations is "one of the most enduringly beautiful ballets in the British or any other repertory" - indeed, after last night's performance, I couldn't agree more. Elegant, looping black lines dance on Sophie Fedorovitch's lemon yellow backcloth (pictured left), and on her one-shouldered black and white costumes for the men – surely some of the loveliest in abstract ballet. The same beautiful curving lines appear in the dancers' limbs – the women's arms come up to half-frame, half-embrace their partners' heads, or their hands reach to the heavens before spiralling gently down, passing across the heart. César Franck's score, too, with Paul Stobart on solo piano, is just right, poignant and serene. The whole effect is of deep tenderness, expressed through breezy cleanness: it's the post-war design aesthetic of the 1951 Festival of Britain, Lucienne Day wallpaper for the soul.
Though it was made 30 years after Symphonic Variations, A Month in the Country (1976), based on an 1855 Turgenev play, looks a century older, its drawing room set full of ornate furniture and painted panels, while drapes and curtains aplenty suggest the suffocations, but also the changeability, of Natalia Petrovna's emotional life, bored by her husband, only half-amused by her gallant admirer Rakitin (Gary Avis), but suddenly desperate to enjoy the charms/arms of her son's tutor Beliaev (Rupert Pennefather) – and to deny the same to her ward Vera, played by Emma Maguire with sparkling verve.
With some casts this is a straighforward tragedy of coup de foudre and ensuing renunciation, but Yanowsky and Pennefather make it more ambivalent. Yanowsky is no little birdlike ballerina, and she uses her strong jawline and broad shoulders to bring out the contrariness in Natalia, the suppressed anger, as well as the suppressed passion. Pennefather, newly back from injury, was a little wobbly on his feet: couple that with Beliaev's propensity to flirt with every bit of skirt on stage, and Natalia's desire for him looks more like obsession than love. Everything happening here, is, we feel, the product of emotions both stifled and keyed-up by the summer heat. It's a valid interpretation, to be sure, but left me less tearful than usual at the climactic ribbon-kissing.
Not one of Scènes de Ballet, Five Brahms Waltzes in the Manner of Isadora Duncan, Symphonic Variations or A Month in the Country is even in NYCB's repertory, though their neighbours at American Ballet Theatre gave their first performances of the last in 2013, and Ashton's Cinderella earlier this year. Even if American balletomanes start to revise their lukewarm opinion of Ashton upwards as a result, New York is unlikely to see anything like last night's Royal Opera House extravaganza any time soon. Their loss, I'd say. Their loss.
The Royal Ballet are performing this programme at the Royal Opera House until 12 November
Symphonic Variations is Lucienne Day wallpaper for the soul
rating
Share this article