Reissue CDs Weekly: Pop Makossa |

reviews, news & interviews
Reissue CDs Weekly: Pop Makossa
Reissue CDs Weekly: Pop Makossa
Celebration of Cameroon's 'Invasive Dance Beat' is a blast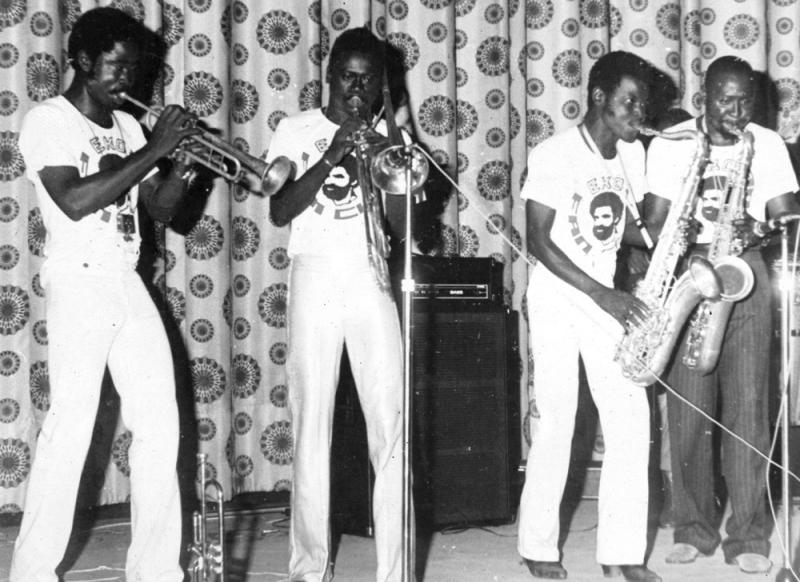 'Pop Makossa' stars Eko on stage in 1978 at Douala's Cinéma Le Wouri
In Summer 1973, Manu Dibango's "Soul Makossa" peaked at 35 on the American charts. Originally the A-side of a France-only single issued in 1972, the song had been discovered by New York DJ David Mancusso. After Mancusso repeatedly played it, "Soul Makossa" was licensed by Atlantic, charted and became integral to what was bracketed as disco music.
The Cameroon-born Dibango had been making records under his own name since 1961 and "Soul Makossa" was his breakout track. So much so, he recorded a reconfigured version to advertise Toyota cars. "Happiness on the African road" was guaranteed.
As a style, makossa predated Dibango's single. Born in Cameroon, it fused musical genres from the region and further afield. The liner notes of Pop Makossa explain "If makossa could be expressed as a single mathematical formula it would be: Bolobo + Essewé + Assiko + Congolese Rumba + Merengue + High-Life = Makossa." Strictly speaking, the overtly James Brown-esque "Soul Makossa" wasn't makossa but it did draw the Anglophone world's attention to the word and Cameroon's popular music.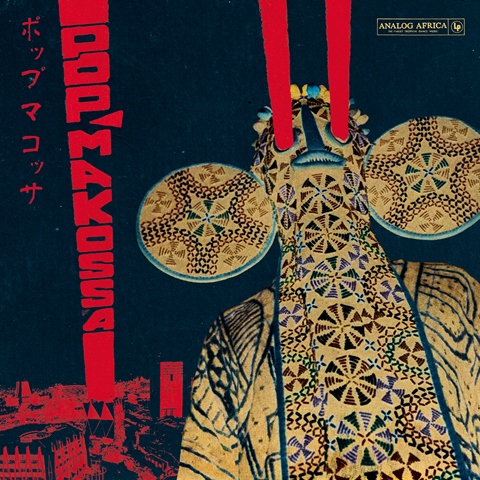 Four decades on, Pop Makossa - The Invasive Dance Beat of Cameroon 1976–1984 is a twelve track World Music compilation kicking off with Dream Stars previously unreleased "Pop Makossa Invasion". Although musically structured and titled as a nod to Dibango's hit, and of unknown date, it can't be interpreted as disco. Seemingly recorded at the bottom of a well, it's sparse, heavy on reverb and defined by clipped funk guitar, a bass line which hypnotically runs up and down the scales a note at a time and minimal, repetitive drumming. The vocals are mainly chanted repetitions of the title. A deconstruction of "Soul Makossa", it sounds like a precursor of New York art-funk outfit Liquid Liquid. It's great.
The other cuts collected on Pop Makossa are fuller sounding, feature regular instrumental interplay and have a production gloss. Highlights include Eko's driving, brass-punctuated high-life-influenced "M'ongele M'am" (1980), Olinga Gaston's (pictured below left in 1978) sinuous, funk-bedded "Ngon Engap" (1977), Bernard Ntone's rolling "Mussoliki" (1977) and Pasteur Lappé's "Sanaga Calypso" (1981) with its bubbling syn-drums, call-response vocals and stabbing keyboards.
Overall – "Pop Makossa Invasion" excepted – Pop Makossa is compiled as a sample of upfront dance-floor oriented cuts which aren't going to cause any brow furrowing. It is about the beat. Though most of the names are unfamiliar, it is not a journey through challenging territory or a rewriting of musical orthodoxy. As such, it's a terrific listen.
Beyond the music, the fun of Pop Makossa is that it opens doors. Without digging really hard, it is impossible to know whether, say, "Ngon Engap" represents Olinga Gaston's oeuvre as a whole. Of him, the liner notes titillatingly say "no one who did more to modernise Bikutsi music in the 1970s than Olinga Gaston, a singer and guitarist known for his enchanting voice and his unique, balafon-inspired guitar style. Unfortunately we know very little about his life, and most of what we do know is related directly to his professional relationship with Manu Dibango, Cameroon's best-known musician."
The well-illustrated booklet's in-depth liner notes include a lengthy scene-setting essay and artist-by-artist biographies drawing from interviews. The story of radio DJ-newspaper editor-journalist turned songwriter and now seemingly vanished Pasteur Lappé is extraordinary. Curiously, Dream Stars and their "Pop Makossa Invasion" are mentioned nowhere. Nonetheless, for seasoned listeners of west-central African music and the less committed alike, the all-killer, no-filler Pop Makossa is a blast.
Next week: The previously unheard music of songwriter-hairdresser Lynn Castle

'Pop Makossa' isn't going to cause any brow furrowing
Share this article