DVD/Blu-ray: Rita, Sue and Bob Too |

reviews, news & interviews
DVD/Blu-ray: Rita, Sue and Bob Too
DVD/Blu-ray: Rita, Sue and Bob Too
Social commentary and sex comedy, darker than ever despite a shiny new print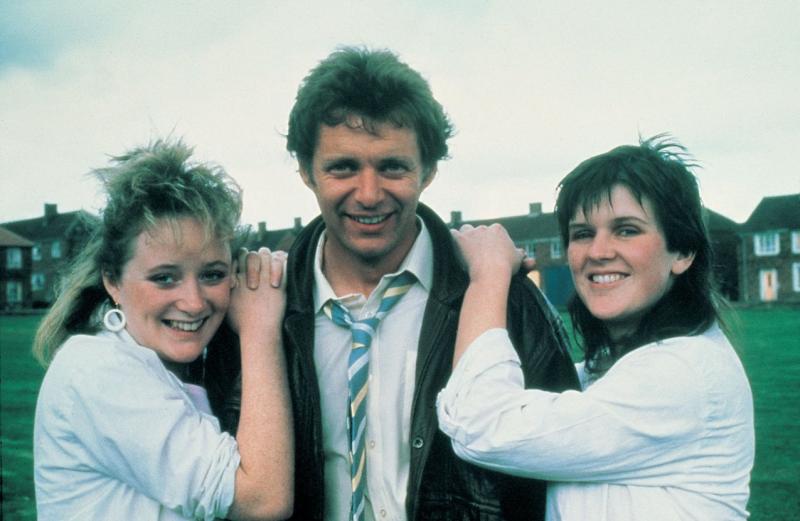 Three's a crowd: Siobhan Finneran, George Costigan and Michelle Holmes
Memory plays funny tricks; Alan Clarke's Rita, Sue and Bob Too is fondly remembered as a cheeky 80s sex comedy. It's not. There's a fair bit of sex, and the laughs do come thick and fast, but the film leaves the bitterest of aftertastes.
And, viewed 30 years after its cinematic release, what's alarming is how little has changed since the late
1980s
(the original tagline was "Thatcher's Britain with her knickers down"). Andrea Dunbar's
screenplay
, based on two plays she'd written as a teenager living on Bradford's Buttershaw Estate, is a rambling, discursive affair, centring on the priapic Bob's affair with two working-class teenage girls who babysit for him and his wife.
George Costigan's Bob makes his move while driving the girls back home over a lonely West Yorkshire moor. He's a nasty piece of work, but Costigan tempts us to see him as a lovable rogue. He's the weakest link in the threesome, needing the girls more than they need him, Dunbar's script stressing that the bond between Siobhan Finneran and Michelle Holmes' Rita and Sue is stronger. The pair's vacant loquacity is winning. You can understand exactly why they're an appealing alternative to Bob's neglected wife Michelle, brilliantly portrayed by Lesley Sharp.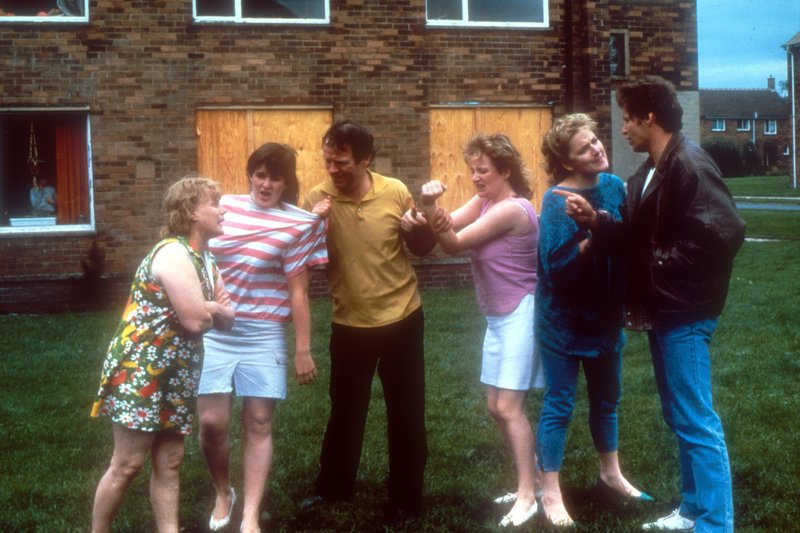 Such dour, bleak material is filmed with incredible polish by Clarke; the long Steadicam sequence at the start, following Rita's drunken father stumbling home from the pub, is riveting, as are the extended shots of the girls walking and talking. A brief school scene recalls Loach's Kes. Clarke is keen to show us the contrasts; Bob and Michelle's pristine, sterile Baildon semi-detached set against the chaos and squalor of Buttershaw. Which, for all its bleakness, is a place where people do actually talk to one another and interact, even if the words they share are mostly obscenities. There's a lot of swearing in this film, much of it hysterically funny. Black Lace's singing of "We're Having a Gang Bang" in the pub scene is excruciating, but rings true. It is as much documentary as drama. Though the final freeze frame, Clarke's camera fixed on Bob's naked buttocks as he leaps onto the girls' bed, falls flat.
The restored print on this BFI re-release looks and sounds improbably good, but it's the extras which make it a mandatory purchase: Jon Robertson's 70-minute documentary Having a Ball: The Making of Rita, Sue and Bob Too is an outstanding bonus. Who'd have thought that the great Michael Kamen provided the soundtrack? Costigan, Sharp, Finneran and Holmes are winning interviewees, and we're left with the sense that Clarke presided over a very happy production, the wrap celebrated with a huge party in the Beacon pub. There's a superb anecdote about a cameraman stranded atop a cherry picker. Max Stafford-Clark's booklet essay about Dunbar's unhappy life and career is a moving read: it's good to know that Bradford's Central Library has a small room named after her, "a quiet space for writers who can't get any peace at home".
There's a lot of swearing in this film, much of it hysterically funny
rating
Share this article