Rita, Sue and Bob Too, Royal Court review - iconic 1980s title makes a welcome return |

reviews, news & interviews
Rita, Sue and Bob Too, Royal Court review - iconic 1980s title makes a welcome return
Rita, Sue and Bob Too, Royal Court review - iconic 1980s title makes a welcome return
Andrea Dunbar's Thatcher-era classic is invigorated afresh
Saturday, 13 January 2018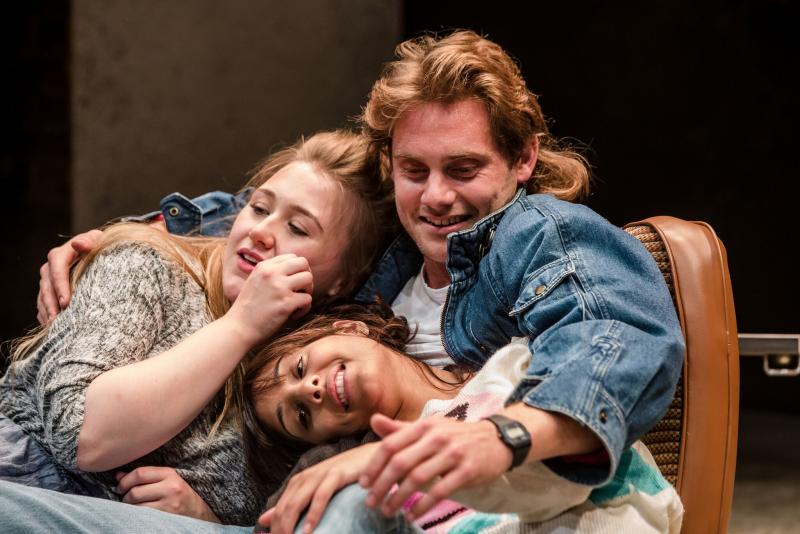 Three's a crowd: James Atherton (Bob) engulfs Gemma Dobson (Sue) and Taj Atwal (Rita), too
The revival that almost didn't make it into town has got the Royal Court's 2018 mainstage offerings off to a rousing start.
For a while, it looked as if this fresh appraisal of a benchmark 1982 Court title would close on the road, a casualty of the "metoo" campaign and charges of inappropriate behaviour that were brought against its original director, Max Stafford-Clark (himself a former Court artistic director). All praise then to current Court supremo, Vicky Featherstone, for reversing her initial cancellation and allowing
Kate Wasserberg's
terrific production to get the London run it deserves: the late
Andrea Dunbar
, the play's commendably fearless and funny author, deserves nothing less.
Dunbar died in 1990 age 29 of a brain haemorrhage, so one can only guess what she might have made of the current furore. In fact, it's difficult to imagine her being anything less than delighted with Wasserberg and a uniformly ace cast's purchase on the Bradford-set play's self-described "report from the front line" of Thatcher-era Britain, yes, but also of those ever-blurry parameters of human behaviour that transcend specifics of time and place. (Film buffs may recall the 1987 screen version, with a cast including Lesley Sharp and Happy Valley's Siobhan Finneran.)
The first of the play's many short, often stinging scenes is a marvel of construction. With an economy that you don't learn in writing class, Dunbar introduces the complicated tripartite web of desire, playfulness and desperation that exists between the 27-year-old and married Bob (TV name James Atherton in an altogether smashing stage turn) and the two 15-year-old teenagers to whom he is giving a lift home from a babysitting gig. After initial banter involving such unknown (to the young Rita and Sue, anyway) words as Durex, Bob drops his trousers first for Sue (Gemma Dobson) and then Rita (Taj Atwal). "His legs weren't half hairy," is Rita's succinct after-the-fact appraisal of the event, her admission that it hurt a bit along the way swept up in both women's self-evident excitement and expectation that these vehicular liaisons with Bob will happen again. As indeed they do, Bob's cockiness opening unto a poignant and contagious bewilderment. (Pictured above: James Atherton with Samantha Robinson)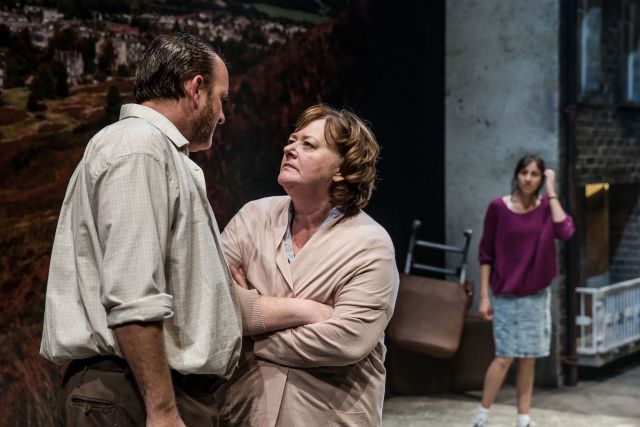 Rita, the more questioning of the two, pauses to wonder what Bob's wife, Michelle, might make of her husband's antics, which is to engage qualms that don't bother the feistier Sue. (Both actresses delineate with hairpin precision what unites Rita and Sue, as well as what will come to divide them.) Across nine further scenes, Dunbar chronicles the shifting affections and alliances in which Samantha Robinson's incisively acted Michelle turns out to be fully alert to her husband's philandering ways, even if she can't always square his own reported self-reckoning with what she intuits to be true. (Bob, we learn, is a very emphatic liar.) At the same time, the older generation is given brilliant voice by Sue's caring if surpassingly tart-tongued mum (Sally Bankes has a field day with this gift of a part) and an oafish, beer-swilling dad (David Walker) who has driven both his wife and daughter to a place of undisguised disgust. (Pictured above: David Walker and Sally Bankes)
References along the way to Maggie T locate the action (so, too, does a soundscape given over to the music of, among others, Soft Cell), without once allowing preachiness to get the better of characters who acknowledge the less hopeful aspects of their environs while sharing as many laughs as the vagaries of an ever-evolving scenario will allow. Wasserberg keeps proceedings moving fluently across 80 uninterrupted minutes, the cast repositioning the furniture while the backdrop of Tim Shortall's set keeps the West Yorkshire horizons in bleakly twinkly view throughout. At times, one feels Dunbar eliding a character choice or too, or compressing a narrative so buoyantly conceived that this is that rare play that genuinely feels as if it could be longer. One comes away newly saddened at Dunbar's too-short life yet grateful to have a chance to experience a timeless talent.