Okja, Netflix review - joyous assault on the meat industry |

reviews, news & interviews
Okja, Netflix review - joyous assault on the meat industry
Okja, Netflix review - joyous assault on the meat industry
Tilda Swinton is the villain in a glorious South Korean fable about a big pig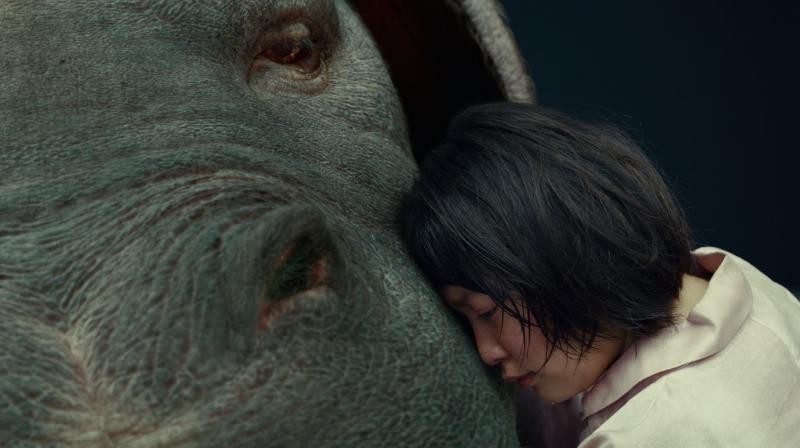 This big pig ran all the way home: Okja with An Seo Hyn as Mija
Is meat murder? Will people eat anything if it's cheap? Is the taste of bacon really what stops us half the western world turning vegetarian? Okja is a commercial stretch, a partly subtitled children's fable from South Korea which unstintingly confronts all of these deep moral questions. But it does so in the most – if you will – palatable manner.
After the briefest release in the cinema, it makes the short on-trend transition to a streaming service, and it's on
Netflix
that it should be consumed by anyone and everyone with a strong enough stomach to enjoy an enchanting adventure with a deadly serious message. Be warned that for all its deceptive cuteness, it has violence, rape, strong language and a 15 certificate.
The titular star is a new breed of super-pig, a genetically modified gentle giant who looks more like a hippopotamus minus the jumbo incisors. We first meet her in the tree-blanketed Korean mountains where she enjoys an idyllic existence as a household pet cared for by her loving young companion Mija. As they frolic by pools and in the woods, their intense mutual bond is tested when Mija slides down a slippery scree and dangles over a cliff until she's rescued by the clever, resourceful Okja.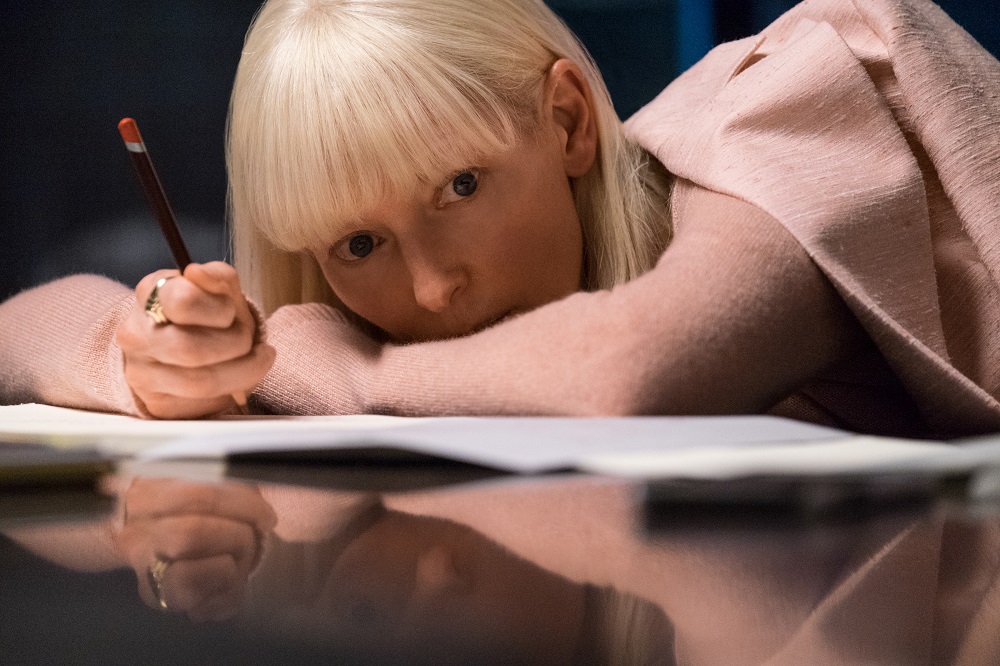 They face much greater tests when Okja wins a competition for world's best super-pig and, much to Mija's horror, is carted off to Seoul, bound eventually for New York. Mija discovers that her pig is one of many, bred in countries all over the world by the Mirando Corporation, a Monsanto-like super-company (run by a pastel-pink Tilda Swinton, pictured above) bent on developing a new high-producing yield of GM meat. So she abandons her naïve father and heads off to the big city determined to rescue her fat friend from what she intuits is an unkind fate.
The theme of an innocent but implacable child taking on the forces of evil is a staple of cartoon culture. One of the many lovely pleasures of Okja is that only the star is computer-generated while An Seo Hyn gives a glorious performance as a young miss who will stop at nothing. She runs, she jumps, she falls and limps, but always with the same don't-mess-with-me look on her face.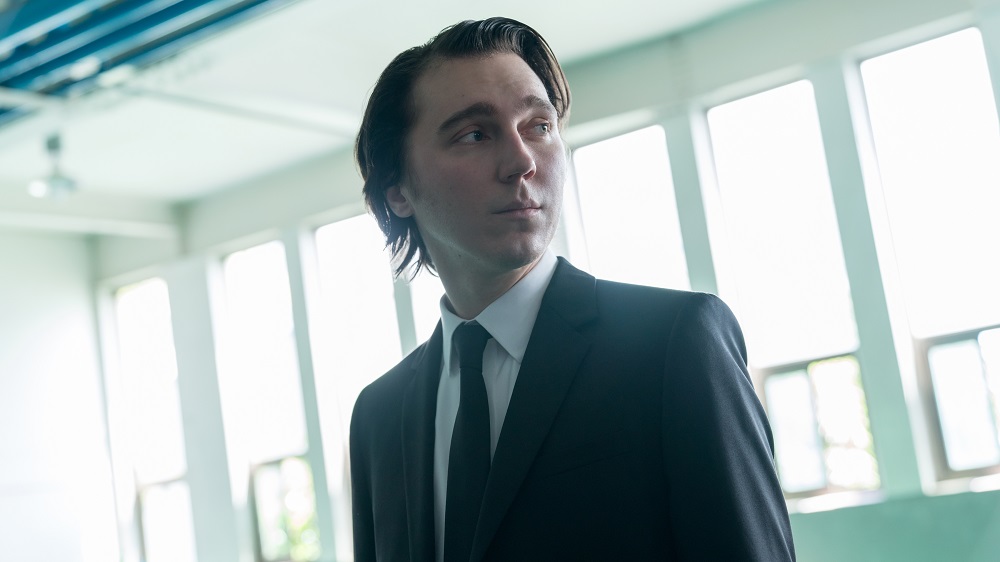 Director Bong Joon-ho has much fun overseeing a thrilling set of action sequences in which Okja gets to knock stuff over. Amazingly no humans are harmed by her bulk: only the security forces sent to capture her are violent, while a balaclava'd cohort of the Animal Liberation Front (led by Paul Dano, pictured above) are mostly punctilious about their non-violent code of conduct. It's also assiduously funny, not only in knockabout subversive dialogue but in subtle details: Shirley Henderson plays a lickspittle office bunny who copies her boss Lucy Mirando's way of sitting knock-kneed. Jake Gyllenhaal, who slightly overeggs his turn as a self-regarding star TV presenter ("Fucking film me! You can't fake these emotions!"), has to keep rotating his iPad to read some on-screen instructions. Likewise Dano always has to flip his bilingual speech cards to communicate with Mija.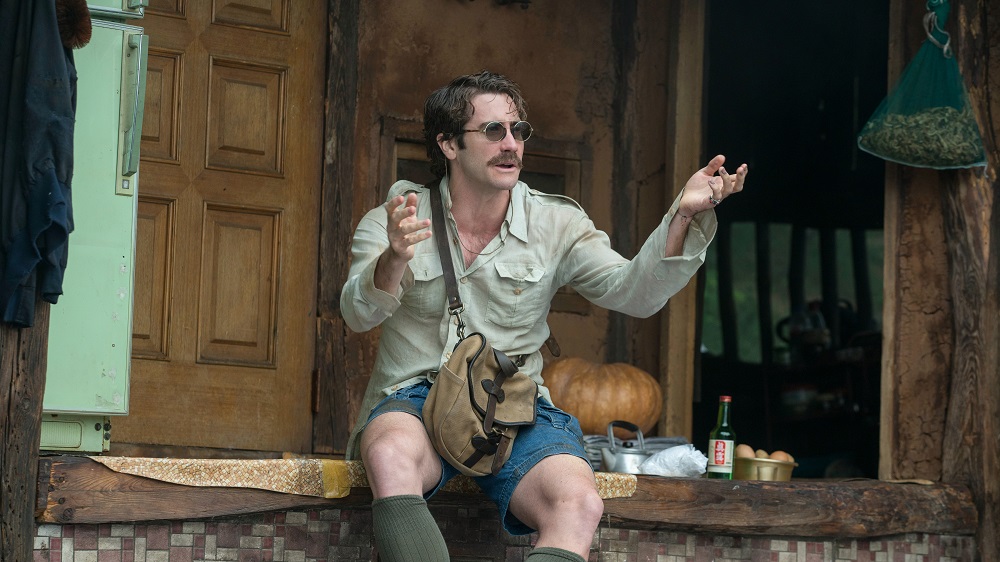 There's plenty of fun to be had in Okja's penchant for targeted pooing. After one man's been covered in it, he phones home: "Baby, it's me. What kind of body wash do we have?" But younger audiences need to brace themselves for a finale set in an abattoir in which the realities of the meat industry are horrifyingly confronted. And at the end there's an intensely moving moment when two parent super-pigs force their tiny calf out under the electrified fence rather than let it join the queue for the meat slab. Real-life parallels suggest themselves all too clearly.
Bong Joon-ho shares the scriptwriting credit with none other than British journalist and author Jon Ronson, whose signature obsession with psychopathy surfaces most overtly in Lucy Mondano, her scary identical sibling and their dead father. In short, Okja is a wrong-footing mash-up that delivers a sharp jolt to the meat-eater's conscience. Tuck in.
Okja is on Netflix from 28 June