Lady Day at Emerson's Bar and Grill, Wyndham's Theatre review – searing stuff |

reviews, news & interviews
Lady Day at Emerson's Bar and Grill, Wyndham's Theatre review – searing stuff
Lady Day at Emerson's Bar and Grill, Wyndham's Theatre review – searing stuff
Audra McDonald's long-awaited West End debut deserves to take the town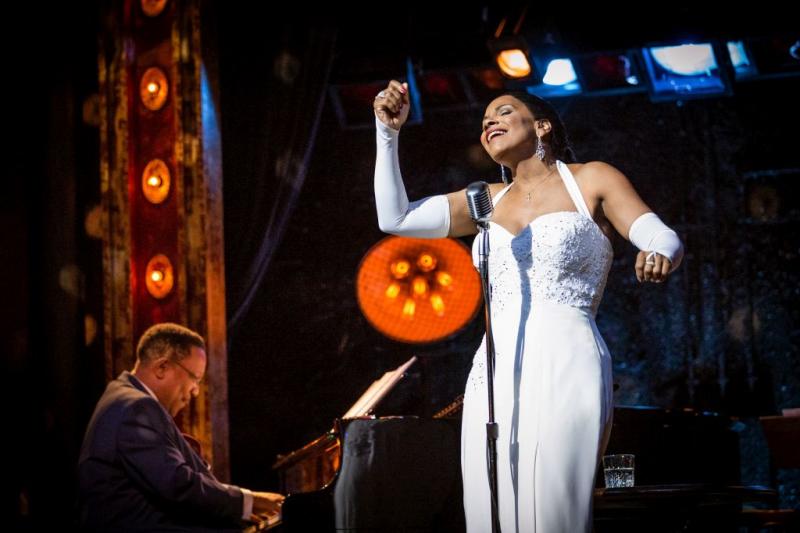 Total immersion: Audra McDonald as Billie Holiday with Shelton Becton on piano
Broadway so frequently fetes its visiting Brits that it's nice when the honour is repaid.
That said, it's difficult to imagine audiences anywhere remaining unmoved by Audra McDonald's occupancy
– "performance" seems too mundane a word – of the wrecked glory that was Billie Holiday toward the last months of her life in the Lanie Robertson musical play, Lady Day at Emerson's Bar and Grill. A monologue fleshed out with three (excellent) musicians, one of whom doubles as a sounding board of sorts, Lady Day was originally intended to run in London this time last year when pregnancy unexpectedly intervened and McDonald's second daughter was born.
But no wait is too long for acting of this calibre, which transcends ready-made definitions of impersonation to suggest a spiritual alignment whereby McDonald's vibrant presence fuses with Holiday's baleful essence to communicate the cracked majesty of an artist in decline. That Holiday, at 44, was younger when she died in 1959 than McDonald is now lends the actress's feral commitment to the role an added potency, asserting the timelessness of talent across a grievous divide. (McDonald won a record sixth Tony Award for Lady Day, and you can only wonder how many more lie in wait.)
McDonald captures the mercurial nature of Lady Day
No one would pretend that Robertson's writing is as startling as the star performance it exists to showcase. On many an occasion, one can feel the expository machinery cranking into place: "Do you all know Artie Shaw?" this Holiday asks us, as if we should perhaps be taking notes in response. But for a play first premiered in 1986, Lady Day has shown a real durability across numerous locales and performers (Dawn Hope has taken on the part in various British stagings, from Derby to London), and one can see why.
Cajoling one minute and envenomed the next, self-reproachful yet also enraged at the social and sexual iniquities of the world into which she was born Eleanora Fagan in 1915, Holiday and her back catalogue represent absolute catnip to kindred spirits, though I can't imagine anyone matching McDonald when it comes to both flat-out bravura and abiding empathy.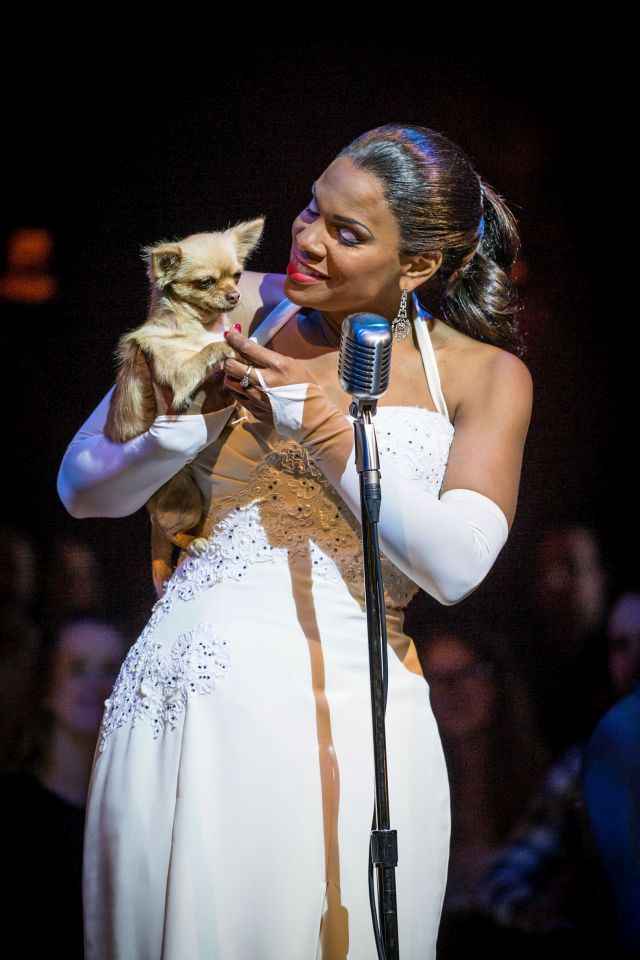 Tottering into view cocooned in white, looking both expectant and slightly addled, McDonald's Holiday commands attention as she announces her return to the "rat's ass" of Philadelphia, the self-described "new Billie now". What follows are 15 musical numbers interwoven with the sorrowful chronicle of a too-brief existence that found her raped at age 10 only for her subsequent musical prowess to coexist with time spent in prison, battling addictions, and fielding a racism that struck to her very core. "I knew a nice white person once," she remarks, Holiday's gifts at odds with a society that allowed her to play Carnegie Hall while restricting her choice of bathroom. "Bein' arrested in this country," Holiday notes with her signature downturned deadpan, "that's a coloured folks' tradition" – a sentence that could hardly linger more heavily in the air given the American landscape today.
McDonald captures the mercurial nature of Lady Day, the moniker proffered by her friend and music partner Lester Young, alongside the shifts between confidence and despair, steeliness and that sidelong slide into the abyss that is there in every quavering note of such venerated numbers as "God Bless the Child" and "Strange Fruit". The irony of the casting on this occasion is that a ravishing, tonally lush soprano (McDonald's Broadway credits include a supreme Bess in a Broadway account of the Gershwins' opera) has been pressed into the service of someone whose own voice was a more reedy, wispier, even eerier instrument: beautiful, to be sure, but also dangerous to a degree that would never apply to McDonald in her own full-throated glory, which here is kept in deliberate check.
Instead, one is always aware in the American actor-turned-director Lonny Price's approach to the piece of McDonald as Holiday acting through song, as if somehow vocalising the ongoing requiem implicit in a query like Holiday's wrenching sucker punch near the end: "Ya ever hear a dead person sing?" There are moments of levity, not least when our heroine reappears after a brief absence, carrying a pooch that at the performance this reviewer caught couldn't refrain from a salivary ardour not seen since the many swoon-worthy dogs in The Curious Incident of the Dog in the Night-Time packed up West End shop and moved on. But as this Holiday staggers about Christopher Oram's apt embrace of a set, occasionally clutching at one or another playgoer for support, one clocks the surrender to misery that swallowed her whole, leaving the life force that is McDonald to ensure that Holiday's art sees another day.
McDonald's vibrant presence fuses with Holiday's baleful essence to communicate the cracked majesty of an artist in decline
rating
Share this article