Kozhukhin, LSO, Rattle, Barbican |

reviews, news & interviews
Kozhukhin, LSO, Rattle, Barbican
Kozhukhin, LSO, Rattle, Barbican
A self-love scene, a rehearsal-level concerto and weird Haydn don't quite add up
Rattle conducting the LSO: a touch of the Karajans?
Gorgeous sound, shame about the movement – or lack of it. That seems to be the problem with too many of Simon Rattle's interpretations of late romantic music.
It gave us a sclerotic
Wagner
Tristan und Isolde
Prelude last night, Karajanesque and not in a good way, loping along in gilded self-love before putting on a sudden spurt towards the climactic ecstasy. Fortunately the rest of the concert wasn't Strauss or Mahler, but not everything turned out well in a less than feral
Bartók
Second Piano Concerto – not for the most part the fault of fascinating soloist Denis Kozhukhin – and a fitfully revelatory "imaginary orchestral journey" through Haydn's quirkiest hits and rarities.
It's often been said that Rattle is a micro-manager, drawing extraordinary sounds out of his Berlin and London players but fussing too much with the line to ever give a sense of the whole. The effects-master was well matched to his curious selection of Haydn at his most innovatory. There was too much minor storm or sobriety for the first chunk of this "Haydn experience", and the Largo of Symphony No 64 seemed more stop-start than startling. But then the real cornucopia unfolded with the plethora of solos in the Minuet and Trio of the Sixth ("Le Matin") Symphony, the brio and fun of finales long and short – and the famous "Farewell".
It was odd that this was the one orchestral movement Rattle chose to tell us about in his short spoken introduction, and sure enough it's a wonderful story about getting your revenge on your patron for having made the court players stay on without their families for too long, simply by getting them to leave one by one. But wouldn't many members of the audience have benefitted from a wonderful surprise? Anyway, it worked, with the main lights dimmed and those on the music stands switched off one by one. Clever, too, to follow it with a discreet Ives-style melange of musical chimes at midnight (Haydn wrote no less than 60 original melodies for "flute clocks" around the Esterhazy palace – as a reader clarifies below, the finale of the "Lark" Quartet was arranged as one of them).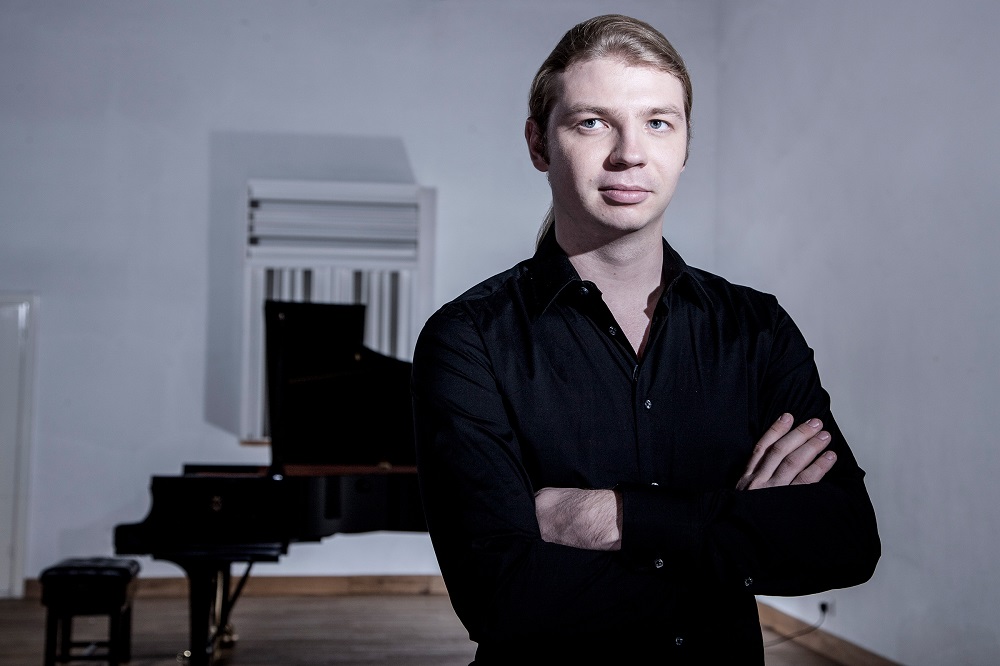 The players' return for the finale of Symphony No 90 with its false conclusion – Rattle added another with a repeat – may have been a homage to Schnittke's First Symphony, where the players exit the stage only to come back on before the end. Yes, it was fun, albeit of a slightly self-conscious sort. Better, perhaps, to have turned this into a lecture-concert; better still to have given us two complete Haydn symphonies, for there are extraordinary things in every one; I think I learnt more, and enjoyed it, when the Scottish Chamber Orchestra played "Le Matin," "Le Midi" and "Le Soir" in sequence, or when Yannick Nézet-Séguin unfolded wonders in three of the best with the Orchestra of the Age of Enlightenment.
Perhaps too much preparation time went on this; the Bartók Second Piano Concerto before the interval sounded more like a rehearsal than a performance, and not nearly wild enough. Kozhukhin (pictured above by Paul Marc Mitchell) had plenty of light-touch ideas of his own about how this powerhouse should go, though the buzzing, chord-clustered Presto flanked by the Adagios of the second movement – their genuine pianissimos the most successful part of the performance – seemed over-cautious.
As was Rattle's conducting of the LSO throughout. Maybe this was a result of being sure to follow Kozhukhin, stepping in for an indisposed Lang Lang, whom for once I'd actually like to have heard in a work where he couldn't indulge his tendency to pull lines about. But you did tend to think "what a difficult work" rather than "what a masterpiece", and the playing wasn't the LSO's finest: one trumpet phrase went haywire and another blasted in too early. No doubt about it, though, the LSO soloists are in better than ever shape generally; in the Tristan Prelude first oboist Olivier Stankiewicz made the fullest-toned sound I've ever heard from an orchestral principal, and the texturing was impeccable. It was just a shame about the whole.
Rattle the effects-master was well matched to his curious selection of Haydn at his most innovative
rating
Share this article