DVD/Blu-ray: The Legend of the Holy Drinker |

reviews, news & interviews
DVD/Blu-ray: The Legend of the Holy Drinker
DVD/Blu-ray: The Legend of the Holy Drinker
In vino veritas: Rutger Hauer surprises in Ermanno Olmi's adaptation of Joseph Roth's final fable
Wednesday, 20 September 2017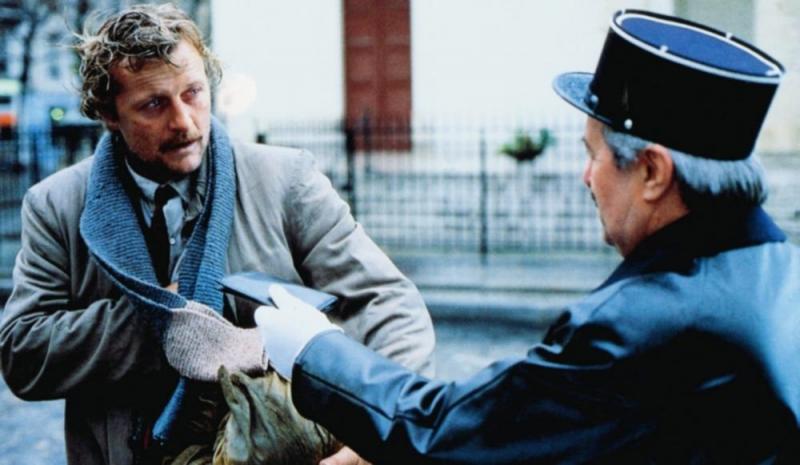 Finding new fortune: Rutger Hauer as Joseph Roth's 'holy drinker'
A decade after his masterpiece, The Tree of Wooden Clogs, won the 1978 Palme d'Or at Cannes, Italian director Ermanno Olmi took Venice's 1988 Golden Lion for The Legend of the Holy Drinker (
La leggenda del santo bevitore). Festival victories aside, at first sight the two films could hardly seem more different.
In the second film Olmi moved into distinctly new territory for him: Legend was an adaptation (of the 1939 novella by the Austrian writer Joseph Roth), featured professional actors (Rutger Hauer in the lead role), was made in English, and counts as a fable, very different in style from the neo-realism which was so natural to the director. And Roth's story was set in Paris, a city that the director barely knew.
Olmi cast Rutger Hauer despite strong interest from Robert De Niro
Nevertheless, the sense of spirituality that has always been at the core of Olmi's world shines through. Hauer plays the titular drinker Andreas, who sleeps under a bridge, the world of his wandering revolving around the next bottle of wine. (We can only wonder whether Otar Iosseliani knows the film, given that there's an almost uncanny overlap between its style and world and the vinous French eccentricity of the great Franco-Georgian director's later work.) In the opening scene a stranger insists on pressing money on Andreas (the role, credited only as "The Distinguished Gentleman", is played by Anthony Quayle, with a sadness to his features that hints he would have been a wonderful George Smiley). On asking how he can repay the debt, Andreas is told that he can always offer the 200 francs as a donation at the statue of St Thérèse at a nearby church.
We see, over a week, his sincere intention to do that, and how circumstances frustrate such noble intentions. His opening luck is followed by a series of other miraculous pieces of good fortune, as well as a series of unexpected encounters with figures from his past. Through flashbacks we see his early life in Silesia, his work there as a miner, and the circumstances that precipitated his departure.
This picaresque journey takes Andreas in and out of different strata of society, but never separates him from his original existence by the Seine. In some of these wanderings Olmi clearly depicts Paris of the 1980s, which looks anomalous when set against the timeless simplicity of the bar that is Andreas's home from home (its dark interiors and denizens would be right at home in the basic 19th century Lombardy of The Tree of Wooden Clogs). Dante Spinotti's cinematography has a rare beauty of colour (particularly striking in the limpid blue of Hauer's eyes) that comes out wonderfully in this 4K restoration, while the soundtrack, drawing pronouncedly on Stravinsky – wonderful low clarinets – defines mood and setting with equal subtle poignancy.
Special features include a 10-minute interview with Hauer, specially shot for this Arrow Academy release. "I landed in a different part of my craft," he recalls, truer words rarely spoken. In fact, Olmi cast him despite interest from Robert De Niro. The other extra here is a 25-minute interview with Olmi's co-screenwriter Tullio Kezich, who remembers how De Niro flew to Paris to stay (under an alias, Mr Silvera) in the anonymous hotel in which Oscar Wilde died, which also features in the film. Their encounter came to nothing. Another actor who also wanted to work with Olmi, Kezich tells us, was Marcello Mastroianni, but in this case Olmi chose to work in English, hoping for American distribution (which, despite Hauer, never came).
That seems less of a surprise when you watch the English-language original: Hauer's accent floats somewhere mid-Atlantic, out-of-sync with Quayle's RP and the rather stilted Anglo-Saxon in which Andreas's supposedly Silesian friends converse. The Italian dub (also on this release) seems far more organic, allowing Hauer to achieve the genuine bemused dignity that permeates Roth's story. The writer's mood was desperate by the time he wrote the novella – on leaving Germany in 1933, he had written to his friend Stefan Zweig, "You will have realised by now that we are drifting towards great catastrophes… Do not fool yourself. Hell reigns" – and he was drinking heavily, even while he still wrote prolifically. The Legend of the Holy Drinker was Roth's final work, published in English only half a century later. Olmi's film is a curious but somehow appropriate memorial.
The Italian dub seems far more natural, allowing Hauer to achieve a genuine bemused dignity of the kind that permeates Roth's story
rating
Explore topics
Share this article