Saint George and the Dragon, National Theatre review – a modern folk tale in the Olivier |

reviews, news & interviews
Saint George and the Dragon, National Theatre review – a modern folk tale in the Olivier
Saint George and the Dragon, National Theatre review – a modern folk tale in the Olivier
England's patron saint travels through time to demonstrate changing views of heroism
Thursday, 12 October 2017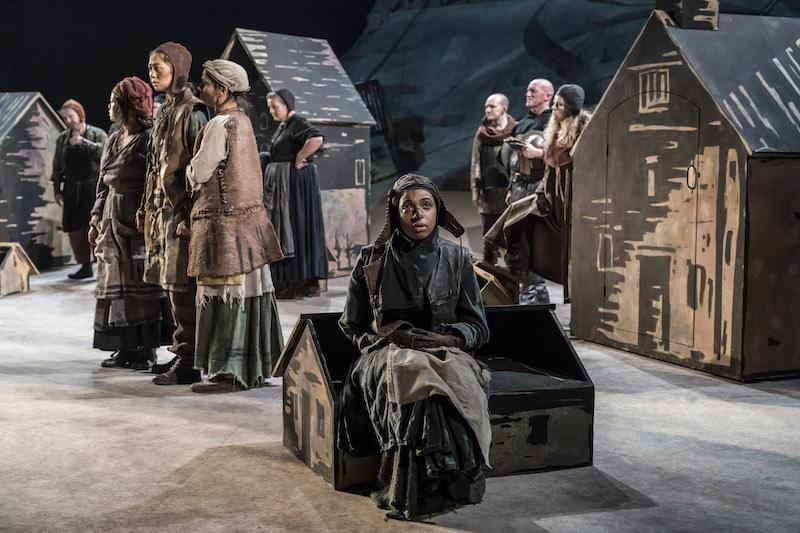 Grace Saif as Healer's daughter and the company in Rae Smith's medieval village
Bold and fearless are adjectives that might describe playwright Rory Mullarkey as accurately as any chivalrous knight. He made his name in 2013 when, at the age of 25, his play Cannibals, part of which was in Russian, took to the main stage at the Manchester Royal Exchange and went on to win the James Tait Black Prize.
He has written opera libretti, a play about revolution for the Royal Court,
The Wolf from the Doo
r, and a version of
The Oresteia
for the Globe. And now here he is filling the Olivier's wide spaces with an epic modern folk tale.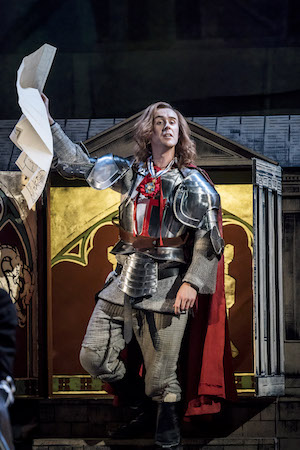 Saint George and the Dragon comes, in proper folk fashion, in three distinct parts. The first act might be mistaken for the National's Christmas show. All the familiar fairy tale ingredients are there: a wandering knight who prizes liberty undertakes to rescue a maiden about to be eaten by a fire-breathing dragon. He is the underdog, but bravery and honesty prevail, he wins the lady and receives gratitude and adulation from the villagers relieved of their tyrant. But this knight began as a coward – having first failed to kill a different dragon, he fled. In John Heffernan's engaging performance (pictured left) he is open-faced and innocent to the point of naiveté, while Elsa, his lady (Amaka Okafor, pictured below right), with plenty to say for herself, is no soppy maiden. There is a witty light heartedness about the whole thing: the intended victim complains about having to wear herbs in her hair in preparation for being eaten, and the dragon, taking human form for convenience, is camp in 'tache and diadem.
Director Lyndsey Turner (a previous Mullarkey collaborator) stages the duel brilliantly mainly by making the audience imagine it is happening in the sky out of sight. Two of the dragon's three heads make spectacular stage-fall from above, however, and George reappears bloody and triumphant. The red-on-white English flag is formed by blood stains making a cross shape between the cake tins of the hero's makeshift armour.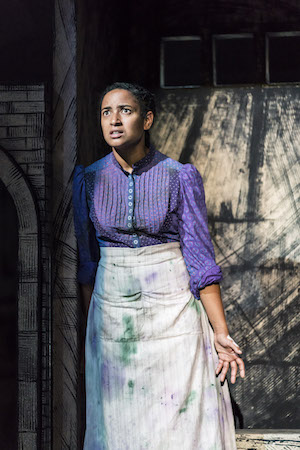 Nothing is as much fun in the two remaining acts.
The villagers take George's advice to dream of their future while he disappears, summoned by the mysterious Brotherhood of Knights to kill more dragons. He returns after a year, but the changes of many generations have occurred in his absence and industrialisation has gripped the land. The dragon is now a vicious factory owner, standing for Victorian capitalism, and Elsa is to be hanged for stopping the machinery when a child worker is injured. She is rescued and George is again summoned while the villagers dream. He returns to a dystopian vision of modern Britain (or "an island much like our own") with its soulless tower blocks and street violence. The dragon is still lurking, but he claims that, being now part of all of us, he can no longer be so summarily killed. Is there any longer a place for heroes? Does Elsa – or anyone – need to be rescued or should we all take responsibility for ourselves? Is there any point in dreaming of the future? The ending is a long way from that breezy beginning.
Fluent Russian speaker Mullarkey has taken his cue from Evgeny Schwartz's 1943 play The Dragon, an allegorical critique of Stalinism. Our muddling, faltering democracy lends itself less readily to similar treatment and there is a danger that we end up simply dispirited about the present, imagining some golden past. Hasn't the dragon – and the hero – always been a part of us all?
The scope of the piece is daring and it is beautifully designed by Rae Smith whose medieval village of three-dimensional sketched houses becomes a land of factories and then of brutalist blocks. Mullarkey is undoubtedly talented, dealing in ideas and employing language with a confident flourish, but here the result is not equal to the ambition.
Two of the dragon's three heads make spectacular stage-fall from above and George reappears bloody and triumphant
rating
Explore topics
Share this article