Young Frankenstein review - Mel Brooks musical is blissfully bonkers |

reviews, news & interviews
Young Frankenstein review - Mel Brooks musical is blissfully bonkers
Young Frankenstein review - Mel Brooks musical is blissfully bonkers
Broadway misfire finds chuckles aplenty, and a heart, at the Garrick Theatre
Thursday, 12 October 2017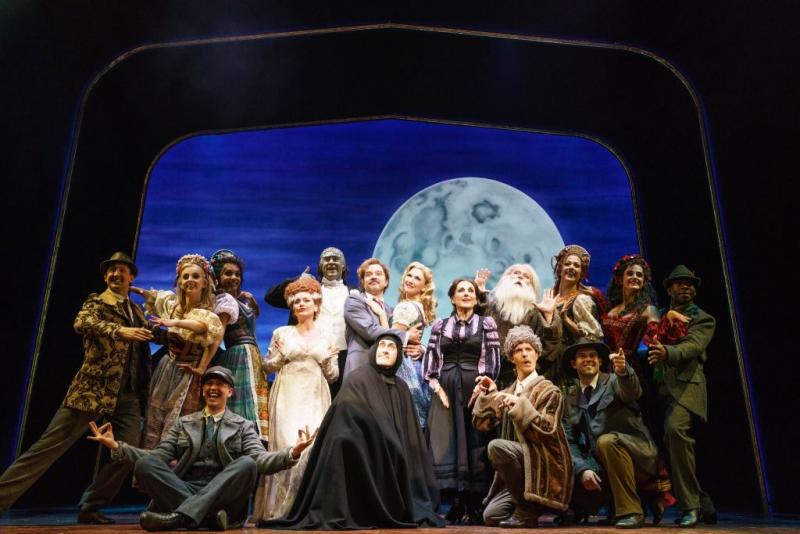 Transylvania mania: the company of 'Young Frankenstein'
What a difference an ocean and a change of scale can make. When I saw the Mel Brooks musical Young Frankenstein on Broadway a decade ago, the show seemed to take its cue from the lumbering monster contained within it, who stutters and sputters before eventually being kickstarted into something resembling life.
All involved have since been back to the laboratory, and the happy news is that its
West End
iteration is a thing of joy. For once, I really did laugh until I cried, not least in amazement that so unapologetically bawdy, lowdown a romp has somewhere along the way acquired a heart.
Emotion in a Mel Brooks musical? Sure thing: there's no denying that the success of The Producers was due in no small measure to the potent bromance at its core, which landed especially acutely on the West End where Lee Evans found an innocence to the part of Leo Bloom missing from the role's New York originator, Matthew Broderick. And so it proves again here. Playing the anatomy-minded brainiac who has to wrestle to the mat his family heritage (not to mention the pronunciation of his surname), the protean Hadley Fraser anchors this adaptation of Brooks's 1974 celluloid classic with a levity and sweetness it didn't begin to possess Stateside.
By the time everyone is conjoined in one or another couple at the end, it's like one of those Shakespeare comedies where it takes in this case not a shipwreck but a sojourn in Transylvania for all involved to begin to know themselves. On the other hand, one is disinclined to dig too deeply for ancillary meanings within material that gets comic mileage near the start with Dianne Pilkington's effervescently haughty Elizabeth, young Frederick Frankenstein's fiancée, letting rip with pent-up brio the word "tits". An alumna of Wicked, Pilkington like those around her looks as if she is having the time of her life, and that is well before she reappears near the end in her best Elsa Lanchester hairdo: she is pictured above, in front of the Queen Mary Shelley (!) ocean liner.
Welcome to Brooksland, which revels in low humour of a seriously high order and must represent serious catnip for a cast who are allowed to cut loose to a degree that was unavailable, for instance, to the wonderful Fraser during his various stints in Les Miserables. Gathering on one stage stars drawn from the worlds of the West End, TV, comedy, and (in the case of the cast's lone American holdover, the brilliant Shuler Hensley, Broadway), director-choreographer Susan Stroman relocates the necessarily contained but apparently go-for-broke anarchy that she brought to The Producers; it's very possible that show's stratospheric New York success inhibited Young Frankenstein from the off on home turf to an extent that doesn't apply on the West End, where careers in any case tend to exist on less of a sine curve.
The story is a vehicle for lunacy from all quarters, whether that means Ross Noble as the stooped, French horn-minded Igor, whose hump seems to shift this way and that on whim, or Lesley Joseph (pictured below) as the whinny-inducing Frau Blücher, who greets Frederick's arrival at his ancestral home with a demented gleam that sets up every last, ostensibly politically incorrect syllable of her first-act showstopper, "He Vas My Boyfriend": I say "ostensibly" only because Brooks is entirely knowing about what he is doing here, which is to parodically up the ante (and then some) on the dubious sexual politics of the central couplings in musicals like Carousel and Kiss Me, Kate.
Bearing a notable resemblance to Andrea Martin, whose Frau B was (alongside Hensley) the best thing about the show on Broadway, Joseph is hilarious whether in full vocal flow or offering a macchiato grande, as if she were somehow on loan to the production from Starbucks. Splendid in an altogether different way is Summer Strallen as the defiantly leggy Inga, Frederick's Transylvanian hot totty and this musical's delicious equivalent to Ulla from The Producers: Strallen's verbal caress of the word "alone" ensures that her performance is in no way limited to some fairly formidable leg extensions.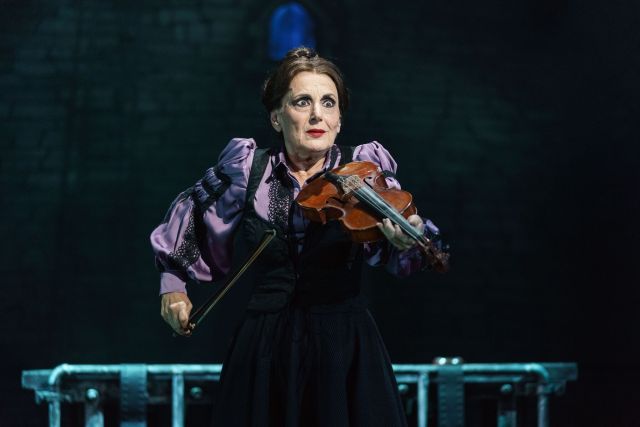 The denouement, of course, depends upon Elizabeth arriving to wrest her beloved Frederick away from Inga only to find herself smitten instead with the slow-aborning Monster himself, as you might be, too, if an inert monolith in your midst suddenly did a mean soft shoe: the climactic "Puttin' on the Ritz" is the song-and-dance highlight, though Stroman anticipates it in dance terms with a first act finale that allows the much remarked-upon "angry villagers" to show that they are capable of agility as well. (All credit, in passing, to the clarion-voiced men who set up Frederick's opening patter song with unexpected brio.)
You can't sustain a high-wire act indefinitely, and it's not the fault of this hugely gifted company if the invention at times flags, though never for long, and there's no denying that the score to this musical doesn't boast an enduring showstopper, in unabashedly musical theatre terms, to rival Max's second-act solo "Betrayed" in The Producers; on this occasion, it's the lyrics that lead from the front, from the celebratory "together again / for the first time" (gotcha) onwards: "genitalia" rhymes with, you guessed it, "fail ya". But as if taking its cue from the receding frames of Beowulf Boritt's sets, Young Frankenstein at once pastiches and revels in the stage musical era of frontcloths and blackouts that hearken back to an end-of-pier, vaudevillian era, albeit here blessed with an array of talent who are unlikely these days to frequent too many piers.
And when Fraser, an invaluable straight man in a show featuring a "gay bar" punchline late-on that rightly brings down the house, offers a shyly endearing "hello there" to the mountain of flesh that is Hensley's Monster, it's nigh-on impossible not to participate in the abundant high spirits. No wonder there's a warning in the lobby alerting audiences to the reanimation of dead tissue: Young Frankenstein in showbiz terms accomplishes precisely that.