Triple Bill, Royal Ballet review - Arthur Pita's 'Wind' is a howling success |

reviews, news & interviews
Triple Bill, Royal Ballet review - Arthur Pita's 'Wind' is a howling success
Triple Bill, Royal Ballet review - Arthur Pita's 'Wind' is a howling success
Not one, but two new works hit the sweet spot
Tuesday, 07 November 2017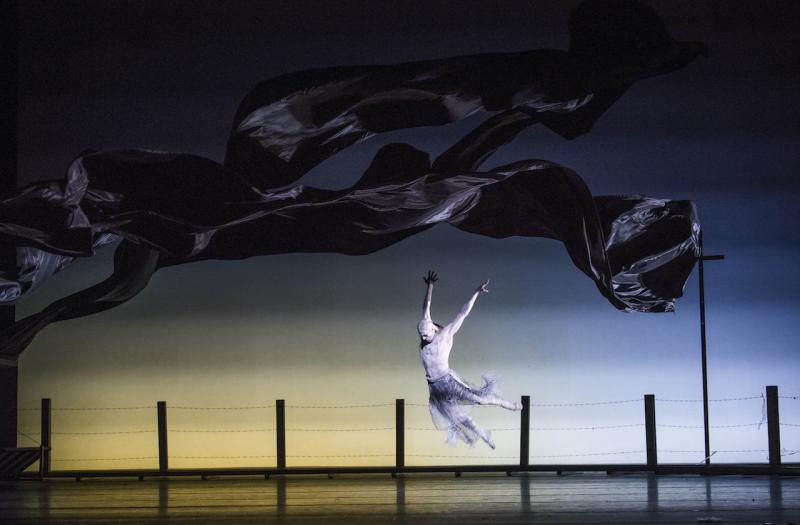 Gone with the wind: Edward Watson as Marwarra, spirit of a lost native American warrior
Of all the stories Arthur Pita could have chosen to wrangle for his new narrative ballet, he chose one about wind, perhaps the trickiest element of all to represent on a live stage. Tricky because of course you can't see wind, you can only see its effects. Tricky, too, because – in extremis, as this is – it does mad things to hair-dos, costumes, and the ability of the cast to keep a grip on props and even dance the steps.
But it's precisely that craziness that gives Pita's first main-stage
commission
for the
Royal Ballet
– accorded the prime central spot in a contemporary mixed bill – its fantastical appeal.
Taking its title from the 1925 novel by the Texan writer Dorothy Scarborough, and the 1927 film starring Lillian Gish, The Wind tells the story of Letty Mason, a young woman from Virginia who arrives in Texas to join an isolated pioneer community. Traumatised by the bleak landscape and wild weather, she is driven into marriage with a cowpuncher. But this fails to protect her from the predatory attentions of another man, whom she shoots dead in self-defence. Throughout this miserable chain of events, Letty is tormented in body and soul by the relentless wind and haunted by past prairie lives.
Despite Yann Seabra's terrific 1880s costumes – including chaps in big hats, cowboy boots and, er… chaps – you know this is not going to turn out like a wordless version of Oklahoma!. The mournful slide guitar in Frank Moon's big, gruff orchestral score supplies the location and the mood. Jeremy Herbert's set shows wide skies and wire fencing. The weather is represented by a single giant flag of silver-grey sheeting, blown so taut that scraps of it break off and attach to the fence. The music had to be conceived on a gargantuan scale – the pit is so crowded the orchestra spills out of it – because the prevailing gale makes this a noisy half-hour even before anyone starts dancing in boots.
Choreographically, Pita has resisted the temptation to simplify. The women's leaping turns in flounced, frilled and layered frocks are already difficult enough to execute. Add the constant blast of two onstage wind machines (built to look like 1880s threshing plants) and the dancers resemble twirling balls of rags. The men get to paw the ground a lot, and stamp a bit, but they also have to leap and turn. The effort, in all that heavy get-up, adds to the overall effect of ennervating strain – in a good way, that is. This really is a highly original ballet.
It's worth the ticket just to see a semi-naked Ed Watson in white body paint and a waist-length grey wig turning in obsessive circles and working those famous back muscles
Pita has invented two characters who didn't appear in the book, a Wild Woman (based on a real white woman raised by the Comanche) and Mawarra, the spirit of a native American warrior. Both add a supernatural element that does not feel out of place, and it's worth the ticket just to see a semi-naked Ed Watson (main picture) in white body paint and waist-length grey wig turning in obsessive circles and working those famous back muscles.
But it's Natalia Osipova's Letty (pictured in pale blue, above) who seizes the imagination. Prim and pretty when she first descends from the rail-road truck, she calibrates Letty's gradual disintegration with forensic precision. As the only character to dance on point, she has the advantage, choreographically, and it's not until her ultimate undoing – a feat of dance-acting so hot it could sear a T-bone – that her clean line falls apart. She deserves an award, frankly, for her nuptial duet with Thiago Soares, which she dances beautifully while managing the strangulation risk of a 15-foot wedding veil, blown horizontal.
A word, finally, for the stunning lighting effects of Adam Silverman. Just once or twice these allow gratifying glimpses – in sunset silhouettes of the whole pioneer community – of the cinematic fantasy Wild West. A stunning piece of work all round.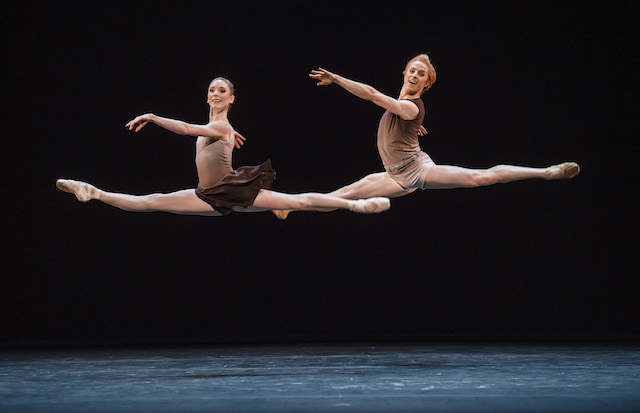 Variety being the chief selling point of a ballet mixed bill, the other new commission – from prolific American veteran Twyla Tharp – inhabits another universe. The Illustrated 'Farewell' is not strictly new: Tharp has refashioned this response to Haydn's Symphony No. 45 from a piece she made for the Joffrey Ballet more than 40 years ago. But given a new look and a few tweaks, it has come up fresh as paint.
Setting ballet to classical symphonies is a thing Americans do. Europeans tend to be overawed and/or too respectful of the music's integrity to attempt such a marriage (the "classical" periods of dance and music are out of synch by about 100 years). In her defence, though, Tharp does defer to the music. The clue is in the title – which suggests that her choreography is a mere illustration, an optional sideshow, of a greater work. In the event, though, apology is unnecessary. This is a lovely and wholly appropriate homage, one that gives visible form to the vitality and super-inventiveness of Haydn's symphonic writing.
Unorthodox as it is to have two soloists hog both the first and second movements, Sarah Lamb and Steven McRae (pictured together, above) are so fabulous we'd happily watch them all night. The Farewell Symphony's first movement is famously fast, torrential even. It's also in F sharp minor which is a fiendish key for violins to play in. Tharp answers that musical challenge with a skittering compilation of ballet's most show-off steps and lifts – she even squeezes in a fish dive, which you'll miss if you blink. Tharp clearly adores the classical vocabulary, but she's not a slave to it. Four minutes in, just as Lamb has begun her reply to the opening solo of whizzbang leaps by McRae, Lamb stops in her tracks, lets the music go on without her, and gives the audience a slow, sly smile. "You might think you know what's coming," it says, "but you don't". It's a very sexy moment, and very Twyla Tharp.
In truth, what's coming is neither disruptive nor shocking. Tharp's signature jazz elements – shoulder rolls, shimmies, locomotive hands – appear as a light sprinkling of chili flakes, only enhancing the general flavour. Graciousness rules.
The third and fourth movements are given to an ensemble, with McRae and Lamb rejoining them. Tharp doesn't go to town on the famous exiting of musicians, two by two, in Haydn's dénouement. Instead, she sends McRae and Lamb to dance on a hidden platform high on the back wall. It's meant to suggest two time zones, the 18th century and today, but you wouldn't know that without reading the programme notes. Still, The Illustrated 'Farewell' looks like a keeper for the Royal Ballet. A dose of American sass from the queen of sass is a breath of fresh air.
The programme rounds off with a first revival of Untouchable (pictured above), by Hofesh Shechter. Again, it seems to have landed on the Opera House stage from another planet, but here we're put in mind of the refugee crisis. Rows of figures in vaguely combat gear and dreadlocks loom out of a dark fog that could be concealing hundreds more of them. With thrilling precision they move as one, slouching, crouching, prowling. Hints of Eastern European folk dance enter the mix, bouts of Sufi whirling, slapped chests. The mood is belligerent, verging on feral.
The movement style couldn't be further removed from everything these Royal Ballet dancers have ever been taught, but the 20 junior members – no stars – inhabit these hunched shapes with apparent relish. More surprising is the way the orchestra adapts its sound to the grungey wail of Shechter and Nell Catchpole's score, big on drums and rough, Middle Eastern-sounding fiddles overlaid with some bizarre recorded chants. In one of them, the name "Nigel Farage" is sounded quite distinctly, in an Arabic accent.
The pity is that, after its electrifying start, the piece rather peters out. You also suspect that the whole might have had more impact with more volume. If Shechter's previous shows are anything to go by – some have been more like rock gigs – he has politely turned the music down. This is a shame. The Opera House needs to be shaken to the rafters now and again.