Reissue CDs Weekly: The Rolling Stones |

reviews, news & interviews
Reissue CDs Weekly: The Rolling Stones
Reissue CDs Weekly: The Rolling Stones
Aural makeover diminishes 'On Air', a significant collection of Jagger and Co's Sixties BBC sessions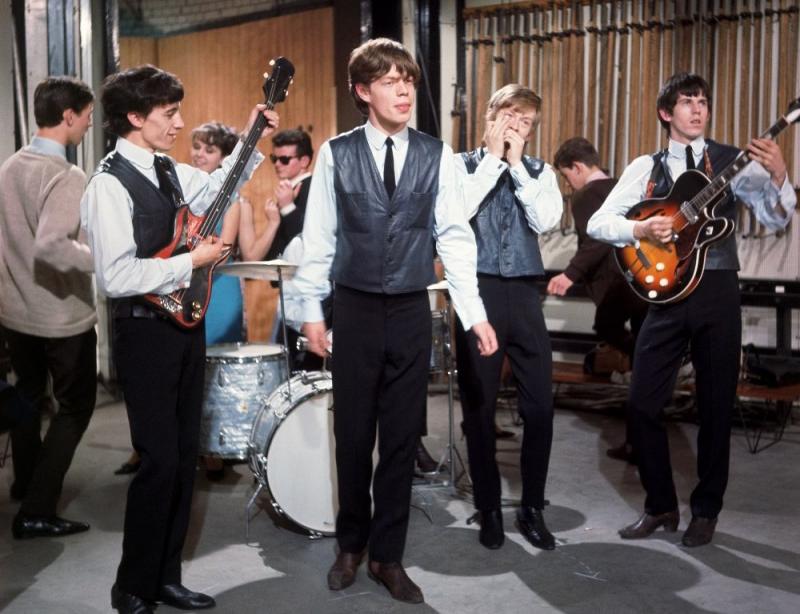 August 1963. The Rolling Stones and friends have fun in the recording studio
Until now, the easiest non-bootleg way to hear the early Rolling Stones live was via the various home cinema editions of October 1964's T.A.M.I. show. Otherwise, although they employed backing tracks for broadcast, the American DVDs of their Ed Sullivan Show appearances caught the band in thrilling full flight.
The new BBC sessions collection
On Air
fills out the picture by collecting 32 tracks they recorded between October
1963
and September 1965.
Decent Decca-era archive collections of the Stones barely exist due to their poor relations with ABKCO, the organisation which owns their rights for the period. In this context, fans should be thankful for On Air. Some arrangement must have been arrived at as On Air has the Stones' tongue logo and the word "Official" on its cover, and is credited to "Promotone B.V. and ABKCO Music & Records Inc., under exclusive license to Polydor, a division of Universal Music Operations Limited." This, by any measure, is a significant and welcome release. Yet there are some buts.
The credits for On Air also include the word "demix". This is not a typo. Rather than being remixed, the audio sources have been demixed and then mixed afresh. According to the PR blurb, demixing means "the tapes have gone through a process called 'audio source separation', which involved de-mixing the transcripts and allowing engineers at Abbey Road access to the original instrumentation and voices within each track, so that they could be rebuilt, rebalanced and remixed to achieve a fuller, more substantial sound."
Setting aside that contrary to what the PR says there are no tape sources for some or most of these tracks – many of the sources must be transcription discs – this aural makeover is very strange. The Beatles issued their BBC sessions in their unadulterated form. So have Manfred Mann and The Zombies. There is nothing necessarily wrong with the audio quality of these Sixties' BBC broadcasts. The only potential shortcoming is the source from which the subsequent release derives: whether it be tape, transcription disc or an off-air recording via line or microphone. Material of such importance should be issued as-is, not "rebuilt, rebalanced and remixed." History should not need be rewritten.
Even the cover reconfigures history. In the original of the photo used, Charlie Watts has a cigarette in his mouth (pictured below left). It has been removed for the sleeve image.
Sonic decoagulation is endemic
Take the 17 July 1964 version of "It's All Over Now", recorded in front of a gently screaming audience for The Joe Loss Pop Show. It's amazing. Still mostly in thrall to blues, the band are in razor-edged form, stretching out and symbiotically connected. Pure power. Yet the instruments do not gel with each other. The drums sound as if they were recorded elsewhere and overdubbed later. It's the same with the bass guitar. A comparison with a cassette recording of the track shows them have been locked-in with each other, bringing cohesion integral to their power. Now, this power has been diminished.
A 26 October 1963 Saturday Club "Memphis, Tennessee" also sounds empty, similarly lacking a core. "Roll Over Beethoven" from the same session is tight, swings and drives forward like a spreading and uncontrollable power surge. Throughout On Air, there is nothing wrong with the band's approach and playing. But this sonic decoagulation is endemic.
Curiously, there is a positive aspect to this aural sabotage. In their released versions, "(I Can't Get No) Satisfaction" and "The Spider and the Fly" were swathed in reverb, obscuring the individual instruments. Now, as a result of this unwarranted monkeying, the precision of Brian Jones and Keith Richard's guitar playing can be appreciated.
The value judgement made that fans would not be able to deal with these performances as they were originally extends to the track sequencing. "Cops and Robbers", "Route 66", "You Better Move On" and "Mona" come from the same live, on-stage appearance of 9 May 1964 yet only two of the tracks follow on from each other. Hearing the quartet together, as they were performed, would have been just great. There is no reason for On Air's random track sequencing.
Likewise, On Air comes as two editions: a single-disc standard edition and a two-disc "Deluxe" version, where the second disc's 14 tracks are credited as "Bonus Tracks". This also beggars belief. Every track is essential, as shown by Disc Two's ripping opening "I Wanna Be Your Man " (8 February 1964), the chunky, pitch-and-roll of "Walking The Dog" (8 February 1964) and the very steamy "Crackin' Up" (23 July 1964). With such riches, who could classify these as bonuses (i.e. lesser material)? The single-disc edition is instantly redundant.
To be clear: On Air collects some of the greatest and most important British pop music of all time. It is a major release. Unfortunately, it is not what it should be. The Rolling Stones themselves said it all in 1964: what a shame.
Next week: The Albums: 1968-1972, box dedicated to the complete works of Pentangle
A value judgement has been made that fans would not be able to deal with these performances as they were originally
Share this article