Schumann Street, Spitalfields Festival review - illumination on a winter's night |

reviews, news & interviews
Schumann Street, Spitalfields Festival review - illumination on a winter's night
Schumann Street, Spitalfields Festival review - illumination on a winter's night
More than a snoop around East End town houses: 'Dichterliebe' in startling focus
Wednesday, 13 December 2017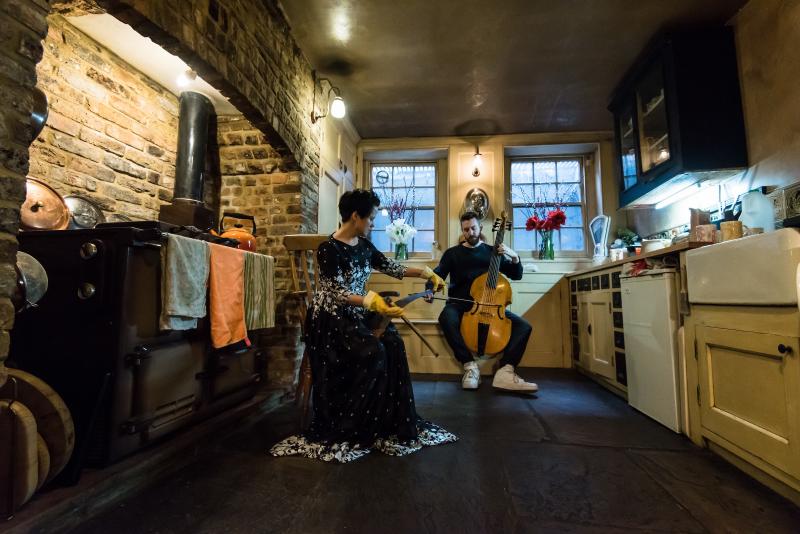 Mara Carlyle with Liam Byrne in Schumann Street at Spitalfields
An icy, wet wind snuck under the door of house number 8 in Fournier Street, where Uri Caine, bundled in coat and woolly hat, conjured Schumann's darkly powerful "Im Rhein". Beside him, perched on a weaver's stool, was improvising legend Phil Minton, rasping, whistling and groaning his way through "The wilderness of my life".
Caine wove ragtime into plunging storm-tossed sequences, along with polkas, waltzes, blues and honky-tonk; as he plumbed the river's murky depths, Minton scattered gasped husks of memory upon its surface. Caine's playing felt too big for the handsome front parlour; but it was mighty hard to drag oneself away from a bizarre cross between Hill Street Blues, an experimental scat session and a
lieder
recital.
This was Schumann Street, an enchanted mystery tour through Schumann's Dichterliebe in the 18th-century Huguenot houses that lurk behind today's sanitised Spitalfields market. Any idea of house-snooping and Aga-envy was lost in the challenge of hunting down the houses in dark streets glittering with snow. In a world of shadows, cold and confined spaces, Schumann felt very close. Brainchild of Spitalfield's artistic curator André de Ridder, it was surely one of the most beguiling and illuminating festival events of 2017, an inspired musical advent calendar.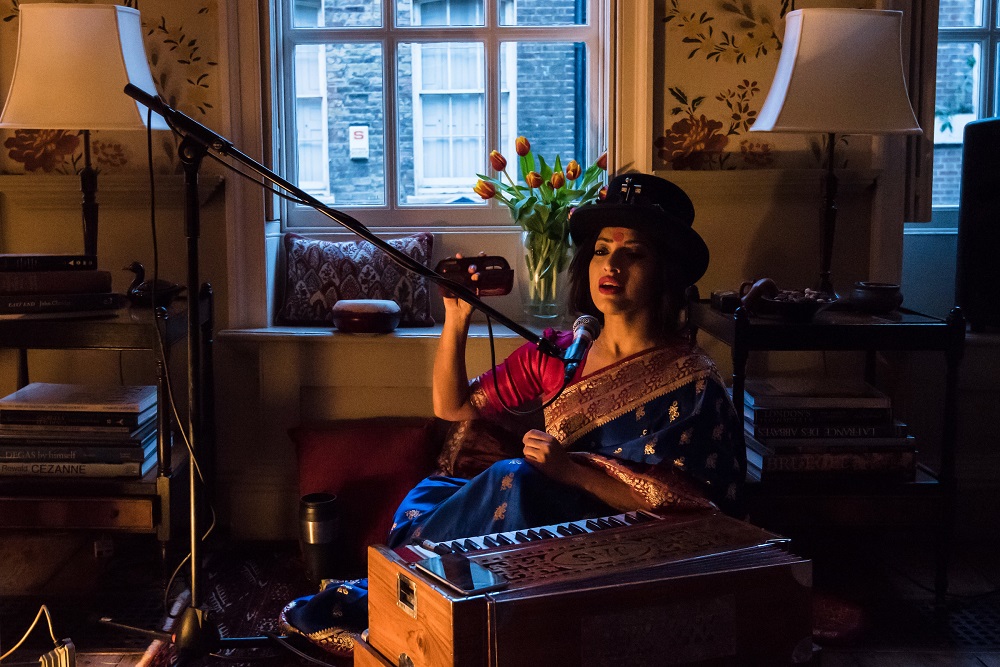 I failed to follow the cycle in order, or to catch every song, not that it mattered: the "glorious month of May" of the opening was warmed into being by Shapla Salique (pictured above), at the foot of a Christmas tree like some bejewelled gift, intoning a melismatic Bengali song. Down in the house's basement kitchen, soprano Katherine Manley as Clara Wieck was writing letters to Robert Schumann (James McVinnie, at the organ) and singing "When I look into your eyes" with piercing sincerity. Such was their still, charged union our presence felt like an intrusion.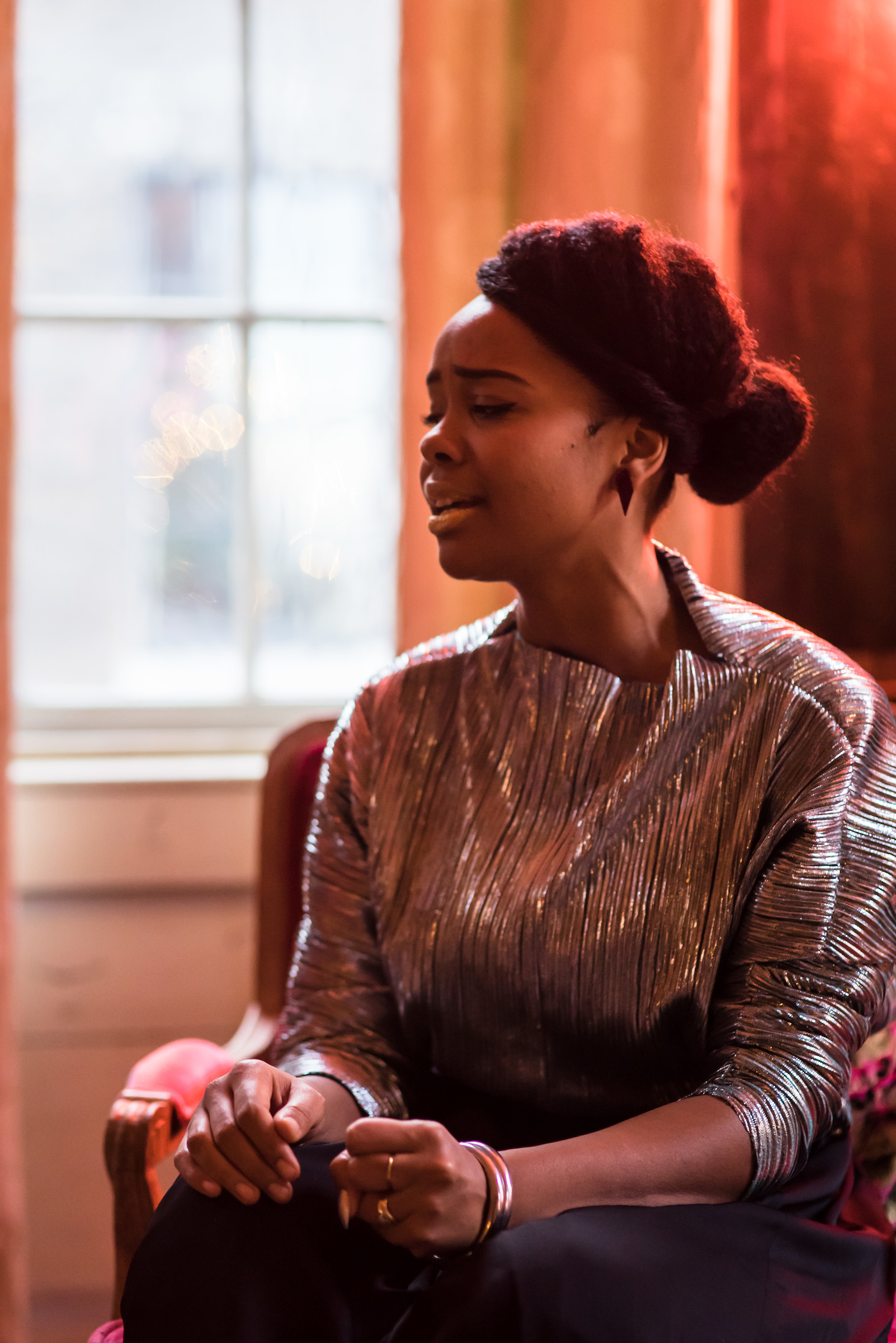 In the corner of an upstairs room, Abinaro (pictured right) took a radical approach to "Ich grolle nicht" ("I don't complain") transforming that heroic cry of stoicism into painfully sweet grief, recast as a hypnotic R&B ballad using the original imagery, with soft electric guitar chords. Her quiet poise embodied the song. Up another set of rickety stairs and here was soprano Héloïse Werner, amplifying the intensity of "Und wüsstens die Blumen" to operatic proportions: while Werner spoke and sung of her anguished, torn heart, Anne Denholm's dissected her harp in extraordinary ways, from shivering filigree, to jarring feedback, drooping bent notes and the ghostly wail of metal on strings. Werner ended with a prolonged, sobbing cry of pitches, the harp drifting to nothing.
The song of "old fairy tales" belonged, appropriately, in the front room of a house graced with a stuffed bear, and a snarling fox on the wall behind tenor Robert Murray's head. There was something especially thrilling to feel the heat of his clarion voice a few feet away, blazing into that pannelled room like a fiery torch. Andrew West, playing on a soft baby grand, not perfectly tuned, lent intimacy to the performance.
A stroke of genius turned the final "coffin" Lied into something both ordinary and transcendent. Mara Carlyle sang while washing cups at the sink, her naked voice, grainy and low in the shadowy, stone-flagged kitchen, adorned only with sparse plucked notes of Liam Byrne's viol. That heavenly final coda was rendered by Byrne in fragmentary, half-whispered phrases, while she completed the melody on a bowed saw, a high, chill voice from beyond the grave.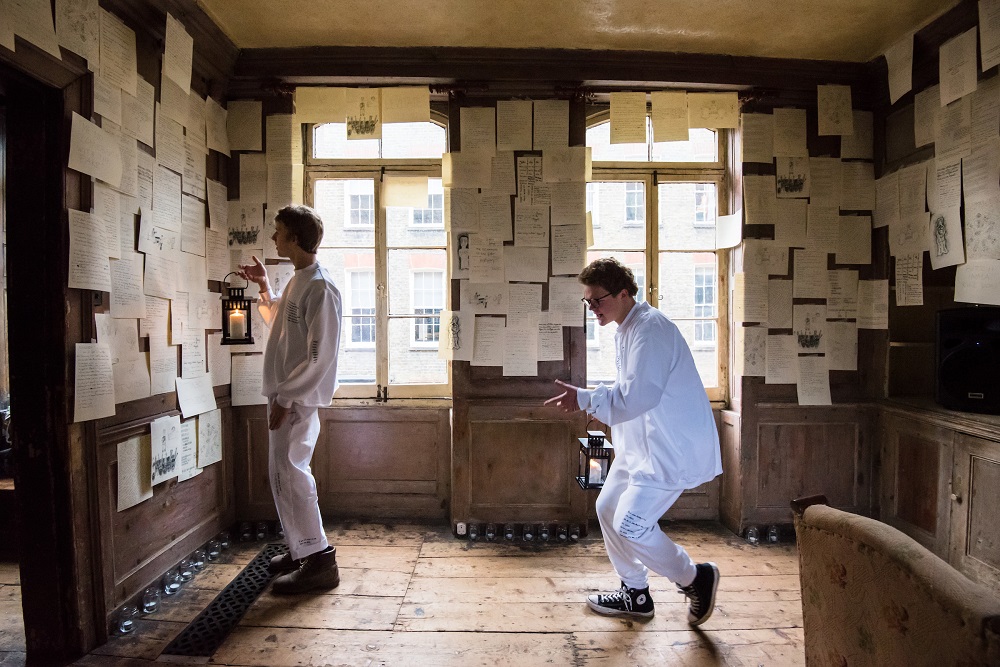 My last visit felt like the ultimate conclusion, a nightmare vision inside the composer's brain: "When I hear the little song" was taken by Apollo 47 (pictured above), two German hip-hop artists careering around a room plastered in poetry and drawings. As they rapped with rhythmic, jeering irony on Heine's "enormous pain", you couldn't help but think of the asylum in Endenich, where Schumann was confined and consumed.
Nothing can improve upon Dichterliebe, but Schumann Street, in myriad ways, brought its bittersweet songs up so close you could reach out and touch them.