Winnie-the-Pooh: Exploring a Classic, V&A review - nostalgic family fun |

reviews, news & interviews
Winnie-the-Pooh: Exploring a Classic, V&A review - nostalgic family fun
Winnie-the-Pooh: Exploring a Classic, V&A review - nostalgic family fun
The remarkable reach of a children's classic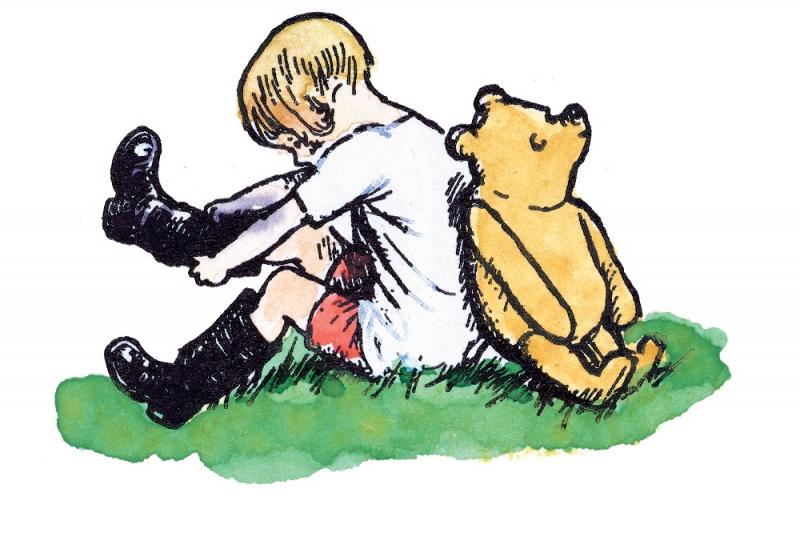 Line block print, hand coloured by EH Shepard, 1970
What was it about the privileged male Victorian/Edwardian British writer that led to such a fantastical outpouring of books for children that were to embed themselves so thoroughly that they have stayed with their readers into adulthood? All when published were further immortalised by collaborative illustrators: Lewis Carroll and the Alices, illustrated by Tenniel; JM Barrie and Peter Pan; Kenneth Grahame's The Wind in the Willows (illustrated by EH Shepard), and AA Milne's four short books of poems and stories (also by Shephard). In their own time these writers were also variously polymaths in other genres – playwrights, novelists, short-story writers and poets. But wildly popular as they were, even in their wildest dreams I don't know if they foresaw their ubiquity.
The afterlife has taken in an enormous variety of media. All these books have spawned academic studies, doctoral theses, analyses, plays, musicals, pantomimes, television programmes (Jonathan Miller did a black and white Alice for the BBC in the Sixties), movies, and take-offs, affectionate at times, satirical at others. Who does not know a Toad of Toad Hall, a Red Queen, a Cheshire Cat, a Peter Pan figure?
But perhaps the most amazing phenomenon is the bear: Pooh's reach has been unprecedented. Winnie-the-Pooh is the first and only 20th century book in Latin ever to have been on the New York Times bestseller list. Disney is big for Pooh bear too, and has poured billions into its franchise. The merchandising is formidable. Calendars, games, cartoons, cookbooks, objects of all kinds – even the Queen's nursery tea set has been lent. What is amazing about the Pooh books is how very short they are: a whole world conjured up in 100 pages or less.
AA Milne's Winnie-the-Pooh, Eeyore, Tigger, Piglet, Kanga and Roo lived first in his son Christopher Robin's nursery, but their adventures took place mostly in The Hundred Acre Wood. Milne added two more, Rabbit and Owl, to the original half-dozen. Now this oddly assorted group of close friends has taken up residence at the V&A. The toys themselves are here represented by accurate replicas, as the originals are on permanent view, seen by hundreds of thousands annually, in New York's 42nd Street Public Library, although Roo has been long lost in the Sussex woods. The current exhibition draws on many a collection and many a corporation.
Milne, already a contributor to Punch and a playwright, published poetry for children first in periodicals and then in the anthologies When We Were Very Young, 1924, and Now We Are Six, 1927, with some poems already concerned with the anthropomorphised toy animals. Winnie-the-Pooh was published in 1926, and The House at Pooh Corner in 1928, exclusively concerned with the sociable group of animal friends. They lived in an assortment of shelters in The Hundred Acre Wood (based on the real Ashdown Forest, where Milne had his Sussex country house) adventuring, playing, and just wandering about and visiting each other, stalwart and mutually supportive in the face of any outside threat, whether real or imaginary.
For so many thousands, if not millions, of readers the characters who inhabit The Hundred Acre Wood – all somehow aspects of us, loving, idiotic, scatty, helpful, appealing, maddening – have entered the canon. We all know both friends and family as Eeyore, the depressed donkey, a profound pessimist, or Tigger, the wonderfully irritating cheerful bouncing tiger. Winnie-the-Pooh is the lynchpin of this weirdly assorted group, a bear of little brain: luckily Winnie-the-Pooh is also a friend to all, and a poet. Owl is both chatty and scatty; Piglet is timid but can be genuinely brave; Kanga, serenely maternal; Rabbit, an ambitious if flawed leader. They blunder through, they are survivors.
The current exhibition attempts to be all things to all visitors, billing itself as consciously family friendly. It is an airy design, replete with balloons and umbrellas, and evocative of an old-fashioned nursery playroom, all blue and white. The design is by that master Tom Piper who knows how to subtly evoke atmosphere – he was responsible for the layout of those mesmerising fields of poppies from the Tower of London to their British tour.
Although we cannot play Poohsticks, there is a little bridge over a stream wherein Poohsticks float, and places for children to sit and draw and look. For the older visitor there are marvellous photographs of the protagonists, and a sequence of articles, documents and endless editions of the books themselves, a wealth of which tell us of the stories behind the stories and the trajectories of their success over nearly a century.
The triumph, though, is the wealth of original drawings: Shepard brings the animals to life, somehow creating life-like creatures without blurring the original nursery toys. He certainly collaborated with Milne, and the partnership is an outstanding example of a successful working relationship, a marriage of work and image. The drawings somehow, magically, look effortless. But in fact they are a masterclass in the alliance between firm outline and the improvisation of the sketch, and we can happily compare the original to the published version. The quivering line, apparently just arrested – Christopher Robin's hair, his shirt, the stair carpet, the striations of the bark of a tree, the fuzzy outlines of Pooh's fur, the spikes of Eeyore's mane, Piglet's snug green coat, Tigger's stripes – all underline with understated skill the actual physical solidity of the characters, and the atmosphere of the woods, the trees, small groves, the expanse of sky. This exhibition shows us that genius EH Shepard working out how to make Pooh's world tangible, visible, real. One can almost feel the wind, the texture of the grassy ground. The make-believe becomes believable.
Shepard brings the animals to life without blurring the original nursery toys
rating
Share this article
Subscribe to theartsdesk.com
Thank you for continuing to read our work on theartsdesk.com. For unlimited access to every article in its entirety, including our archive of more than 10,000 pieces, we're asking for £3.95 per month or £30 per year. We feel it's a very good deal, and hope you do too.
To take an annual subscription now simply click here.
And if you're looking for that extra gift for a friend or family member, why not treat them to a theartsdesk.com gift subscription?