Cendrillon, RNCM, Manchester review - magic and spectacle |

reviews, news & interviews
Cendrillon, RNCM, Manchester review - magic and spectacle
Cendrillon, RNCM, Manchester review - magic and spectacle
Triumph for director Olivia Fuchs in Massenet's version of Cinderella
Fiona Finsbury as Massenet's Cinderella
The Royal Northern College of Music's production of Massenet's Cendrillon has a particularly strong professional production team, and it shows. This is one of the most attractively spectacular operas the college has mounted for years.
Director Olivia Fuchs and designer Yannis Thavoris stage the story in Versailles (the Hall of Mirrors, in particular) in the era of Louis XIV, and the set makes a wall of two-way mirrors its abiding theme, providing not only for impressive visual effects but also an easy and symbolic transition from the home of Cendrillon and her nasty step-mother and sisters to the royal palace and back again. Costumes are lavish, and the technical credits include no less than 12 people responsible, one way or another, for wigs!
The story in this 1899 Cinderella is essentially Perrault's, but with some clever twists. Cendrillon's step-mother, Madame de le Haltière, is a vainglorious would-be society lady, while her husband, Pandolfe, put-upon and longing for peace without her, has a considerable comedy role. The third and fourth acts (after the ball) show Cendrillon and Pandolfe planning to leave the other three for their former home, then Cendrillon wanting to end her own life, followed by a scene in which the Prince and Cendrillon are together and yet unable to see each other; she begins a slow convalescence – before the conventional ending with the lost slipper used to identify the true belle of the ball (pictured below: the ball scene with Rebecca Barry as Madame de le Haltière with Eliza Boom and Lucy Vallis as the two nasty sisters).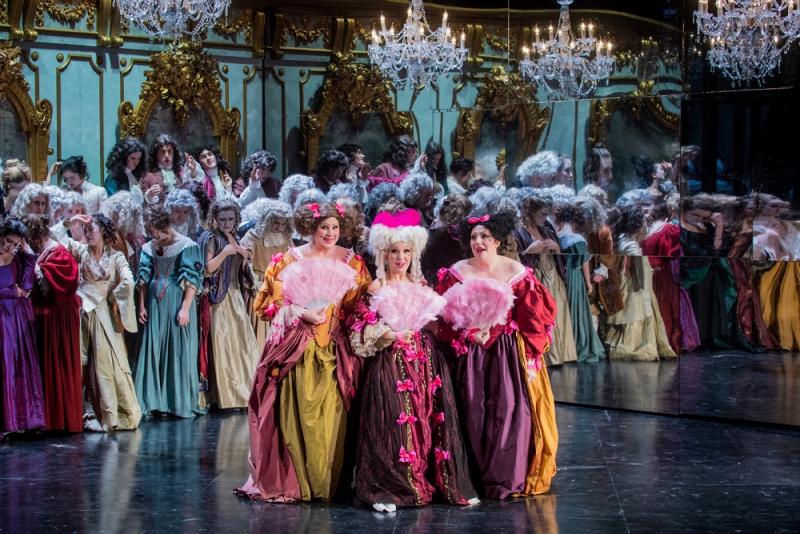 It sounds pedestrian in terms like these, but Fuchs and Thavoris have mixed some surreally up-to-date imagery with the 17th century settings (including a Cadillac-style vehicle for Cinders to get to the ball – first presented as a model car and then evoked, on the fall of the curtain, by a silhouette and light show). Instead of acts three and four offering forests and enchanted shrubbery, we are in a sanatorium, with nuns on roller skates and Cendrillon and the Prince each attached to a bed-side drip. La Fée (the Fairy Godmother, as we usually know her), who has previously appeared suitably magical, with lights in her hair and a similar get-up for her friendly Sprites, now dons a white coat and administers healing touches.
Crazy? Well, it works, and since we have already seen evidence of the teenage angst of both Cendrillon (a feisty, somewhat wilful and independent girl) and the Prince (first seen moping in his room as he carves "L'Inconnue" – the girl of his dreams – on his bedhead, and later indulging in a few tantrums of his own), the idea of clinical intervention does not seem too far-fetched.
The music is in the capable hands of Martin André and RNCM chorus master Kevin Thraves. The RNCM always fields a big chorus for opera when it can, and with Massenet's turn-of-the-century orchestral writing there are powerful sounds coming from stage and pit. At first these verged towards the loud and raucous, and choral ensemble was a little messy before things bedded in. Later, we heard excellently delicate playing – particularly in the accompaniment to the duet which leads to the sanatorium scene (originally a Forest Murmurs in its own right), and by the finale they were firing on all cylinders and splendidly so.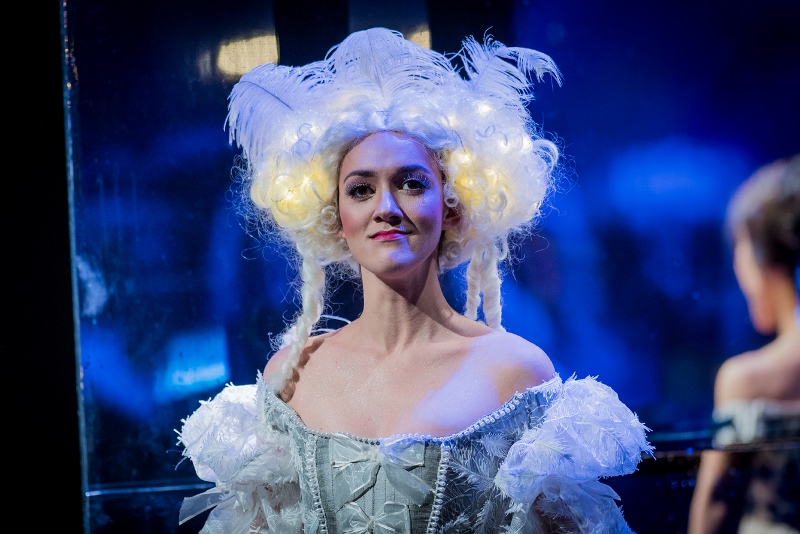 There are two casts for the principal roles in this opera (regular practice at the RNCM now) and I have seen only one of them. Those I heard included lovely coloratura singing from Daniella Sicari as La Fée (pictured above), with warmth and outstanding accuracy and attack, a winsome-sounding and delightfully characterised Cendrillon from Fiona Finsbury, and a very finely developing voice from Kamil Bień as Le Prince Charmant. The RNCM has decided to present this as a tenor role, whatever purists may think about faithfulness to the old French travestie tradition, and rightly. His singing in "Toi qui m'es apparue" and the succeeding duet was very good indeed.
John Ieuan Jones had the personality and strength to do justice to Pandolfe, and Rebecca Barry was theatrically alert as Madame de le Haltière as well as singing with real class. Comic acting came well, too, to the nasty sisters Noémie and Dorothée, played by Eliza Boom and Lucy Vallis (a delightful trio from those last three at the beginning of Act Three), and the various comic male roles which help enliven the palace scenes.
In fact, the comedic quality of the chorus was a joy in itself, and rounded the whole evening off in the colourful finale. Working with student performers is always a matter of harnessing their limitless enthusiasm while guarding against the pitfalls of their relative inexperience, and in this aspect Olivia Fuchs has triumphed.
Instead of Acts Three and Four offering forests and enchanted shrubbery, we are in a sanatorium, with nuns on roller skates and Cendrillon and the Prince each attached to a bed-side drip
rating
Share this article