The Greatest Showman review - the great huckster as song and dance man |

reviews, news & interviews
The Greatest Showman review - the great huckster as song and dance man
The Greatest Showman review - the great huckster as song and dance man
Lavish production offers spectacle but no depth
Wednesday, 20 December 2017
Roll up! Hugh Jackman as Barnum, with his parade of extraordinary characters
The real-life PT Barnum was a mixture of impresario, hustler and exploiter, and Elvis Presley's huckstering manager Colonel Tom Parker would surely have viewed him approvingly. However, he also was also a temperance campaigner and a reforming politician who battled against slavery and supported health and educational projects.
A pity, then, that the Barnum who emerges – or perhaps fails to emerge – from Michael Gracey's lavish musical production shows us few of these complex character traits. Played with frantic energy and dentifrice-exhibiting bonhomie by Hugh Jackman, this Barnum is a feel-good character who exists in only two dimensions. Where the real Barnum gleefully parted the public from their cash with his exhibits of deformed or misshapen people, Gracey's Barnum is presented as a benign Doctor Doolittle-like individual who set these same luckless characters free through his entrepreneurial zeal. These so-called "freaks" – who include Dog Boy, the Bearded Lady, Tom Thumb and the 500 Pound Man – even have their own romping self-empowerment anthem, a kind of "I Will Survive" with lyrics like "This is me, I'm what I'm meant to be".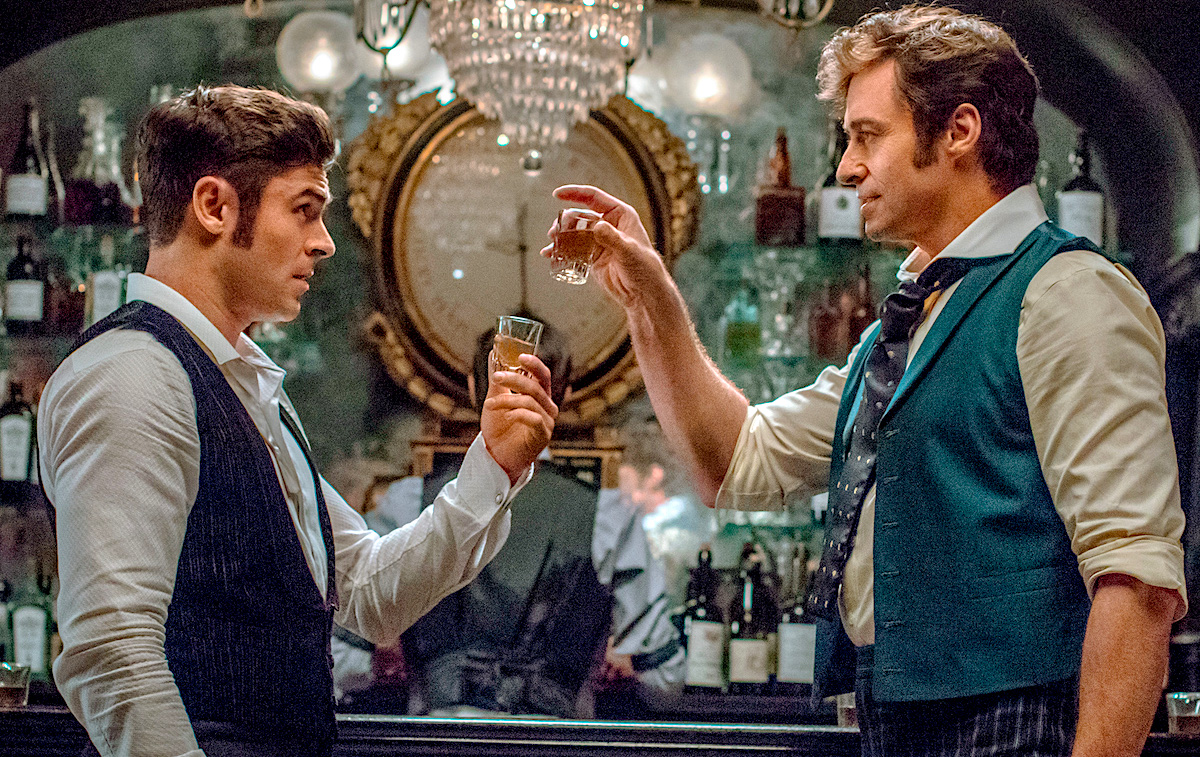 The music is by Benj Pasek and Justin Paul, who won an Oscar for La La Land's "City of Stars", and its mash-up of pop and music-theatre styles makes no effort to match the story's historical setting. As Gracey put it, it's "a film more about imagination than historical accuracy". (Pictured above, Zac Efron and Hugh Jackman).
Barnum's progress was a roller-coaster ride of failure and success, and it's presented here like a succession of postcards of phases in his life, Barnum leaping between them without bothering with the tiresome connecting bits in between. Writers Jenny Bicks and Bill Condon have boiled the story down to Barnum's eventually happy pursuit of his childhood sweetheart Charity (Michelle Williams, looking sparkly and angelic but required to exercise no acting skills whatsoever). She has a horrible father who hates the young Barnum and tries to crush their relationship, but he can't compete with the combined power of young love and Barnum's soaring ambition. Barnum explains this in song – the young lovers have "a million dreams for the world we're going to make!" Professional success, once Barnum has battled through various dead-end jobs – a shipping clerk in New York, for instance, from where he cunningly purloins the deeds to ships lost at sea to use as future collateral – failures and bankruptcies as he creates ever-greater spectacles, points unerringly towards bliss in the final reel.
Best to enjoy it, if you can, for its rumbustious set-pieces. The film opens with a blasting pseudo-rock number as Barnum plays ringmaster to his polyglot ensemble, though like the other musical interludes it consists mostly of a huge beat and an oft-repeated chorus. One of the most fun parts is where Barnum's business partner Phillip Carlyle (Zac Efron) whirls around a circus ring in a duet with high-flying trapeze artist Anne Wheeler (Zendaya).
There's also a chunk of plot dealing with Barnum's promotion in the USA of soprano Jenny Lind, the renowned "Swedish Nightingale", played by Rebecca Ferguson (pictured above) at her most Ingrid Bergman-esque. However, where this Lind is a majestic diva who almost overwhelms Barnum with her seductive aura, it isn't very true to the real woman, a humble and devout person who gave most of her earnings to charity. Inevitably, Lind's real-life repertoire of operatic arias and Swedish songs is converted here into grandiose AOR schlock, so she sounds like Céline Dion in Vegas. It's very silly, but it might make an undemanding seasonal night out.
Michelle Williams looks sparkly and angelic but is required to exercise no acting skills whatsoever
rating
Explore topics
Share this article