Classical CDs Weekly: Bach, Bennett, Béla Fleck & Abigail Washburn |

reviews, news & interviews
Classical CDs Weekly: Bach, Bennett, Béla Fleck & Abigail Washburn
Classical CDs Weekly: Bach, Bennett, Béla Fleck & Abigail Washburn
High-octane baroque concertos and music from a versatile British composer, plus a pair of banjos
Saturday, 20 January 2018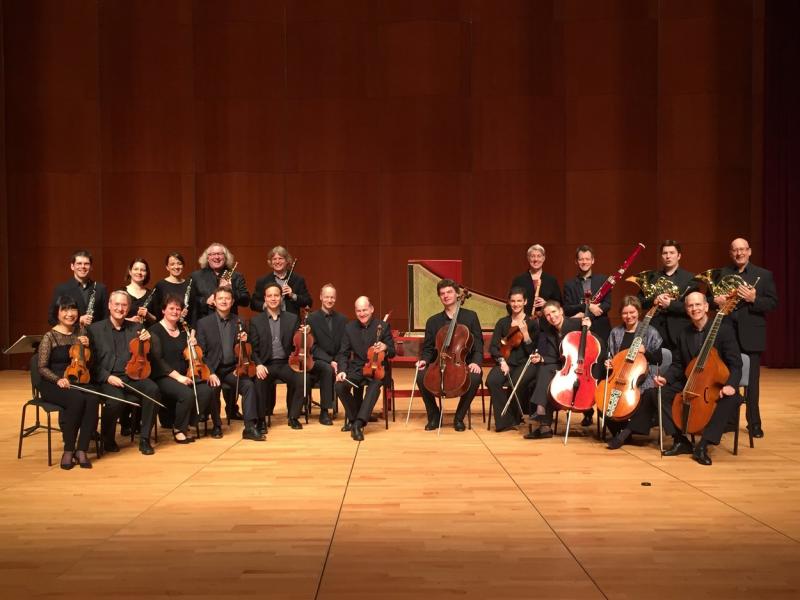 Fruity sonorities: The Berliner Barock Solisten
Bach: Brandenburg Concertos 1-6 Berliner Barock Solisten/Reinhard Goebel (Sony)
This set's arrival sent me scurrying back to listen again to Reinhard Goebel's 1985 DG set of Bach's Brandenburgs with Musica Antiqua Koln: hyperactive, sharp-edged performances which still sound disarmingly fresh. The issue back then was Goebel's propensity to adopt speeds on the edge of playability: I'm showing my age in remembering that I could squeeze his set onto a single C90 cassette. Happy days. The Third Concerto was the jaw-dropper, its second movement improbably, ludicrously swift. This new set is similarly volatile, the speeds occasionally faster still. But the Berliner Barock Solisten, though impeccably historically informed, play modern instruments. There's a case for saying we get the best of both worlds, though the wiry astringency of the earlier recording still charms. Here, the warmer instrumental blend adds a very different set of colours. Valved horns and trumpets make for a superficially safer ride in the first two concertos, though any hint of routine is avoided thanks to Goebel's rhythmic savviness. No. 2's close is a surprise, the customary slowdown avoided: the music abruptly stops. I love this new version of No. 3, the two movements again separated by a whisker. The second half is implausibly fast but there's abundant joy along with the excitement.
Harpsichordist Raphael Alpermann is consistently impressive, his elaborate cadenza in No. 5 a highlight, and there's some delectable recorder playing in No. 4. And I'd suggest that this new account of No. 6 is an improvement on the 1985 version, the fruitier string sonorities balm to the ears. Two cantata movements are included as a bonus, the best-known a more fully-scored version of Concerto No. 3's opening.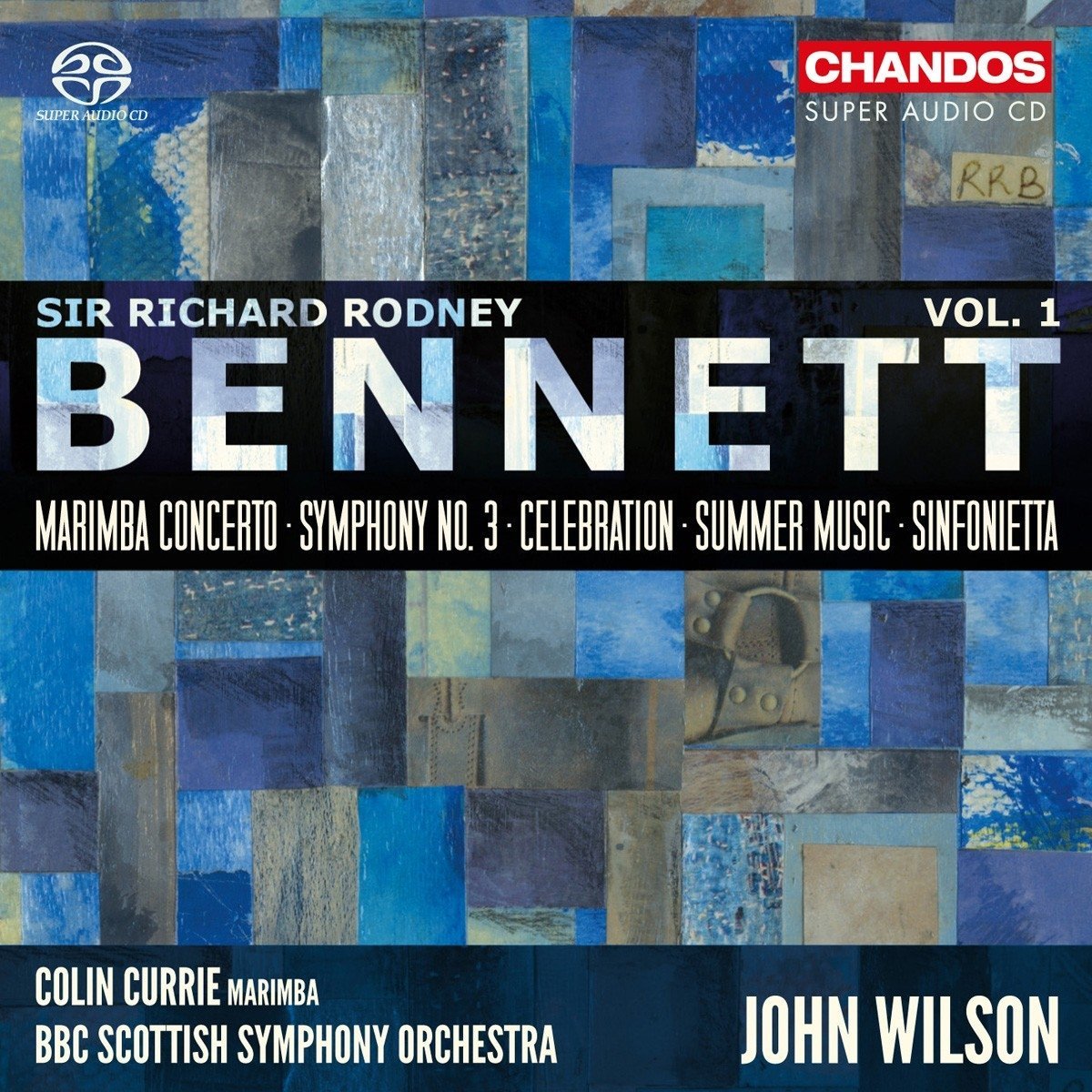 Richard Rodney Bennett: Marimba Concerto, Symphony No. 3, Sinfonietta Colin Currie (marimba), BBC Scottish Symphony Orchestra/John Wilson (Chandos)
Richard Rodney Bennett's compositional versatility made him difficult to categorise: this was a serially-inclined Boulez pupil who loved Gershwin and Jerome Kern, besides churning out dozens of film scores. This Chandos disc focuses on what Bennett referred to as his "concert music" (he was reluctant to describe it as "serious") and it's a stunner. Start with the three-movement Symphony No. 3, premiered in 1987, and the composer's favourite among his works. Economically scored and cannily structured, it begins in extraordinary fashion: a lyrical unfolding which suggests a meeting between Vaughan Williams and Berg. Richard Bratby's lucid sleeve note refers to the work's "journey towards tonality": we do reach a definite C minor and the symphony ends with a unison F#. Though you wouldn't necessarily notice; Bennett's music in serial mode is never a tough listen.This symphony lasts a little over 20 minutes, so there's room for much more. The 1984 Marimba Concerto is as appealing, Bennett's diaphanous orchestral textures giving soloist Colin Currie plenty of space to breathe. There's an exhilarating, athletic coda before a punchy close.
Bennett's pithy Sinfonietta is a lively, colourful mini-symphony, conceived with amateur performers in mind. similar in tone is his five-minute Celebration, an ecstatically upbeat blast of brassy noise. Calmer is 1984's Summer Music, Bennett's own orchestration of a suite for flute and piano. It's fluff, but gloriously accomplished fluff . Performances are electrifying: the acoustic of Glasgow City Hall lending space and warmth to the sound. John Wilson's BBC Scottish Symphony Orchestra are on superb form, their playing combining transatlantic sheen with earthy weight. Dive in forthwith – an invigorating feelgood disc. One of Bennett's own collages makes for attractive sleeve art.
Béla Fleck & Abigail Washburn Echo in the Valley (Rounder Records)
Is this disc folk or classical? I'd argue that Echo in the Valley has a foot in both camps. Béla Fleck (yes, his parents did name him after Bartók) has impeccable credentials and has been cited as the world's leading banjo virtuoso. He's written concertos for the instrument and has worked with a starry list of classical, jazz and folk luminaries. Here he's teamed with his wife Abigail Washburn who's on lead vocals as well as banjo duties. Ground rules for composing the numbers on the album included stipulating that all pieces had to be playable live, and that a pair of banjos were the only instruments. You can hear conventional playing technique pushed to the limit, and there are frequent musical nods to the banjo's geographical origins.
There's an extended instrumental medley based on three traditional melodies at the album's centre which isn't a million miles away from a Bartók folksong transcription. Elsewhere, vintage Americana is the dominant influence. Washburn's expressive vocals are a joy, especially in numbers like the angry "Come All You Coal Miners", and the bittersweet "If I Could Talk to a Younger Me", the slowness of her delivery set against the hyperactive banjo accompaniment.
Bach: Brandenburg Concertos 1-6 Berliner Barock Solisten/Reinhard Goebel (Sony)
Bennett's diaphanous orchestral textures give soloist Colin Currie space to breathe
Share this article