Journey's End review - requiem for the poor bloody infantry
Journey's End review - requiem for the poor bloody infantry
Superb film treatment of RC Sherriff's World War One play
Darkest hours: Sam Claflin as Captain Stanhope
With Dunkirk and Darkest Hour threatening to storm the Oscars, it seems there's suddenly plenty of mileage in portraits of the British at war.
There have been several film and TV versions of RC Sherriff's World War One
play
,
Journey's End
, since it debuted on the London stage in 1928 (featuring a young Laurence Olivier), but director Saul Dibb's new incarnation is a fine testament to the lingering potency of the piece.
Its timing is immaculate, since the action depicted took place on the Western Front almost exactly 100 years ago, and later this year we'll be remembering the 1918 Armistice. Journey's End depicts the fraught predicament of an infantry company as they wait in the front line trenches for an anticipated German assault, which is likely to be overwhelming. They know they're a sacrificial gesture, under-manned and under-equipped but ordered by their brusque and callously unsentimental Colonel (Robert Glenister) to "hold them up as long as you can". The German trenches are only 60 yards away, and the shadow of doom is palpable.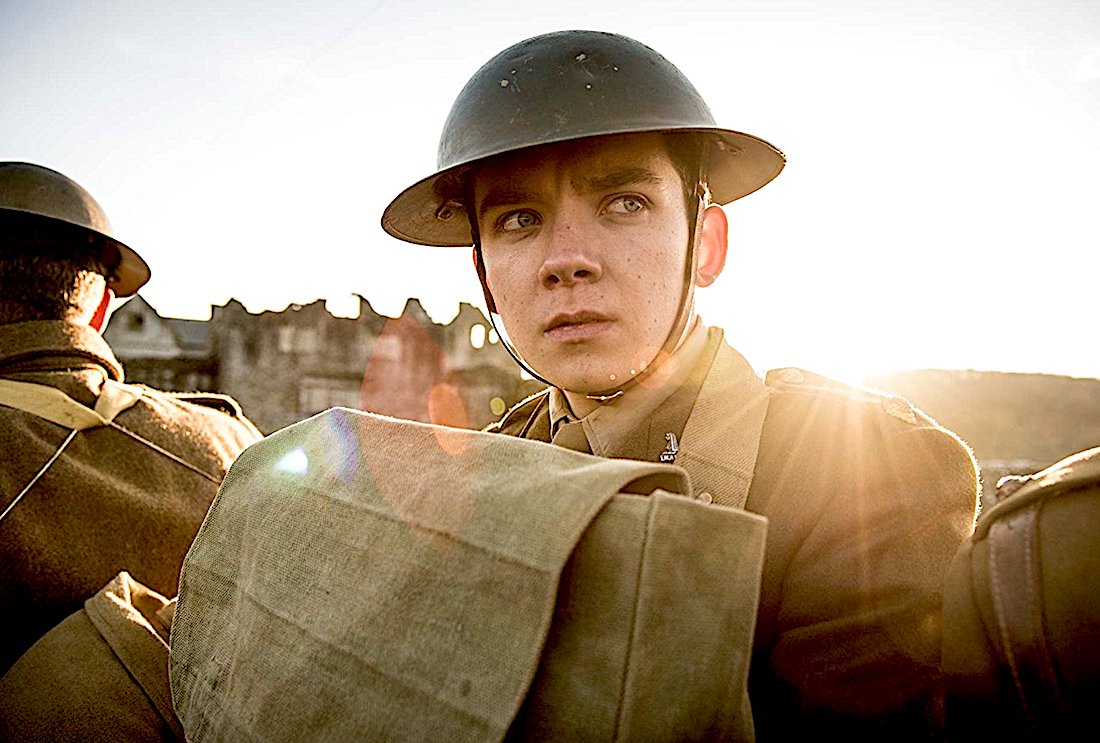 Armed with a taut, uncluttered screenplay by Simon Reade and a splendid group of actors, Dibb evokes the terror and misery of the trenches without lapsing into preachiness or sentimentality. He has added just enough filmic scope, with scenes of ruined French towns and shell-ravaged countryside, almost entirely drained of colour, to establish the dismal milieu without compromising the tightly-wound dramatic engine at the core of the piece. Overhead shots of the battlefield recall the old aerial reconnaissance films often seen in TV documentaries.
Front and centre is Sam Claflin as Captain Stanhope, the much-admired commanding officer of our benighted troupe. Stanhope has been in the thick of the action far too long and is on the brink of mental collapse, holding himself together with whisky but sticking it out because "it's the only thing a decent man can do".
Claflin's staring-eyed desperation is agonising to behold, and he convincingly portrays a man who's mentally living in a kind of parallel dimension (there's a dream sequence where he stares, mesmerised, into a searing orange inferno). The clash of worlds is rendered explicit by the arrival of the impossibly green newcomer Lieutenant Raleigh (a baby-faced Asa Butterfield, pictured above), a mere boy who's had the minimum of training on Salisbury Plain. Nonetheless, he's gung-ho to get stuck into some action which he fondly imagines can be noble and heroic (though it's difficult to imagine anyone still felt like this after nearly four years of carnage). Raleigh idolises Stanhope, who's engaged to his sister Margaret, and has specifically requested to be posted to his unit, but can barely recognise the man he finds in the stygian underworld of the trenches. For his part, Stanhope gazes at Raleigh in speechless horror, as if he's a ghostly visitor from a different life to which he can never return.
Although nobody (except Raleigh) is harbouring any illusions about what fate holds in store, the interplay among the soldiers is funny, heart-rending and shrewdly observed. There's Paul Bettany's Osborne (or "Uncle", pictured left), a public school teacher, former star rugby player for Harlequins and family man who's a little older than the others, and has found a kind of Zen resignation. His benign concern for his men is all the more touching because everyone implicitly understands that it's futile. Toby Jones adds wry relief as Mason the company cook, fighting a losing battle against the uneatable (delicacies include "yellow soup" and cutlet-shaped items purporting to be meat). As Trotter, Stephen Graham brings a physical comradely warmth to the gathering gloom. The only one threatening to let the side down is Hibbert (Tom Sturridge), who keeps protesting that he's ill. No, Stanhope points out, he's just terrified, but so is everybody else.
The rotting trenches and aura of apocalyptic breakdown rapidly vaporise Raleigh's romantic illusions, and his first taste of action – an intelligence-gathering raid on the German trenches – is a brutal crash course in the expendability of the poor bloody infantry. Dibb gives us only a glimpse of home, a scene of Margaret receiving Raleigh's letter. Perhaps he was thinking of Wilfred Owen – "the pallor of girls' brows shall be their pall".