La forza del destino, Welsh National Opera review - rambling drama, fine music |

reviews, news & interviews
La forza del destino, Welsh National Opera review - rambling drama, fine music
La forza del destino, Welsh National Opera review - rambling drama, fine music
Verdi's Russo-Spanish hotchpotch given the full treatment with mixed success
Saturday, 03 February 2018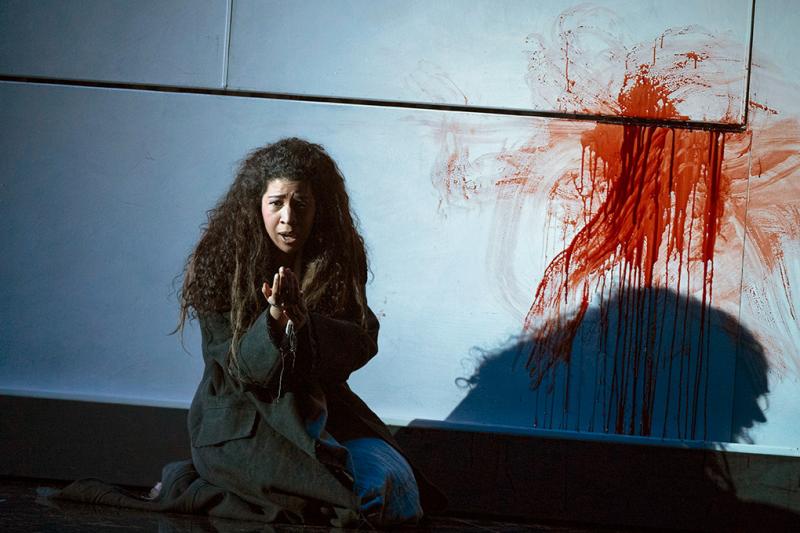 Mary Elizabeth Williams as the persecuted Leonora
David Pountney's tenure at WNO has been an almost unqualified success, despite some eccentricities of repertoire and a certain obstinacy in the matter of new commissions. His own productions have included at least three of unforgettable quality.
He has vigorously promoted money-saving co-productions like this one with Theater Bonn. But there is not much, for my money, that even he can do with
La forza del destino
,
Verdi's
ramshackle response to an early 1860s commission from the Imperial Theatres in St. Petersburg.
Did Verdi have in mind some vague idea of what would go down well in barbaric Russia? It's often been suggested that the work's Petersburg premiere in November 1862 helped spark off the Russian love affair with wide-screen operas that mixed massive crowd scenes with intimate personal drama. But there was nothing very new about that idea, and in any case it's hard to see what the Musorgsky of Boris Godunov could have got from a work that so signally fails to integrate its highly contrived revenge drama with a string of colourful but essentially aimless choruses of peasants, friars, soldiers and assorted vagrants, fronted by Preziosilla – surely the most vacuous of stage gypsies – and the deeply unfunny crosspatch friar Melitone.
So: Forza is a blind spot of mine. Too bad. Pountney does his best to fit these bits and pieces together. His Spain is, more or less, that of the civil war. He cleverly turns Preziosilla (the leggy, spry-voiced Justina Gringytė, pictured above with the WNO Chorus) into Destiny itself, forever wandering on in flowing black or sequins and a top hat (designer Marie-Jeanne Lecca), bashing the floor in time with Verdi's stentorian opening, or handing out weapons to the duelling heroes.
He turns the Act II villagers into, presumably, fascist workers and kits out the anti-hero Don Carlo, supposedly disguised as a student, in something similar. He manages swift scene changes, with the help of Raymond Bauer's highly efficient, if blockish and not very elegant or atmospheric abstract rolling-screen sets; and he hints at connections between the idiotic Hispanic revenge, that overrides all other duties of love, gratitude, intelligence and common humanity, and Spanish attitudes to the Church (the friars ridiculed as a chorus of mitred, bloodstained bishops), and to blood in general – the sort that flows down the generations, as well as the sort that flows when you bleed.
But if Forza is a trial dramatically (and it certainly rambles on, even in this discreetly trimmed performance of the revised score), it does have many a fine page of middle-period Verdi – not just the famous overture – and some of his most brilliant scoring, notably for brass and woodwind. The clarinet obbligato to Alvaro's Act III aria is exquisite, and exquisitely played. The range of orchestral colour generally matches the kaleidoscopic dramaturgy, and is a good deal better organised. And if the individual characterisation is generally wooden, the vocal writing is often memorable.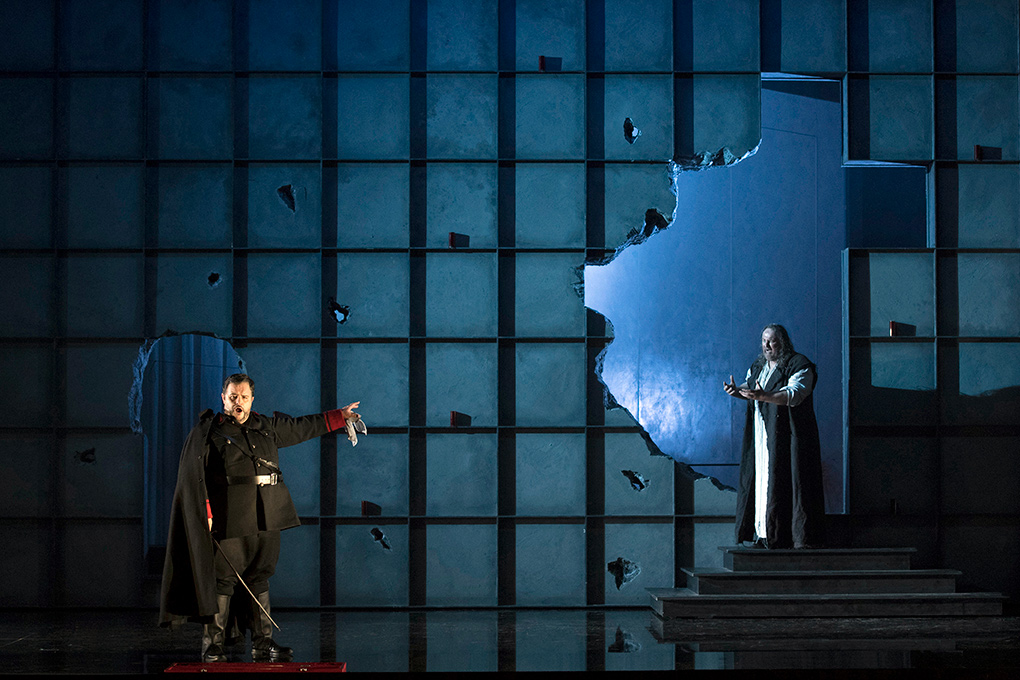 One problem for the top castings, though, is the erratic rhythm of their appearances. Mary Elizabeth Williams captures beautifully and with vibrant tone Leonora's emotional indecisiveness that is the trigger for the whole ludicrous farrago. But once safely ensconced in her mountain hermitage she vanishes from the stage for what seems like the eternity she craves, while her frustrated co-eloper, Gwyn Hughes Jones (the supposed Inca prince Alvaro), retires to the dressing room for the next hour or so.
Hughes Jones, no Laurence Olivier on stage, is a fine, stylish Italianate tenor, if inclined to flatten when lying wounded on a hospital bed, as no doubt one would. Luis Cansino(pictured above with Hughes Jones), as the vendetta-crazed Don Carlo, is a lovely dark baritone, if not exactly athletic of physique. Donald Maxwell, seventy this year and still going strong, does what he can with the lamentable Melitone. Miklós Sebestyén provides a good cameo of the Commendatore-like Calatrava, Leonora's father, shot dead by a one-in-a-million stray bullet and not even allowed to come back as a statue.
And as usual there is the marvellous orchestra under Carlo Rizzi, to relish as one struggles with the mindless confusion beyond the proscenium.