Carmen, Royal Opera review - clever concept, patchy singing, sexy dancing |

reviews, news & interviews
Carmen, Royal Opera review - clever concept, patchy singing, sexy dancing
Carmen, Royal Opera review - clever concept, patchy singing, sexy dancing
No central chemistry, but Barrie Kosky serves up set pieces full of panache
Wednesday, 07 February 2018
Anna Goryachova's Carmen borne aloft in Act 1
Roll up, dépêchez-vous, for Carmen the - what? Circus? Vaudeville/music-hall/cabaret? Opéra-ballet, post-Rameau? Not, certainly, a show subject to the kind of updated realism which has been applied by just about every production other than the previous two at Covent Garden.
Barrie Kosky dares to tread, and high-kick, where no one has gone before, giving us insights into the nature of
Bizet
's hybrid, with a few jolts in the score, too. But a staging needs to be authentic in every moment, like the composer, and while some of the cavalcade is brilliant in the extreme, what should be moments of truth aren't always so effective.
Part of the problem in this first-cast airing of Kosky's show at the Royal Opera – it was first seen in Frankfurt in 2016 – is a dramatically weak Don José. Francesco Meli's is a strenuous, unhoneyed tenor voice: good, at least, for the more brutish later stages. As a character, this José is grim and wooden. Worse, Kosky isn't interested in making him sympathetic. Yes, we know from Merimée's novella that the Basque outsider has a violent history by the time of his fatal meeting with Carmen in Seville. Should that make him a cold psychopath, though, totally unresponsive to Micaëla, the girl who brings him news of his mother?
In any case this Carmen calls most of the shots, manipulating her men as Master of Ceremonies. She's first seen as a torero in pink (pictured right), and first heard in the seductive amplified voice of Claude de Demo giving a feminist twist to Merimée's ennumeration of the 30 qualities Spaniards see as necessary for beauty in a women (he only gets to six, and recommends we look up one Brantôme for the rest). Demo's voice "does" much of Meilhac and Halévy's dialogue, too, as well as the stage directions, so we're not short of a context which this production might not otherwise give us.
Of Carmen's appearance to launch the Habanera, let's just say it's a homage to Dietrich's outrageous "Hot Voodoo" sequence in Blonde Venus (also mirrored, topically enough right now, by Uma Thurman's Poison Ivy in Batman and Robin). For the rest of Act One, she's androgynous in white shirt and tie, thereafter gorgeous in black dresses. Anna Goryachova is stunningly agile, and once the big mezzo voice settles in pitch, and we forget about the unGallic vowels, she offers us all we need in vocal acting from a Carmen.
Michael Rot's critical edition of a notoriously fluid score would in normal circumstances make the cutting to the chase of Act One even more padded than usual, since it includes some pointless if musically lively couplets for brigadier Moralès. But since this is for so much of its duration a vaudeville with spotlights behind the gold proscenium arch, and footlights at the front of the stage, that can be justified, even if Gyula Nagy overworks the act. The other surprise is how the Habanera we know and love switches to Bizet's first thoughts on the number.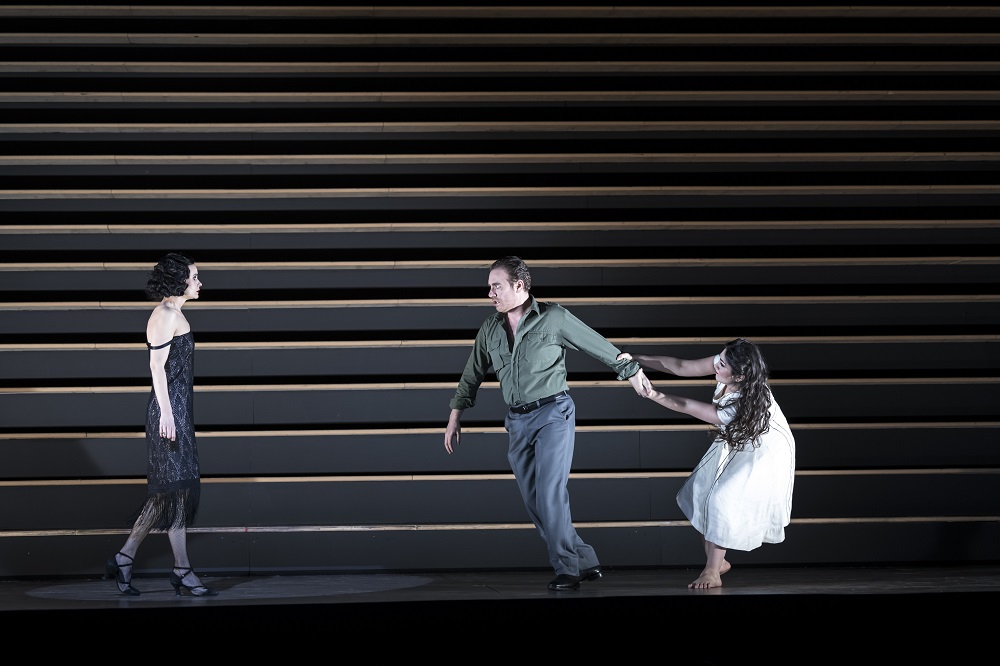 Like every other "hit" in the show, it's dazzlingly choreographed by Otto Pichler. The six dancers - three men and three women, though the gender-fluidity and the lack of credits in the main programme led me to think it was an all-male dance group - work their butts off. If you loved the dancing noses which were the best thing about Kosky's Royal Opera Shostakovich, you'll adore these routines, and the chorus makes a succession of surprising manoeuvres, mostly on the steep bank of steps which, variously lit by Joachim Klein, are all we need by way of a set from Katrin Lea Tag. Act Two has the best choreographic sequence, from Danse Bohème to Quintet, which includes promising vocal contributions from Jacquelyn Stucker's Frasquita and Aigul Akhmethina's Mercédès, and the only two native French-speakers among the singers as the male smugglers (Jean-Paul Fouchécourt and Pierre Doyen) - though the second cast will be led by Gaëlle Arquez's Carmen. Escamillo's number is pure camp rather than masculine swagger. It doesn't help that Kostas Smoriginas isn't a strong vocal presence; the part really does need the bass-baritone lower register.
When Bizet leaves off the glitz, though, the evening falters, even bores. Conductor Jakub Hrůša, in what (extraordinarily, given all his performances at Glyndebourne) is his Royal Opera debut, fine-tunes all the detail and ensures moments of ravishing beauty, especially in the flute-and-clarinet-led second Entr'acte, where the curtain rises on a chorus sleeping on the mountainside the steps have now become, an arresting tableau. But he lingers way too much on the melodies of the Don José-Micaëla duet, further holding up a slow first act, and the Flower Song. Carmen's solo in the Card Scene works by virtue of Goryachova's mesmerising control, and Kristina Mkhitarayan, more a spinto than a lyric soprano, has the big guns for Micaëla's aria (Mkhitarayan pictured above with Goryachova and Merli). Thereafter Act Three, much the best in Calixto Bieito's differently unbalanced production at ENO, is the least successful here; the fight between fugitive soldier and toreador is a damp squib and the conflict, though musically forceful, doesn't read well.
We're back to brilliance in Act Four; who could not feel jolly at the spectacle of leaping kids and adults watching the toreador "procession" (pictured above)? Here Carmen becomes a sort of Isolde, head and heart destined for death, stepping down with a huge black train behind her, immobilised, proud and defiant, for much of the denouement-duet. The final minutes in Rot's edition, though, are flaccid, and the last gesture doesn't work, for me, at any rate, even if it's consistent with the concept. Full marks to Kosky for finding symmetries throughout, like his visionary equal Richard Jones – shredded flower-petals mirrored by discarded cards, woman roped by man in Act One reversed in Act Two – but there has to be emotional heat somewhere, and what comes from Goryachova isn't enough in isolation. Maybe the second cast due for five performances of this run will provide that; there's enough going on to make a return visit to the production essential.
This Carmen calls most of the shots, manipulating her men as Master of Ceremonies
rating
Explore topics
Share this article