Long Day's Journey Into Night, Wyndham's Theatre review - Lesley Manville hits ecstatic, fatal highs |

reviews, news & interviews
Long Day's Journey Into Night, Wyndham's Theatre review - Lesley Manville hits ecstatic, fatal highs
Long Day's Journey Into Night, Wyndham's Theatre review - Lesley Manville hits ecstatic, fatal highs
A fine staging of O'Neill's family tragedy crowned by an indelible performance
Wednesday, 07 February 2018
Marriage: Lesley Manville and Jeremy Irons as Mary and James Tyrone
Eugene O'Neill's 1945 play Long Day's Journey Into Night is famously a portrayal of the hellish damage that a sick person can wreak on their family, closely based on his own family.
Mary and James Tyrone are images of his own parents, down to details like the father's compromised acting career, the mother's post-natal suffering from her last childbirth and subsequent addiction to morphine, and of course the emotional havoc for the small sons when they discover their mother's affliction.
But there is another addiction being shown, even sadder but also redemptive, and that is the addiction to loving her that her sons and husband can't cure, despite their awful sense of the hopelessness of it having any effect on her. To that degree, the play is also a startlingly uplifting portrayal of human love, and despite its marathon length I doubt many can leave the battleground of experiencing it with only despair and impatience in their heart.
The West End's transfer of Richard Eyre's 2016 Bristol production comes laden with starpower (press night guests included luminaries of literature, music and ballet as well as theatre and film), and undoubtedly the name of Jeremy Irons is the dazzling draw. Sumptuous as the man is still, even at nearly 70, irresistible as his tobacco-stained voice remains, it is the extraordinary performance by Lesley Manville as his wife that is the stuff that indelible theatre memories are made of.
The role of Mary Tyrone appears impossible to master, so many facets does it have, so many nuances did O'Neill remember and remarkably translate from his mother and his imagination into the woman here. We find she was a teenager in love with her Catholic religion, dreaming of becoming a nun when she met James Tyrone, a charismatic jobbing actor playing a swashbuckling French nobleman. "I fell in love with James Tyrone, and was happy for a time," is the play's final line, and the last three words throb with cruelly sad honesty.
A few years ago Laurie Metcalf gave us another astounding interpretation of Mary Tyrone as tremulous, evanescent, a lost woman. Her hold on the family was her elusiveness. Manville's glamorous, curly, frilly Mary is by contrast bursting with life, her terrifyingly girlish ways, her febrile patting hands and high-pitched Southern-belle voice all symptomatic of a woman pent up in frustration for 35 years and now heedless of the wreckage she is causing.
She is desperately lonely, raging with effortless verbosity against the fog that gathers around their house, protesting at a life unlived, at a husband who "could keep on buying property but never afford to give me a home." We hear she once dreamed of becoming a nun, and as her voice rises in joy when she harps on about it it seems that what drives her to morphine is an addiction to ecstasy, to highs, in a life of lows. "I scream in agony, and at the same time I will laugh," Mary says, a line that Manville makes lacerating use of in her characterisation.
Irons, to his credit, conveys a genuine and powerful passion for Mary, even as she is now, his hands caressing and appreciating her (the pair pictured right), but he is rather tossed about by the wordy torrents and the horny-handed background to his character — pace his own self-deprecation in an interview on The Arts Desk recently, nature has shaped him by voice and physique for classic magnificence and resonant taciturnity, in the line of his mesmerising Henry IV in The Hollow Crown, rather than working-class insecurity and ruthlessless. It is also not altogether in Irons' gift to play a bad actor well, and there are probably unintended comic effects. His body language is rather faux-elderly, and his accent all over the place, rarely touching down in either America or Ireland.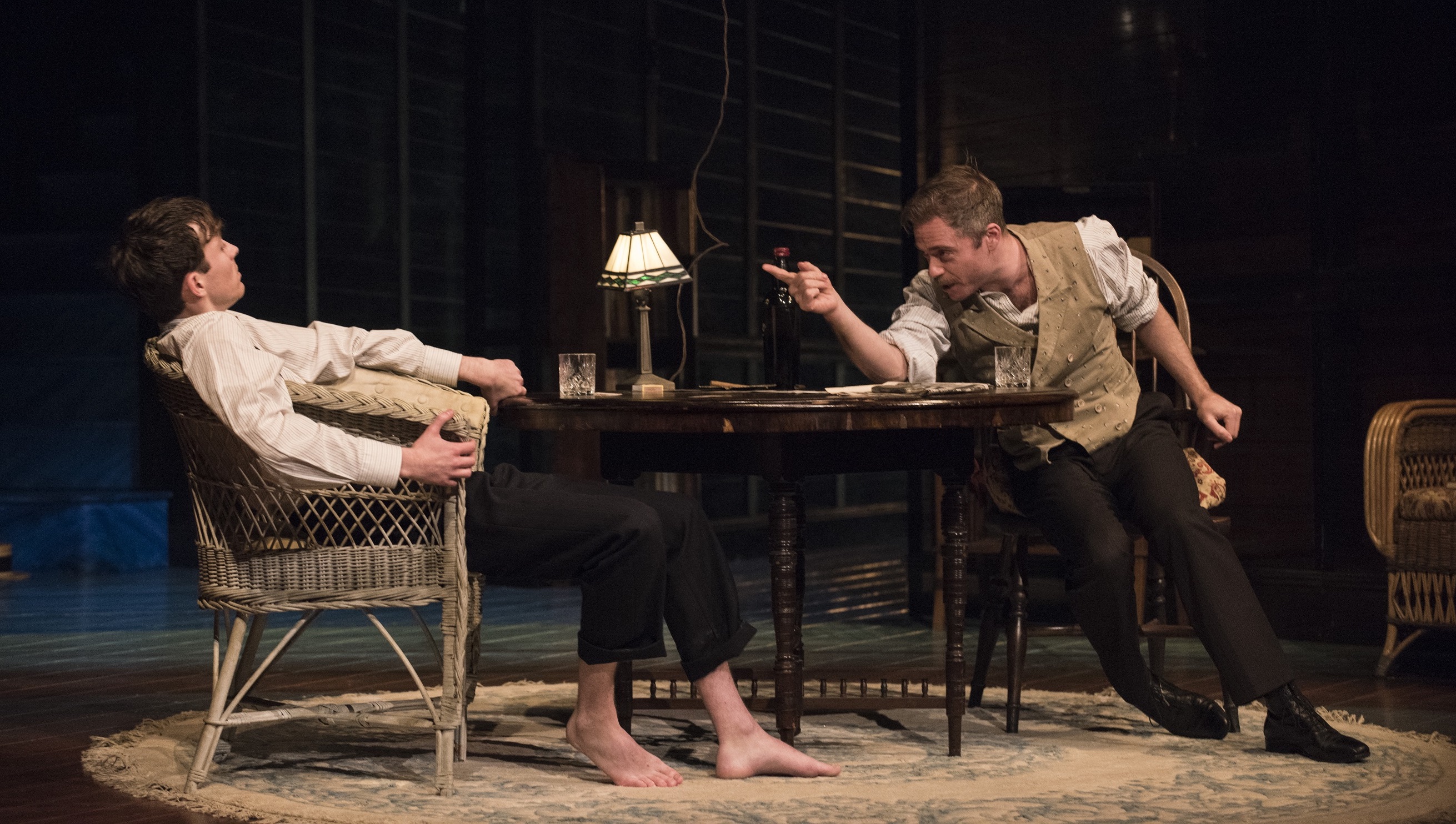 But he emits a great and embracing kindliness, softening the edge of the reactive attacks that he tends to launch on his two sons, Rory Keenan's terrific, cynical Jamie and Matthew Beard's consumptive Edmund (pictured above). O'Neill sees himself in Edmund, which is rather overwritten and becomes pretentiously wordy in the long night of Act 2; Beard, physically very well a chip off Irons' spidery block, has a fluty tenor intensity that impresses without quite moving, while Keenan, the one family member determined to sweep away pretences, roughens and undersells himself to very touching effect.
The interaction of the four Tyrones is brilliantly naturalistic, their physical traits and individuality glittering with specificity against the deliberately foggy, illusory set of transparent walls by Rob Howell, lit by Peter Mumford, and with evocative, barely audible foghorns and sea wind by sound designer John Leonard. Overall a fine staging, but Manville provides the ecstatic charge in it.