La Vie Parisienne, Royal Birmingham Conservatoire review - vintage champagne in a new bottle
La Vie Parisienne, Royal Birmingham Conservatoire review - vintage champagne in a new bottle
A celebratory production adds up to more than the sum of its parts
The Mozart of the Champs-Elysées - Royal Birmingham Conservatoire's 'La Vie Parisienne'
Don't you just love that new concert hall smell?
The main hall at the Royal
Birmingham
Conservatoire is so new that as soon as you walk in you get the scent of fresh woodwork; so new, in fact, that it won't even be officially opened until next month (
Mirga Gražinytė-Tyla
and the Earl of Wessex are doing the honours, apparently). And it's a beauty: a spacious, shoebox-shaped room with a stage big enough for a Mahler symphony and acoustics that are lucid (without being flashy) in all registers. You can sort of understand why the RBC succumbed to the temptation to smash a bottle of musical champagne over their new home with this semi-staging of Offenbach's
La Vie Parisienne
.
It's not the usual procedure. The RBC's vocal department usually hires the pocket-sized Crescent Theatre in Brindleyplace which – although it struggles to accommodate a full orchestra – at least has the basic equipment of a theatre. With the orchestra at the back of the platform and drapes forming an ad hoc proscenium, there was a sense throughout this energetic and frequently very funny production that it was straining at the limits of what was possible with this minimal set-up – full costumes, but no scenery beyond a couple of tables and a sofa.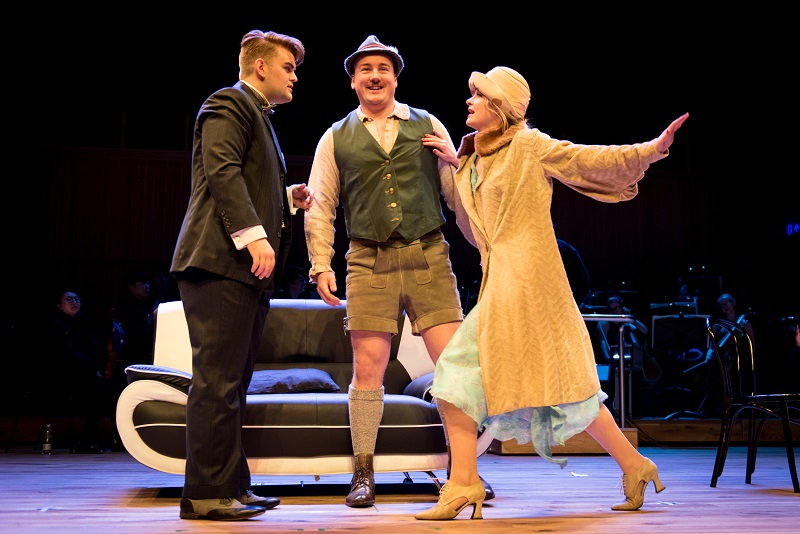 That's not meant as a criticism of Michael Barry's production. If anything, it's a reflection of the energy and inventiveness with which he marshalled his chorus scenes and choreographed each number – no song without a dance here – and the sheer brio with which his student cast went at it. You don't expect superpowered singing from a student production, but the spoken dialogue (every bit as crucial in operetta) can trip up even professional companies. Barry uses a droll English translation by Clive Timms and Martin Lloyd-Evans, and for every groan-inducing pun ("If she was a Swede, that'd be a turnip for the books") there was a little touch of wit that gave the performers something to run with. One of the joys of the show was how fully they inhabited their personas, whether James Gribble's strutting bantam of a Bobinet, Hélène Ducos's feline Métella, or Joe Clayton's drooping dignity as the head waiter. I've still no idea why Barry transformed the shoemaker Frick into a lederhosen-wearing comedy German, but Dominic Lee (pictured above, with Jack Dolan as Gardefeu) carried it off with lugubrious good humour.
It looked colourful, too. There wasn't much visual scope to evoke the City of Light, so Jennet Marshall's costume designs sketched the general atmosphere, updating Offenbach's Second Empire to a comparably louche 1920s complete with flapper dresses, pencil moustaches and pinafore clad schoolgirls (plus attendant nuns) straight out of Ludwig Bemelmans's Madeline. But of course it's the music that really supplies the fizz, and La Vie Parisienne is premiere cuvée Offenbach, bubbling pure from the source (there's a reason why they called him the Mozart of the Champs-Elysées). To his credit the conductor, Michael Seal, knew better than to handle it like Sèvres porcelain, and while the big choruses bustled along exuberantly, and the violins had a seductive way of caressing a melodic line, he was ready to deliver a brisk rhythmic kick when necessary – while piccolo and bassoon got their due share of the comic action.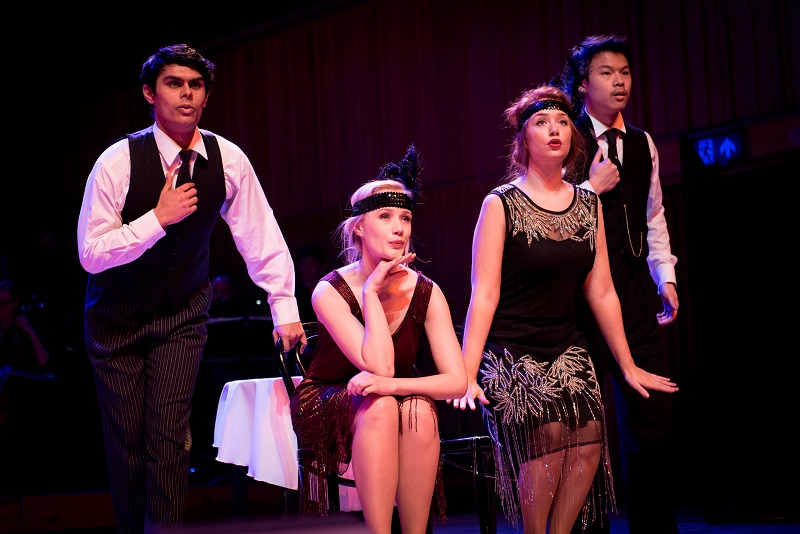 The singers seemed empowered by such close support: predominantly undergraduates (or so I understand), it's perhaps unsurprising that many of the voices were somewhat underweight. (English translation or no, the absence of surtitles in the sung numbers was a serious problem). But that doesn't necessarily stand in the way of a persuasive performance, and Jack Dolan's big, brisk and engagingly raffish Gardefeu had a lively comic rapport with both Gribble and Andrew Randall's delightfully dry stick of a Swedish baron. Occasionally a voice seemed under-utilised – I'd like to have heard more of Andrew Armstrong's handsome baritone as the manservant Prosper (pictured above left), and Elouise Waterhouse made the haughty best of the underwritten role of the Baroness.

Ducos found a properly steely diva snarl as Métella showed her claws; and she had a rather stylish way of draping melody over an accompaniment. But it was Elise Fairley as the glovemaker-on-the make Gabrielle who ran away with the show – as Gabrielle so often does. This was a voice with a genuine soubrette sparkle, carried with smiling assurance: social-climbing has never looked so much fun. And if it's to be hoped that the RBC's operas are back in a proper theatre next time around, it doesn't detract from the fact that – as a one off celebration – this Vie Parisienne is nothing if not a lot of fun.
Offenbach's Second Empire is updated to a comparably louche 1920s, complete with flapper dresses and pencil moustaches
rating
Explore topics
Share this article