Les Contes d'Hoffmann, Royal Opera |

reviews, news & interviews
Les Contes d'Hoffmann, Royal Opera
Les Contes d'Hoffmann, Royal Opera
A solid spectacle still, but it's time for this Hoffmann to pass the baton
Tuesday, 08 November 2016
Living doll: Hoffmann (Grigolo) falls for the mechanical charms of Sofia Fomina's Olympia
The Tales of Hoffmann is a young man's piece, full of melodic energy and helter-skelter narrative thrust. We tumble from love affair to love affair, lusting, losing and leaving three women in barely three hours, before taking peevish refuge in the comforts of art. John Schlesinger's 1980 production may have its visual compensations, but lively it ain't (barely alive at all, at times), and now on its eighth revival is looking decidedly arthritic.
Thanks to tenor Vittorio Grigolo, however, it's sounding pretty damn fine.
There's good and bad here, but the good is overwhelmingly about Grigolo. We've seen some less than subtle acting from the Italian tenor on this stage, heard some singing verging on the vulgar, but here he reins it in dramatically while giving his absolute all vocally, and it's a winning balance. Bright and resonant, flung out to the very back of the house, Grigolo's voice has never sounded healthier – the musical embodiment of that restless energy and ardent emotional drive that propels Offenbach's opera. He croons in pianissimos more fragile than the consumptive Antonia, and turns up the comedy for a riotous Kleinzach. This is a bravura performance pitched at a different dramatic volume to almost everyone else on stage. If it doesn't quite chime as previous performances have with Schlesinger's vision of a grey-haired, broken and retrospective Hoffmann, then it hardly seems to matter
A strong cast on paper doesn't quite gel in performance. Thomas Hampson's three villains may be a charismatic, Met-honed product but there's no getting away from the fact that he still lacks the raw bass colour and power at the bottom of the register that makes them so menacing. Likewise the deliciously boyish Kate Lindsey (pictured below) – singing with such character and energy – nevertheless feels strained by the slightly low-lying role of sidekick Niklausse, dwarfed by some of the bigger voices on stage.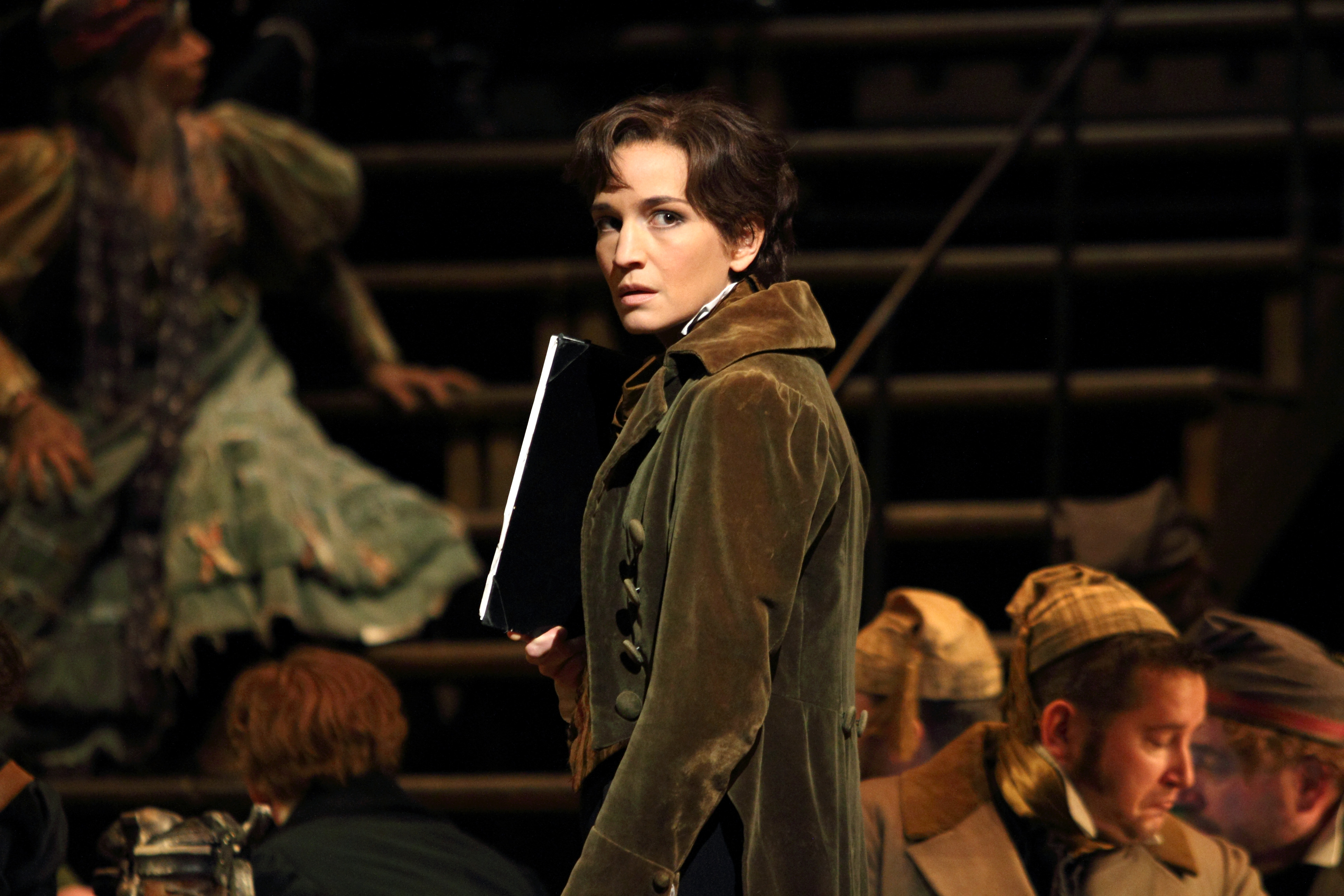 Hoffmann's three beloveds are split, as in previous revivals, between three different singers. Christine Rice (pictured below with Thomas Hampson) returns as the courtesan Giulietta – queenly and poised, though I'm not sure I still wouldn't prefer a soprano in the role, with Sofia Fomina delivering a slightly pinched performance as mechanical doll Olympia, making heavy weather of "Les oiseaux dans la charmille". Sonya Yoncheva offers an exciting musical climax (in this traditional ordering of the acts) as Antonia, but there's a certain wildness to the very top of the voice that feels uneasily confined in this demure role.
Legend has built up around William Dudley's designs for Giulietta's act – a gorgeous Venetian palazzo, complete with bacchanale and passing gondolas – and it still does the business. But although his three-level set proves wonderfully adaptable (though hardly swiftly adaptable, if the lengthy scene-changing pauses are anything to go by), the other two acts scarcely reach anything like the same level, and dimly lit by David Hersey it's often hard to see precisely what's going on in their many dark recesses.
It's hard to see what revival director Daniel Dooner has done here, though perhaps the stiff and jerky action on stage is simply the mirror of conductor Evelino Pido's deeply unsympathetic tempi. Act I was a battle between singers and pit, with major interpretative disagreements played out over the course of more than one aria. Hopefully this will settle, but it's hard to believe it will ever have that instinctive shimmy and prance that this responsive score can have at its best.
This Hoffmann is still a solid piece of spectacle, but surely an opera so taken up with illusion and appearance, with phantasmagoria and fantasy, deserves something shinier? This is analogue Offenbach; it will be fascinating to see what the Royal Opera can come up with for the digital age.
Legend has built up around William Dudley's designs for Giulietta's Venetian act, and it still does the business
rating
Explore topics
Share this article