The Tales of Hoffmann / Werther, English Touring Opera |

reviews, news & interviews
The Tales of Hoffmann / Werther, English Touring Opera
The Tales of Hoffmann / Werther, English Touring Opera
Cinematic fantasy and dangerous emotion in two inventive new productions
The doll Olympia (Ilona Domnich) viewed by Hoffmann (Sam Furness) through rose-tinted spectacles
It would spoil the surprise to say what exactly emerges when – after a breathless build-up and a few glimpses of a seductive silhouette – the living doll Olympia finally makes her entrance in Act One of English Touring Opera's new production of Offenbach's The Tales of Hoffmann. Let's just say that it's startling, beautiful, strange and ever-so-slightly spooky. In a word: uncanny. In an even better word: Hoffmannesque.
The audience gasped, and James Bonas's production found its stride.
The Tales of Hoffmann(*****) is the centrepiece (with Debussy's Pelléas et Mélisande and Massenet's Werther) of ETO's all-French autumn programme, and it's easily the most successful of the three. Bonas's starting point is that Hoffmann is a silent movie director, his Stella (what else?) a star. The scenes that establish this idea are actually the least effective, notwithstanding brief mentions of Cecil B DeMille and Los Angeles in the translation (both Hoffmann and Werther are sung in English). But it's a handy excuse to unlock a phantasmagoria of cinematic references: everything from Nosferatu and the Marx Brothers to Spielberg's A.I. and Tim Burton (and there's definitely more than a hint of Gene Wilder about Sam Furness's Hoffmann). Oliver Townsend's set transforms from sepia-toned film studio to the 19th century gothic of Crespel's house and the garish retro-kitsch of Giulietta's Venetian bordello.
It's a tribute to Bonas's direction that all these influences come together so brilliantly and subversively: a multi-layered drama of identity and obsession disguised as terrific fun. Insights and images just keep coming, yet once Hoffmann starts telling his tales, they all serve a purpose, whether the spiralling eyeballs of Spalanzani's laboratory, the distortions of a fairground mirror, or Nicklausse (Louise Mott, totally owning her oversize schoolboy costume) puncturing a moment of high drama by sitting glumly at the back, sucking on a lollipop throughout. This production is exuberant with its ideas, frequently magical to look at, and deeply rooted both in the imaginative world of the real Hoffmann and Offenbach's glittering, endlessly inventive score.
It helps that Bonas has such a strong cast - even roles such as Cochenille/Frantz (Matt R J Ward – whose comic timing stays precisely the right side of hammy) and Crespel (Kieran Rayner, substituting handsomely for Tim Dawkins, and coming across as the only entirely sane character in the whole thing) are vividly drawn. If the evening belongs to any one singer, though, it's Warwick Fyfe as Lindorf and his triple alter-egos (his Doctor Miracle with Ilona Domnich's Antonia pictured above). Lurching about the stage with a sonorous, velvet-black baritone and a nice line in reptilian hisses and cackles, he brings an eerie chill with each entry, even before (with help from Mark Howland's strikingly imaginative lighting) he morphs into a full-blown creature of the night.
As the multiple heroines, Ilona Domnich seems most at home as a poisonously sensuous Giulietta; her creamy tone makes for a more warm-blooded-than-usual Olympia and an ardent, impetuous Antonia. Sam Furness's tenor as Hoffmann (pictured below with Fyfe as eye-laden Doctor Coppelius) sounds almost too seductive for a serial romantic failure. This is a voice with star quality, and Furness can float it delicately over a final chord as readily as he can send it slamming to the back of the hall. No matter; his Hoffmann is anything but one-note. With the final image of him sprawled, wasted, on the floor of his studio, gazing at his flesh-and-blood Stella through a torn cinema screen, reality finally seems to arrive: and along with it, the realisation that we've just seen two and a half hours of ETO pretty close to the peak of its game.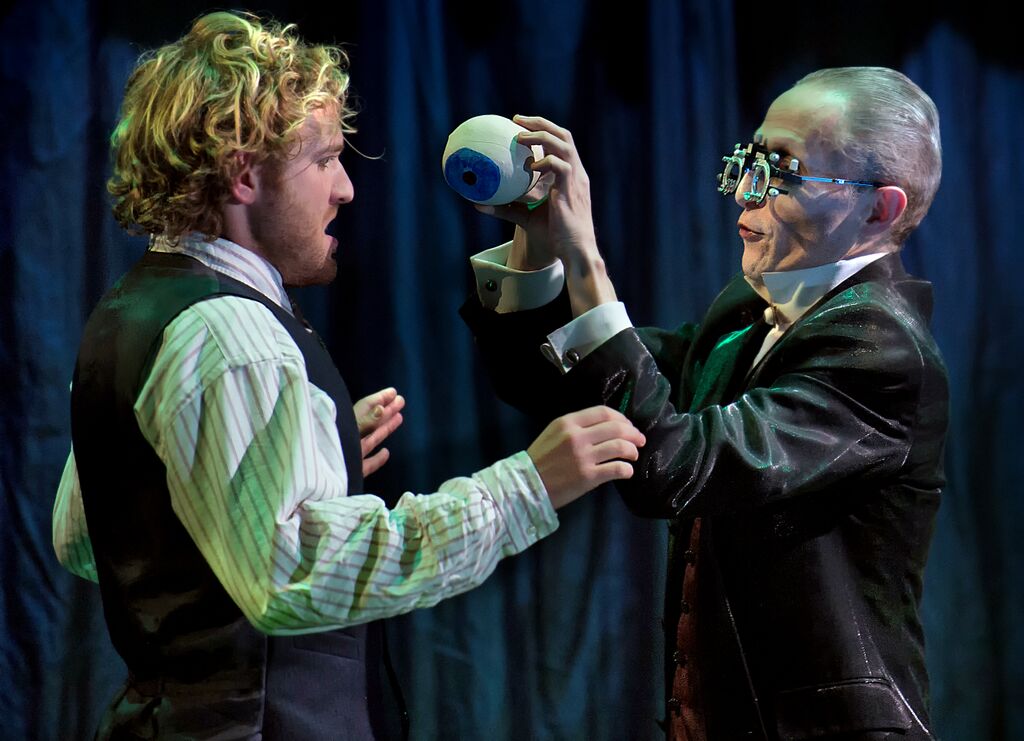 Philip Sunderland conducts with bubbling verve, and after a few fluffed notes at the start, his players sounded like they were enjoying every note of Stephen Brown's colourful reduced scoring. ETO's use of reduced orchestrations is occasionally described as an artistic compromise. In fact they're the basic premise upon which productions like these are conceived, and when they result in work of this quality and ambition (neither Hoffmann nor Werther has received a professional production in the Midlands this century) I wouldn't presume to second-guess ETO artistic director James Conway's judgement of what's realistically do-able in the pit at (say) the Gala Theatre, Durham or the Theatre Royal, Bath.
Or, indeed, why it's necessary to have the four-piece orchestra on stage in Werther (***). Scored for a piano trio plus clarinet, Ian Farrington's arrangement is intended (according to Conway) to evoke "the distinctive sound of French chamber music". But introducing a piano to the sound-world severs any last connection with the orchestral original - nothing says "nineteenth century romantic orchestra" less than a piano – and strips away a layer of lyricism. Add the decision to cast a baritone rather than a tenor as Werther – an option authorised by Massenet himself – and a luscious romantic star-vehicle becomes a conversational chamber drama: a Werther in coloured pencil rather than oils.
Having made those choices, director Oliver Platt runs with them – at least as far as his concept allows. We're in a 1950s-ish American Midwest; or at least a version of it in which children sing Christmas carols in French and volumes of Ossian are on every sideboard. Vintage bric-a-brac gives a realistic look to Townsend's homely set (as long as you ignore the four musicians by the back door), and the lead roles are taken by plausibly young singers.
Ballard plays Werther as a nerd-turned-stalker in beatnik specs, with a raw edge to his voice, while Carolyn Dobbin's volatile Charlotte (pictured right with Lauren Zolezzi's Sophie by Robert Workman) sings in tones that suggest a Carmen or Amneris, at her best in moments of emotional strain or whispered tenderness. Their scenes together generate a voltage that's just high enough to be dangerous. Simon Wallfisch as Albert flips plausibly from smug-married to predatory thug. Only Lauren Zolezzi (Sophie), though, really gives the impression that she's able to meet all of Massenet's vocal demands, pealing out her high notes with smiling charm.
Yet somehow, for all its conviction and imagination, it doesn't quite cohere. Maybe emotions as supercharged as Werther's demand the perspective that a more traditional staging allows; maybe it's just the gradual build-up of small misfires – Platt's tendency to stand singers at the edge of the stage, gesticulating; or a clunky translation of the "Yes, it is I!" variety. And maybe this is nit-picking at a sincere, intelligent production, filled with real pleasures, of an opera that no national company is ever likely to tour to Malvern, Buxton, Durham or Bath. More, please, from these artists: on present form, a near-miss from ETO is infinitely more worth seeing than another safe revival from a company with twenty times the budget.
A multi-layered drama of identity and obsession disguised as terrific fun
Explore topics
Share this article