Being Blacker, BBC Two review - absorbing film about family, culture and society |

reviews, news & interviews
Being Blacker, BBC Two review - absorbing film about family, culture and society
Being Blacker, BBC Two review - absorbing film about family, culture and society
Molly Dineen documentary puts race identity in Brixton under the microscope
Blacker Dread: 'I learnt my education from the ghetto college of further education'
They don't commission many television documentaries like Being Blacker (BBC Two) any more. That is not unconnected to the fact that Molly Dineen downed her camera a decade ago.
Dineen began filming in another age, before the arrival of kiss-me-quick multi-channel digiverse, and has kept to the habits she learned back then - to observe and probe her subject over months or even years, wielding her own camera. Those habits are expensive and time-consuming and result in richly detailed films like this which tell an epic story on a miniature canvas.
The title refers to Steve Burnett-Martin, better known in Brixton as Blacker Dread. He arrived in the UK from Jamaica as a boy (pictured below), where he was reunited with parents he barely knew. "'Oo is dis woman?" he asked at the airport. In the narrative of his life, England didn't want him. He was forced to retake his 11-plus as no one would believe he hadn't cheated. Every day at grammar school in suburban Penge he ran the gauntlet of white kids whose goal was to beat him up. He couldn't tell his parents for fear of upsetting their dream of a better life in England. He didn't pass any exams. He got a Saturday job at Crystal Palace where racist fans would shout, "Oi nigger, come sell me a programme" or call him a "black cunt". He remembers people telling him to "go up on the jam jar, you little gollywog".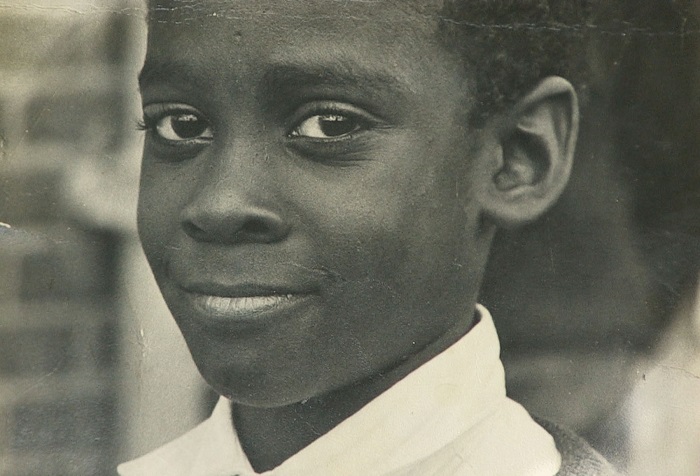 That was London in the 1970s. "You grow up feeling that you ain't a part of what's going on," Blacker reasoned, "so you become what you would never have been." Dineen encountered him in the 1980s while making a film about Jamaican sound systems in the UK. He found his niche as a record producer. The cause of their reunion, and the germ of this feature-length documentary, was the funeral of his mother Pauline (pictured below), which as a devoted son he asked Dineen to capture on film. She must have intuited that there was a longer story to be told when attending the funeral, alongside Pauline's 94 grandchildren and great grandchildren. It lasted three and a half hours. Sure enough, it soon emerged the reggae record shop run by Blacker for more than 20 years, a symbol of old Brixton, was closing down because he was about to be sentenced for the white-collar crime of money laundering.
It was Blacker's first experience of prison. In that he differed from his childhood friend Brian, also known as Naptali. "You'd be a great getaway driver," Dineen innocently told him when she first sat in his passenger seat. "I was!" he replied. before regretfully and honestly recalling his misspent youth as an armed robber, for which he'd spent 12 years behind bars. His record barred him from working as a chauffeur to help pay off sizeable arrears. Blacker's son Solomon also fetched up in prison and, at 24, was shot dead the month he was released. His murder was never solved. There was moving DVD footage of the funeral at which Pauline prayed to God "that You let young men be at home where they belong".
But where is home? The first half of the film explored Blacker's vanishing world, the Brixton which is succumbing to rapid gentrification, before Blacker himself vanished into prison. Sentencing him in Croydon, the judge contemptuously dismissed this charismatic community totem as a "failure". In his absence Dineen flitted across to Jamaica to watch the progress of Blacker's youngest son Jamehl, who had been seen as a troublemaker at school in London but was now getting top grades. After a year in prison, as soon as his tag came off, Blacker's ambition was to return to the island from which he had been untimely ripped as a child.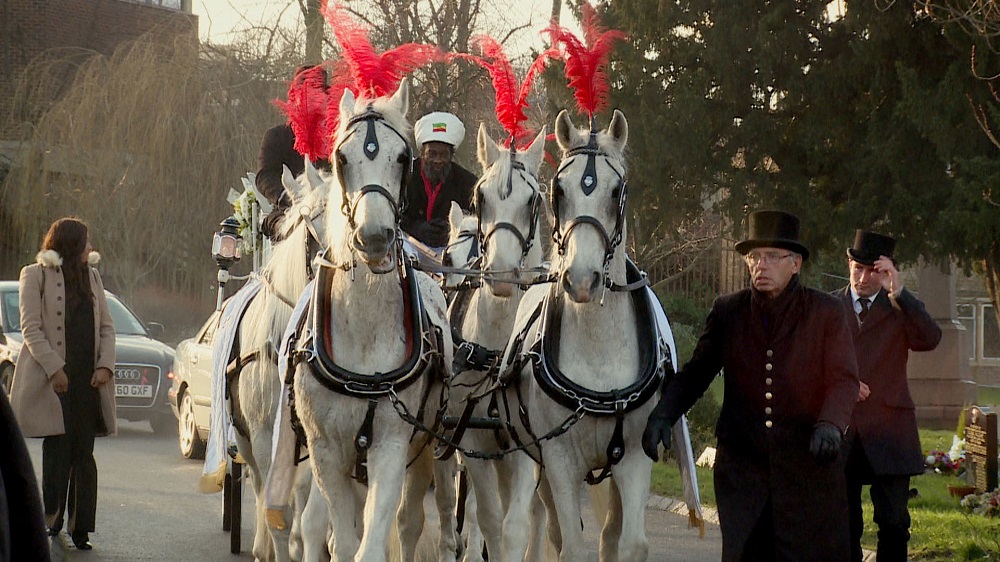 This was an absorbing film about family, culture and society, pieced together by Dineen as a character study with wider and deeper implications for the rest of us. It asked if, aside from the disappearance of openly racist language, anything much has changed since the 1970s, and if chances for Britain's young black male population were any better. Blacker was particularly sceptical about the concept of diversity. "Diversity is a word. It doesn't live, it doesn't breathe."
Towards the end, at a public vigil for yet another murdered boy, a young man gave a powerful speech about the need for the black community not to war with itself. "Us black boys especially we don't value our other people," he said. "We'd rather go and fight, stab and shoot people and it' s just for what?... We don't know the value of this colour. We need to understand we got something important and valuable." And the gathered crowd broke into Bob Marley's "Redemption Song".
There were plenty of questions, fewer answers. Is it a problem that teachers in the UK are not allowed to use old-fashioned discipline of the kind welcomed by Jamehl (and his mother Maureen)? Why does prison contain a disproportionate number of Afro-Caribbean males? One thing Blacker wasn't asked was how he came to have quite so many children, and by how many different mothers. Speaking at the wedding of one of them, he admitted to "about six" daughters - one of whom is a probation officer.
Blacker and Naptali were both wonderful show-offs who relished, and merited, the attention. "I'm talking for whoever's the audience behind the camera," said the latter. As Blacker uncapped his remarkable dreadlocks – his last haircut was when he was 14 – he shifted into patois, necessitating subtitles. It felt like something between an identity-conferring superpower and a defensive forcefield. "I don't know if I'm academically wise," he said. "I know I'm streetwise. I learnt my education from the ghetto college of further education. It's called ghettology." They don't make films like this any more, nor characters like him.
One thing Blacker wasn't asked was how he came to have quite so many children, and by how many different mothers
rating
Explore topics
Share this article