Misty, Bush Theatre review - powerful meditation on how we tell stories |

reviews, news & interviews
Misty, Bush Theatre review - powerful meditation on how we tell stories
Misty, Bush Theatre review - powerful meditation on how we tell stories
Arinzé Kene writes and stars in a witty, hard-hitting play about race and culture in modern London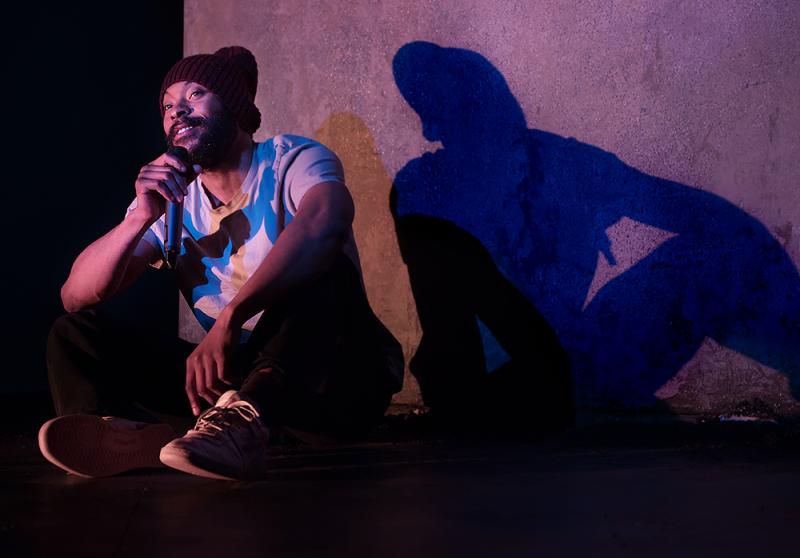 A captivating performer: Arinzé Kene in Misty
Arinzé Kene is having a bit of a moment. He won an Evening Standard Film Award for The Pass opposite Russell Tovey in 2016, is about to appear in a BBC drama with Paddy Considine, and has just finished lending his lovely tenor to Conor McPherson's Girl from the North Country in the West End.
He's somehow also had time to
write
Misty
, directed by Omar Elerian at the
Bush Theatre
, at once a powerful meditation on how we tell stories and a raw, beautiful Odyssey through the heart of London.
Clocking in at a tight two hours, Misty begins, true to its title, with a lot of fog. A thick green mist moves through the auditorium, wrapping around a single microphone stand centre-stage. There are two platforms on either side, staffed by the two musical directors, Shiloh Cooke on drums and Adrian McLeod on synths. The songs that thread through the play are snappy, defiant and full of heart, but the two musicians feel under-used.
Where they really shine is when they join the action onstage, acting out the voicemails that Arinzé's friends, Raymond and Donna, leave for him. They are harassed parents, the cries of their infant daughter ingeniously reproduced onstage as they berate Arinzé for writing a "black play". What exactly a "black play" is, and the question of why a play written by a black playwright and performed by black actors cannot simply be a play, lies at the heart of Misty.
The action cuts neatly between scenes like this, featuring a fictionalised version of the writer, and the story of an unnamed young black man (known only as The Virus) as he is hounded for a crime he did not mean to commit. The second storyline is about gentrification - "modern-day colonisation", as Kene calls it - and though it's a familiar idea, he makes it sing, expressing the anguish of black neighbourhoods forced out by "flat-white-sipping yoga addicts" with poignancy, wit and charm. The show bills itself as a mixture of "gig theatre, spoken word, live art and direct address", but the most obvious parallel for the urgent rhythm of every line is Shakespeare.
This is somewhat ironic, given one of Kene's outbursts in the second act ("Fuck Shakespeare!"), but no less true for that. If London (never named, but heavily hinted at) is, as Kene describes it, an organism, his words are its beating heart. Sometimes they miss the mark, but he really knows how to end an act. The last scene of both halves is powerful, shocking and deeply moving; the last track, a freestyle rap where Kene pours his heart out, shirtless and sweating, is a triumphant, beautiful piece of theatre - "with a capital F", as he reminds us. He's a captivating performer, even if he occasionally seems to lose himself in his own flow. He slips between the fictionalised version of himself and The Virus effortlessly, while still defining the characters sharply from one another - a burgundy beanie and a subtle change in the way he moves is all it takes.
Crucially, all the opposition that Arinzé faces to the play comes from black people: his friends; his sister (portrayed by a young girl with a big voice, slightly grating at times) who is implied to have emigrated to Africa; his producer and agent, whose voices are provided by audio clips of Morgan Freeman and Whoopi Goldberg. In this way, it is made clear that criticism of black playwrights and their work is often loudest from their own communities. Kene raises an important point: should media created by and starring black people only portray the negative aspects of black experience? He implies that the "black suffering" trope is common because it is popular with white audiences, and while the audience at the Bush is usually significantly more diverse than most London theatres, Kene is clearly addressing the white-dominated industry as a whole. "I just wanna write a play, man," he laments, late in the second half. "Can a play from a person like me just be a fucking play already?" Given this multi-layered array of pitfalls, it seems a miracle that Kene ever wrote Misty. Thank God he did.
Kene raises an important point: should media created by and starring black people only portray the negative aspects of black experience?
rating
Explore topics
Share this article