Still No Idea, Royal Court review - spiky, funny, and politically pointed |

reviews, news & interviews
Still No Idea, Royal Court review - spiky, funny, and politically pointed
Still No Idea, Royal Court review - spiky, funny, and politically pointed
Disability-themed two-hander suggests that little has changed in eight years
Tuesday, 06 November 2018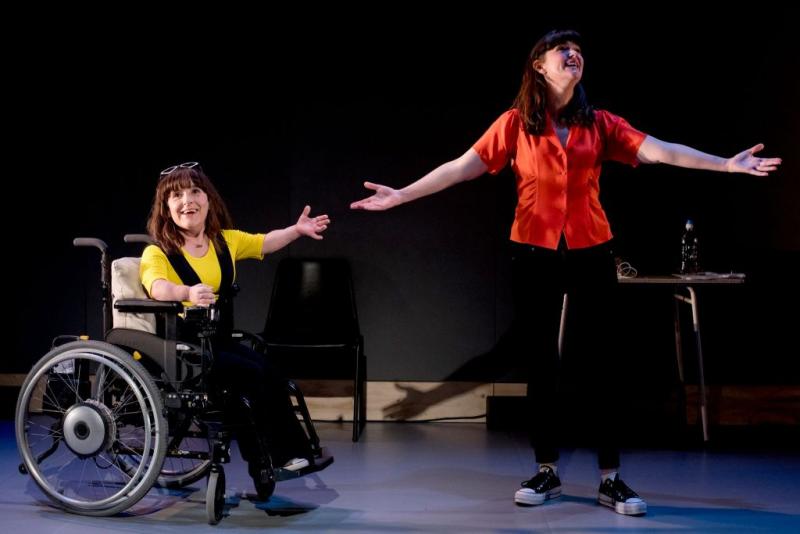 Open to suggestion: Lisa Hammond and Rachael Spence in 'Still No Idea'
To the recent spate of shows that put their own narrative-building first, we can now add Still No Idea, with the addendum that this self-penned two-hander may be the funniest and fiercest of them all to date.
Eight years ago, Lisa Hammond and Rachael Spence brought to the Young Vic their show
No Idea; the starting point there was to throw open to the public a possible narrative for a theatre evening featuring one performer who is disabled (Hammond) and another who is not (Spence)
.
Have prospects improved much in the interim? The title of this Royal Court-Improbable collaboration, written by its cast in conjunction with their director, Lee Simpson, suggests not: when will a disabled performer be allowed entry into the stories that proliferate around us? Still no idea. Perhaps the best way forward is to start to allow our imagination even to access such a thought. "All you have to do is imagine it," Spence notes at the end, as regards the widening embrace of a landscape whose restrictions and preconceptions she and Hammond daily face. (By contrast, one can point to the current New York revival of Oklahoma!, which features as Ado Annie the wonderful Ali Stroker in a production that never once references the fact that she is a wheelchair user.)
At first, I confess to wincing slightly at the thought of yet another play about how hard it was to put together that same play, an approach taken earlier this year by writer-actor Arinzé Kene's deliberately self-agonising Misty. The tone here is larkier, though, and Hammond and Spence are good at catching the audience unawares. Barely has anything happened before Hammond informs us that it's perfectly fine to leave at any point should we wish to – a relaxation of audience etiquette that one hopes won't catch on. (For the record, a responsive house stayed entirely put at the performance I attended.)
What follows is a series of vox pops interspersed with the ready banter achieved by two longtime friends who long ago co-opted humour as one way to push through life. We learn of various familial challenges that have been placed Spence's way, while a hefty chunk of the 80-minute running time is devoted to Hammond's career and a TV opportunity that ended up not counting for much: due on set at 5 AM, she spent two-and-a-half years waiting for a "proper story" for her character that kept getting deferred.
Too much can be made of an individual's specific appeal, and one certainly gets the sense that Hammond has been admired perhaps once too often for her "cheeky face"; more to the point, I would argue, is her whiplash comic timing. The duo have fun with their shifting fortunes – against expectation, Spence lands a part that risks eclipsing Hammond – and we hear, importantly, from the "cripperati": other members of the disabled community who have their own stories to report from the frontline of frustration. "Inspiration porn" comes in for a potent smackdown, the success of the Paralympics set against a reminder of the many members of the disabled community driven to despair, and worse, by being declared "fit to work" when they cannot.
Simpson, as director, revels in the fanciful interludes that make much of dream dates and ghastly encounters, a glitter ball and the surging sounds of Christopher Cross ("Arthur's Theme") filling the intimate Theatre Upstairs. And if he sometimes overreaches for effect, we're never less than a heartbeat away from the force of personality of these two women in search of a play who are lucky enough to have found an author in themselves.
Barely has anything happened before Lisa Hammond informs us that it's perfectly fine to leave at any point should we wish to
rating
Explore topics
Share this article