Tina, Aldwych Theatre review - new Tina Turner bio-musical is simply OK |

reviews, news & interviews
Tina, Aldwych Theatre review - new Tina Turner bio-musical is simply OK
Tina, Aldwych Theatre review - new Tina Turner bio-musical is simply OK
Powerhouse Adrienne Warren is the saving grace of a show that plays it safe
Rolling on the river: Adrienne Warren (centre) as Tina Turner
It is, perhaps, a tale that suffers from overfamiliarity. Tina Turner's rags-to-riches story – from humble beginnings as little Anna Mae Bullock in Nutbush, Tennessee, to her discovery, reinvention and sickening abuse by husband and manager Ike Turner, and finally her rebirth as a solo rock'n'roll star – is the stuff of showbiz legend.
This new glossy but pedestrian
West End
musical
adds little to the established narrative.
The structure doesn't help. Starting at the very beginning and racing through the years, there's only time for broad-brushstrokes storytelling and one-note supporting characters. It's a form awkwardly at odds with subjects that require more nuance, such as domestic violence – here in danger of becoming pantomimic; Ike draws lusty boos at curtain call – Tina finding solace in Buddhism, or systemic racism and sexism in the music industry. Those familiar with Turner's autobiography, or the 1993 film version What's Love Got to Do with It, won't find much new here.
On the plus side, writer Katori Hall and director Phyllida Lloyd do a perfectly efficient job of distilling a complex story down into an easily digestible bio-musical. Though the dialogue is exposition-heavy, with each new character introducing themselves, it's a vivid portrait – particularly Tina's relationship with her fascinatingly difficult mother (a compelling Madeline Appiah, pictured above with Kobna Holdbrook-Smith), who abandons her as a child and later offers spectacularly awful marital advice (essentially: if he beats you, hit him back and find a way to forgive).
However, framing this as a female empowerment narrative sits uncomfortably with the first half, in which Ike's behaviour is horrific from the start, and Tina's motives for staying with him are too murky. "It's been 10 years – what are you waiting on?" asks a friend. Well, quite. Was it her mother's breaking up their home that shaped her behaviour? Seeing domestic abuse normalised? Professional loyalty? The show never digs deep enough.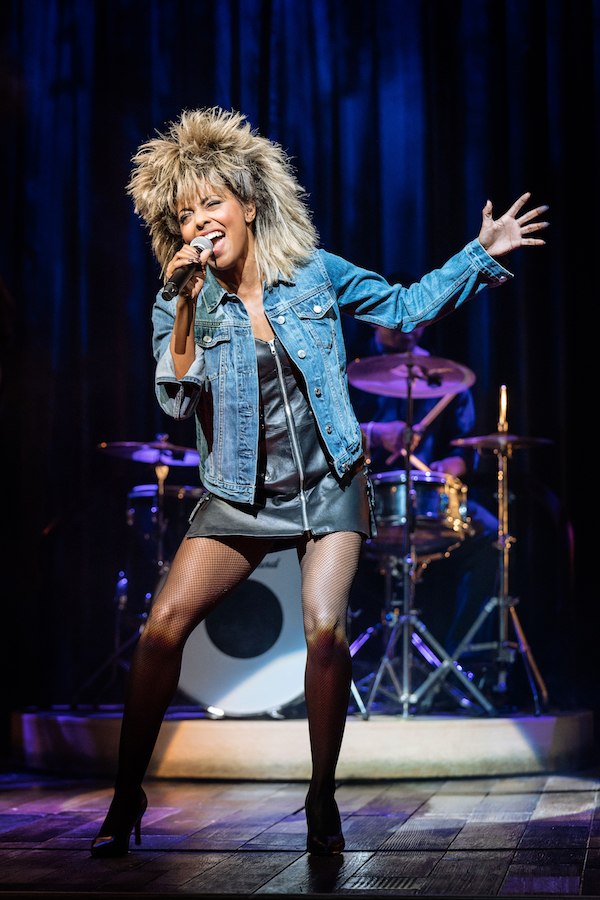 That's a shame, as it has a sensational central performer in American actress Adrienne Warren (pictured right) – evoking that voice "like fire and heaven all at once", plus Tina's irrepressible spirit and natural command of the spotlight. When she lets loose on "A Fool in Love", encouraged by Ike to sing for her life (how prophetic), she spine-tinglingly inhabits the growls and cries, the controlled abandon and ripped-from-the-soul passion.
It's a huge pleasure watching Warren's Tina blossom, discovering new aspects of her gift – like the purer version of her blazing vocals on "River Deep, Mountain High" – as well as her reserves of strength. In the more focussed second act, she faces the inevitable sneers from clueless suits about the value of a "fortysomething black woman", and has a genuine identity crisis. That's swiftly wrapped up in a triumphant climactic concert – dramatically limited, but by far the most thrilling part of the night.
Perhaps the creators should reduce the narrative and focus on dancing-in-the-aisles covers like "Proud Mary" and "Simply the Best"? They tell the story of Tina's hard-won power with more conviction than the hasty flashbacks. Otherwise, in their eagerness to utilise a great back catalogue, they bung in several anachronistic choices – "Better Be Good to Me" is too defiantly Eighties to work while Tina is mulling Ike's marriage proposal.
Kobna Holdbrook-Smith has the difficult task of humanising a monster. He does lend Ike charisma and a sexy, gravelly voice, and also shows that his anger stems from racism-fuelled grievance, but the line that Ike wants to be remembered for his music plays darkly comic here. There are good turns from Tom Godwin as an otherworldly Phil Spector, Ryan O'Donnell as Tina's genial new manager, Aisha Jawando as her excitable sister, and the slinky Ikettes – Jawando again, Tsemaye Bob-Egbe, Perola Congo and Sia Kiwa.
The latter's spot-on choreography (Anthony Van Laast), and the presence of Turner's iconic costumes (Mark Thompson) and greatest hits should satisfy the Tina superfans, but there's an unresolved tension here between producing a genuinely satisfying musical drama, and just surrendering to a great night out. This mould-breaking artist deserves more.
It's a huge pleasure watching Warren's Tina blossom, discovering new aspects of her gift
rating
Share this article