Westworld, Series 2, Sky Atlantic review - big trouble in synthetic paradise |

reviews, news & interviews
Westworld, Series 2, Sky Atlantic review - big trouble in synthetic paradise
Westworld, Series 2, Sky Atlantic review - big trouble in synthetic paradise
Apocalypse looms as androids go on the rampage
We gotta get out of this place: Thandie Newton as Maeve, with Simon Quarterman as Lee Sizemore
Some critics complain that Westworld is too complicated for its own good, and you can see their point.
Even on a basic level, it's an exploration of the nature and potential of
artificial intelligence
, as it depicts the consequences of super-lifelike androids – or "synthetic humans", if you will – acquiring higher knowledge and going on a terrifying
killing rampage
.
You can dial down your apparatus criticus and just watch it as a lurid, menacing shoot-'em-up show, with spectacular scenery and scenes which (cunningly) would probably be too gruesome if they were about real people rather than super-tech lookalikes. However, creators Jonathan Nolan and Lisa Joy have seized the opportunity to go much further and add layer upon layer of metaphysical, scientific and spiritual concerns.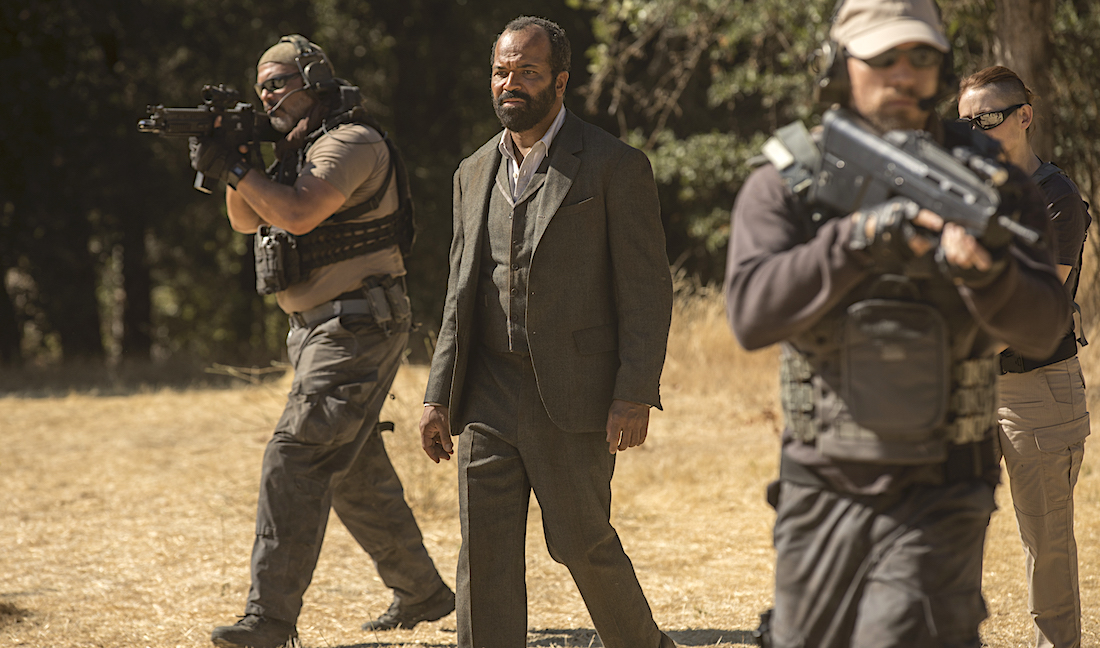 How deep you want to go into the rabbit hole is up to you (it's the kind of cultish show that breeds viral conspiracy theories like cats shed fur), but it's safe to say that season two picks up where the first one left off at the end of 2016. Dr Robert Ford (Anthony Hopkins), the mastermind of the Westworld fantasy-Western environment, is messily deceased, and the vengeful 'bots (known as "hosts" in Westworld) are about to make the breakout into the wider world. Of course, the return of Hopkins can't be ruled out, since – thanks to its typically Nolan-esque multi-layered time scheme that flits restlessly across generations – Westworld takes place in past, present and future. Characters also reappear in different incarnations, so in episode one we have Ed Harris's Man in Black shooting Ford's youthful replica of himself, while Jimmi Simpson returns as William, who's destined to evolve into the Man in Black. Simples.
With the droids on the loose, leaving a landscape spattered with mauled corpses and pools of blood, it was time for extreme measures. Prominent in the first episode was head programmer Bernard Lowe (Jeffrey Wright, pictured above), who found himself roused from a comatose state on a beach by the arrival of a gung-ho naval task force, bellowing orders and brandishing automatic weapons as they sought to restore some semblance of order. While the troops callously massacred groups of captured hosts and a traumatised Bernard suffered horrific flashbacks, chunks of the narrative gradually fell into place.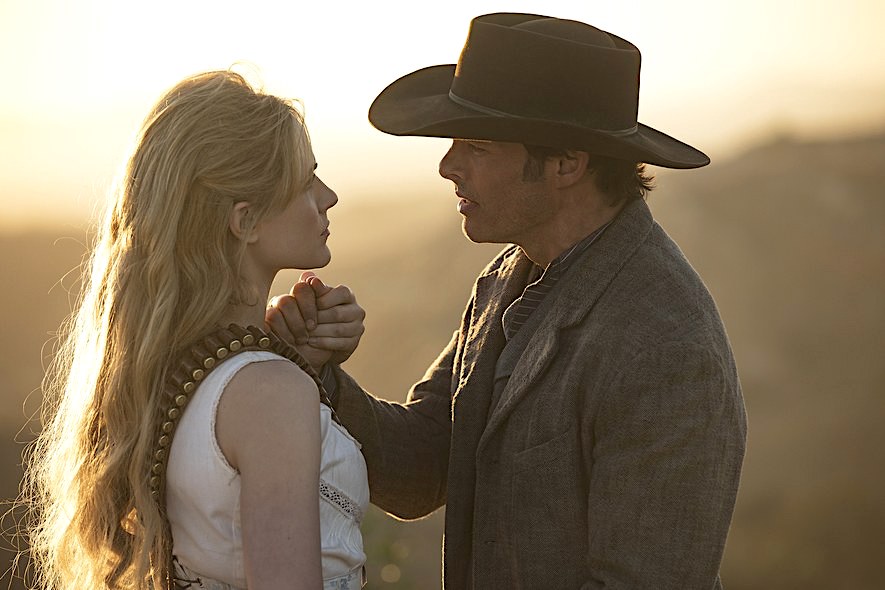 Stepping up to lead the droid liberation crusade is Dolores (Rachel Evan Wood, pictured left with James Marsden as Teddy), who has broken out of her infinite repetitive loop as an upmarket tourist's plaything and achieved a visionary higher consciousness. She gave us a host's-eye view of how the humans look to the droids: "Creatures that walk among us… they look like us but they're not." Now, she says she "remembers everything", and foresees an apocalyptic endgame in which she leads android-kind out of human bondage.
Westworld doesn't really do light relief, though Thandie Newton brings an arch, ironic tone to bear on her portrayal of Maeve, the former brothel madame now hell-bent on outwitting the humans as she tries to track down her missing daughter. She's enjoying turning the tables on Lee Sizemore (played by British actor Simon Quarterman, main picture), the aggravatingly supercilious writer of the fictional narratives the hosts have been condemned to play out, but who now finds himself dependent on Maeve for his survival. Having spent most of series one with no clothes on, Maeve relished ordering Sizemore to get his kit off in front of her.
But this was only the beginning. Treats in store over the next nine episodes include visits to Shogun World and tiger-hunting in a facsimile of the British Raj, as well as the intriguing introduction of James Delos (played by the ever-watchable Peter Mullan). He's the gruff, combative founder of Delos Inc, the corporation which owns Westworld. He's also the father of Logan, the dissolute and amoral spendthrift whom we originally met when he visited Westworld with James back at the start of the first series. Like almost everyone else, he has his own private road map to Armageddon.
Westworld is available on Now TV