God of War review - action adventure epic sets new standards |

reviews, news & interviews
God of War review - action adventure epic sets new standards
God of War review - action adventure epic sets new standards
Father-son adventure is a slick and gorgeous spectacle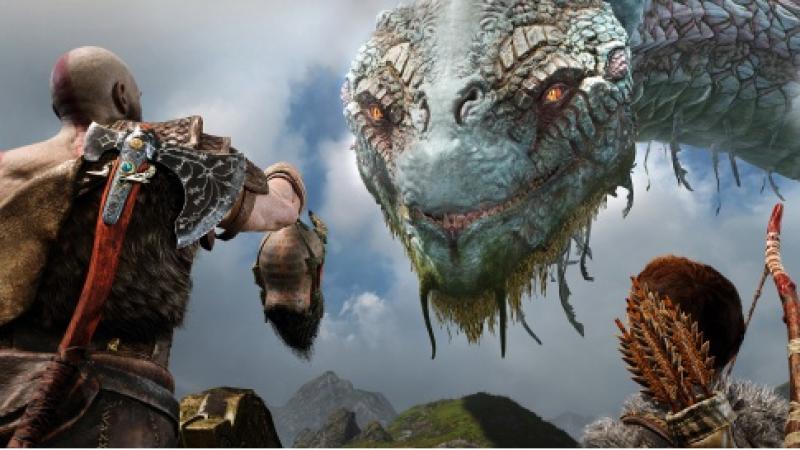 Kratos decides he needs to get ahead in the game
The God of War games are legendary action adventure titles that specialise in the slaying of giant mythical beasts via intuitive brutal combat. The hugely popular series was developed by US studios in response to the overwhelming success of Japanese-based publishers releasing titles like Devil May Cry and Bayonetta.
The
GoW
games dialled down the combat complexity and made the story more coherent, resulting in more plaudits and awards than you could throw an enchanted axe at.
The star of the show, Kratos, is a unlikeable sort - more anti-hero than leading man, a character of few words, and many actions, normally violent. Grumpy and excessively aggressive, he's certainly not the poster boy for Daddy Day Care – but one of the many differentiators between this and previous GoW games is that he now has a small son Atreus to look after.
The game opens after the death of Atreus's mother: Kratos sets out to fulfil her dying wish of having her ashes scattered from the highest mountain in the land. This seemingly simple task represents the goal for the entire game due to the perilous passage required to achieve their aim.
Atreus feels unwanted and unworthy of the quest that they must embark on. His father is racked by inner conflict, choosing to hide his blood-soaked past from his son and exhibiting restraint when dealing with the boy. This tense relationship is brought to the fore by some of the most impressive visuals ever to grace a videogame. It feels as if you're watching live actors, not sophisticated polygon models, such is the level of the production values. And suddenly a game about killing monsters in spectacular fashion transforms into a story about an absent father struggling to reconnect with his son.
There hasn't been a game that explores the intricacies of parental bonds in such detail since another Sony exclusive The Last of Us debuted in 2013. While this outing is far removed from that post-apocalyptic survival horror game, the same instincts to protect your young partner ring true.
The combat in God of War sets a new benchmark in the hack and slash department. Kratos has a magic axe that is similar to Thor's hammer, whereby you can throw it, and at the push of a button it returns to you, like a deadly boomerang. You can often hit multiple enemies on the return flight and, when combined with his son's ability to launch arrows (executed by pressing the square button), it makes for some highly entertaining combos. There's also an array of light and heavy attacks, aerial combos, where you can juggle your foes while airborne, and blocks and counters. The enemies are challenging without rarely being overpowered. The whole thing is a slick and gorgeous spectacle.
While the combat offers excessive visceral thrills there's also now much more depth to the action thanks to an extensive upgrade system and the ability to unlock new equipment that needs to be studied individually and used in specific combat encounters.
Finally, praise must be heaped on the technical wizardry that makes all the on-screen magic happen. For a game this size, that looks as good as it does, the fact that there are absolutely no in-game loading times is nothing short of a coding marvel and allows the adventure to flow naturally and fully absorb the player.
God of War is one of the finest examples of an action adventure game on the market. The well-drawn characters create an interesting narrative that's punctuated by explosive action and underpinned by technical wizardry, allowing for one of the most richly detailed gaming experiences to unfold before you. Hack and slash games just got notched up a couple of levels.