A Very English Scandal, BBC One review - making a drama out of a crisis |

reviews, news & interviews
A Very English Scandal, BBC One review - making a drama out of a crisis
A Very English Scandal, BBC One review - making a drama out of a crisis
Tragedy and farce in glittering recreation of the Jeremy Thorpe saga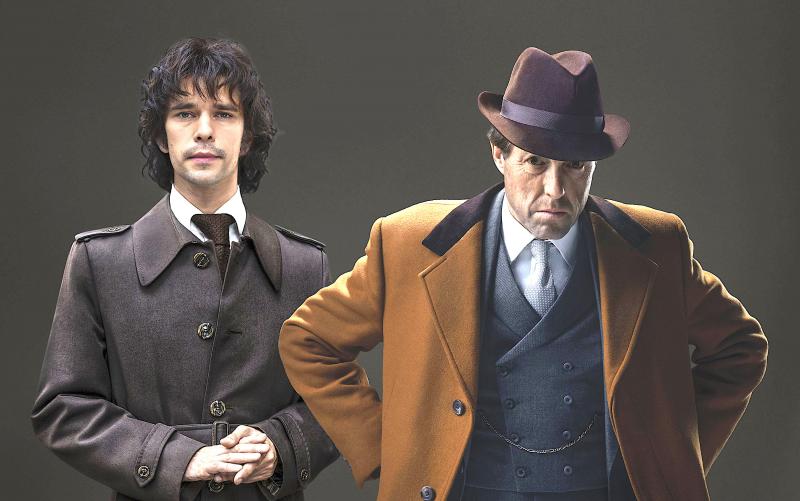 Appetite for destruction: Norman Scott (Ben Whishaw) and Jeremy Thorpe (Hugh Grant)
There was a time when Hugh Grant was viewed as a thespian one-trick pony, a floppy-haired fop dithering in a state of perpetual romantic confusion. But things have changed. He was excellent in Florence Foster Jenkins, hilariously self-parodic in Paddington 2, and he's brilliant in A Very English Scandal (BBC One) as smooth, treacherous Liberal leader Jeremy Thorpe.
At moments, he even manages to look uncannily like him.
Thorpe himself would doubtless have dreamed of pulling off a similar feat of reinvention, but for all his success as a revitalising force in the Liberal Party, his goose was cooked as early as 1961, when he met the then Norman Josiffe, later Norman Scott. He was working as a stable boy at the home of Thorpe's wealthy friend, Norman Ven De Vater, and Thorpe's attraction to him would eventually prove politically and personally fatal.
With a screenplay by Russell T Davies (adapted from John Preston's book) and helmed by Stephen Frears, A Very English Scandal is a fascinating, appalling and often scathingly funny journey through the putrescent innards of the British political establishment. The opening scene, where Thorpe and Liberal MP Peter Bessell (Alex Jennings, pictured right with Grant) conduct a coded discussion about their (then illegal) homosexuality over a most agreeable lunch, has been planted like a bomb which will continue to tick remorselessly beneath the unfolding action ("Peter, we are nothing but a pair of old queens," Thorpe announces, as he raises a toast to "Her Majesty".)
Thorpe's vanity and sense of insuperable entitlement ooze from Grant's performance, as he seizes the Liberal leadership after Jo Grimond's resignation in January 1967, then pursues a career characterised by his charismatic performances in the Commons as he pursues his "Liberal crusade" on the one hand, and his hazardous secret life as a promiscuous gay man on the other. Of course, we know the way it's going to play out, but the nuance and subtlety with which the relationship with Scott is explored mean that the drama is continuously suspenseful.
It wouldn't, and couldn't, have worked without Ben Whishaw's magnetic portrayal of Scott, unwisely dismissed by Thorpe as a trivial irritation who could be easily bought or bullied off. He emerges here as a far more complex character, whose battle against mental health issues didn't prevent him from displaying an uncanny gift for blackmail. Whishaw plays the often discordant notes of Scott's personality with the touch of a master pianist, catching his pitiful loneliness and insecurity, then slipping imperceptibly into threats and coercion (he's only too well aware of the explosive potential of the cache of Thorpe's disastrously indiscreet letters which he has carefully husbanded).
Frears has built any number of incidental delights into his story. The scene where Thorpe dazzles Scott by playing a violin sonata accompanied on piano by his mother Ursula (an unflinchingly flinty Patricia Hodge, pictured above) is magnificent in its incongruousness. Then Thorpe visits Scott's bedroom, thoughtfully bringing his own jar of Vaseline, to seize his reward ("just hop onto all fours, old chap, that always works best").
But Davies never quite lets us forget the tragic undertones of the piece. An interlude featuring Lord Arran (David Bamber) veers abruptly from mad eccentricity to real anguish as Arran reflects on his gay brother's suicide. Thorpe also supports Leo Abse's campaign to reform the repressive homosexuality laws, but harbours no illusions that this would protect him in the event of his secret life becoming public. If that happened, he tells Bessell, he'd shoot himself.
As episode one ends, the mood is already turning apocalyptic. "We kill him," Thorpe says of Scott. "He will destroy me, the party and my marriage."