Sophie Mackintosh: The Water Cure review - on the discipline of survival |

reviews, news & interviews
Sophie Mackintosh: The Water Cure review - on the discipline of survival
Sophie Mackintosh: The Water Cure review - on the discipline of survival
Dystopian debut novel carves lyric from brutality
Sophie Mackintosh
A body can be pushed to the brink, to the point where thoughts flatten to a line of light, and come back from death, but the heart is complex and the damage it wreaks barely controllable.
For Grace, Lia and Sky, the three sisters of Sophie Mackintosh's
debut novel
The Water Cure
, living by a discipline which tames their bodies and emotions to strict rituals is more than a matter of self-control – it is a matter of survival.
They've been brought up by Mother and King, their father, in a sprawling dilapidated island hotel, away from the mainland where a toxic scourge to which men are invulnerable and against which women have no protection has cleaved the sexes. In this fevered dystopia, women's susceptibility has unfettered the majority of men's behaviour to such an extent that merely to be female is an invitation to violence. It is only a matter of time before their sanctuary is threatened and at that moment, no quarter may be given: "Emergency has always been with us," says Lia, "if not present emergency then always the idea that it is coming."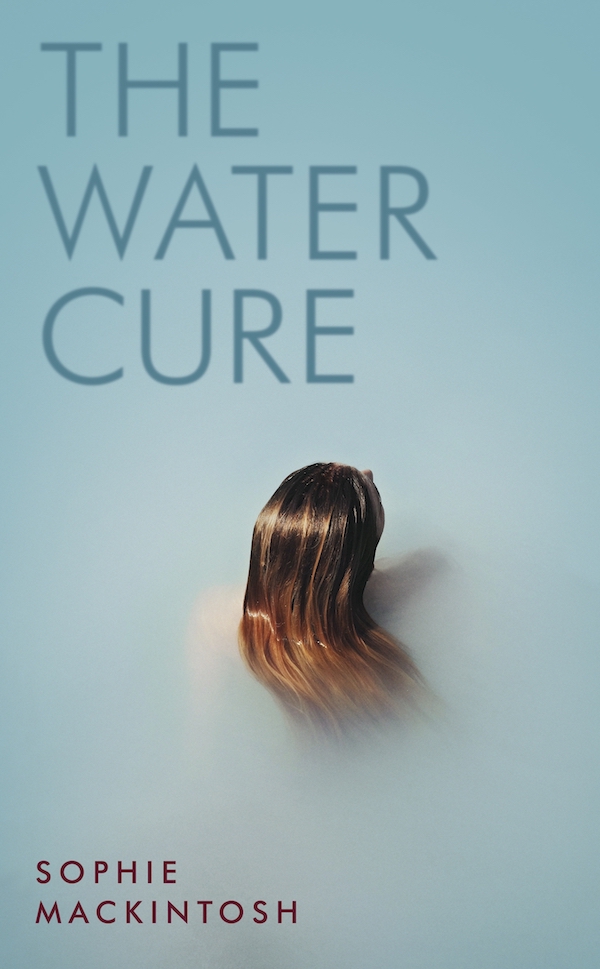 Every day the sisters are reminded that mercy is weakness and they are vulnerable. Daily they follow a regime of mental and physical exercises prescribed by Mother and King to test their stamina and enhance their willpower in preparation for the day when men will arrive, drawn inevitably to their shores. In the way that torture can be both banal and hallucinatory, over the course of these exercises, water, salt and sackcloth – the tools by which cleanliness, strength and protection are granted – are used to prosaically horrific effect: the girls are sewn into sacks to faint in the sauna, drink glass upon glass of purge-inducing salt water, and are held submerged in the swimming pool to the flashing edge of drowning. So primitive are these methods that a hectic anxious jag runs through the book that the calamity of the mainland is actually a sick illusion acted out by their parents, yet so apparently indoctrinated are the sisters that they willingly themselves deploy these exercises to suppress otherwise untameable emotions. This doubling of the possible threats against the three sisters – the contaminated (or not) men of the mainland, and the tyrannical (or not) rule of Mother and King – plays out as a sharp allegory of the extremities of male predation, and a potent revenge fantasy against a system where characteristically female expressions of vulnerability, volatility and rage are determined as aberrances requiring suppression.
The novel progresses through a series of monologues which alternate between the two oldest, Grace and Lia, and move between recollections of the past and descriptions of present events. The sisters' lives prior to the disappearance of King – which opens the novel – are fleshed out as they narrate what unfolds when three men subsequently arrive on the nearby beach. Chapters where the three speak as a chorus intersperse Grace and Lia's accounts, so their distinct individual voices are counterpointed with that of a collective entity: "'Love only your sisters!' All right, we decide, that is easy enough for us to do. 'And your mother,' she adds. 'You have to love me too. It's my right.' OK, we tell her. It is no problem."
But it is not only between the sexes, between mother and daughters, that tensions proliferate and threaten violence. In the crevices between the sisters' individual and collective voices reside secrecies and untruths, sibling frictions which leave scars from the tiny treacheries that signal growing apart, growing older, becoming oneself. It's an unsparing portrait of the cruelties and interdependencies that constitute sisterhood. Grace recounts the mild end, eavesdropping on Lia crying through a wall: "She cries the way she does when it is just us sisters, the three of us alone, and I am surprised. So it isn't for show, that sound pressed from deep in her throat. My own eyes stay dry and I don't go to her, even though I could." But for the sisters, violence and tenderness are close enough to be almost construed as the same thing. Love hurts – sometimes literally as when Mother forces Lia to rub sandpaper against Sky's arm as a test of her devotion to her sisters. Shame engulfs her as she recalls how she did it "so that Grace wouldn't have to do it […] Sky begging me not to even as her skin goose pimpled with blood."
Of the three sisters Grace is arguably most brutalised, but her apparent lack of sentimentality indicates a measure of self-knowledge not yet acquired by Lia and Sky, and provides a kind of armour against the most potent varieties of psychological control exerted by Mother and King. "Scream therapy" treats emotions as types of corporeal sensation and, as if a surfeit of sentiment could overwhelm the body, "was supposed to tap our feelings out of us, allow us to expel the excess through the mouth." The subjective significance of feelings – their personal emotive valencies – is neutralised because they are understood simply as a purgeable excess of energy. In this context where self-mortification is the way by which strength and resistance is acquired, for the sisters, their own selves remain ciphers – self-knowledge is held apart. While Grace deploys cold cynicism to inure her against anything that might touch her heart – "We were sitting in the kitchen together, two stools pushed close. Your eyes were watery. You did not touch me. On the counter, three sardines spilled their guts," – recollecting the session Lia describes with puzzlement how "my cheeks were wet with unexpected tears."
This is a tense and haunting debut, as eerily prescient as it is otherworldly. Mackintosh's sparse lyrical prose carves close to brutality, and in a work which considers the harm we inflict upon ourselves and others through acts of loving, her blows cut simultaneously blunt and nuanced to disturbing effect: "'I'm sorry for what you had to do,' [Grace] tells me. 'I didn't mind,' I tell her. 'I did it because I love you.' She nods. 'You're a good sister.'"
The Water Cure by Sophie Mackintosh (Hamish Hamilton, £12.99)
In the crevices between the sisters' individual and collective voices reside secrecies and untruths, sibling frictions which leave scars from the tiny treacheries that signal growing apart, growing older, becoming oneself
rating
Share this article