DVD/Blu-ray: Woodfall - A Revolution in British Cinema |

reviews, news & interviews
DVD/Blu-ray: Woodfall - A Revolution in British Cinema
DVD/Blu-ray: Woodfall - A Revolution in British Cinema
A box-set dedicated to the work of the film company that shook British cinema out of its middle-class, post-colonial torpor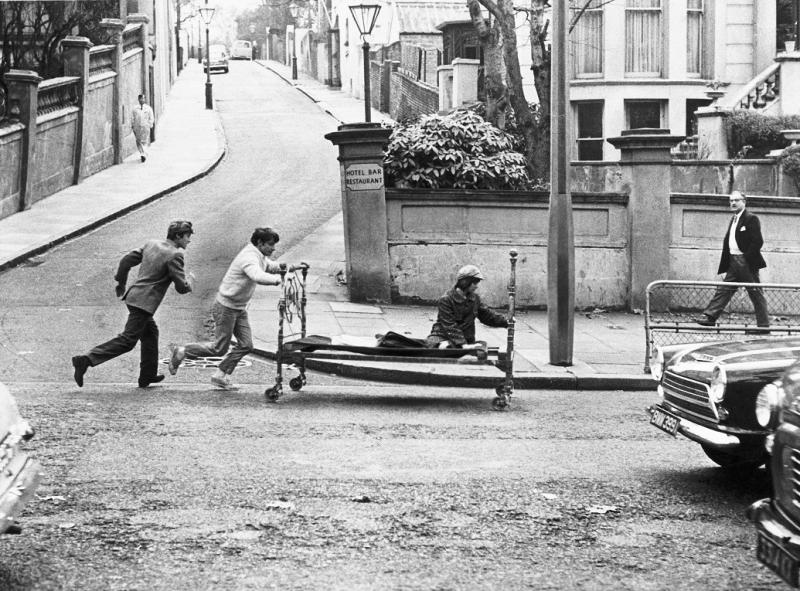 New adventure: Richard Lester's 'The Knack...and How to Get It'
Woodfall was the independent film production company responsible more than any other for launching and realising the British New Wave of the early 1960s.
The outfit was formed in 1958 by theatre and film director Tony Richardson, playwright John Osborne, and American producer Harry Saltzman to make the film version of Osborne's Royal Court succès de scandale Look Back in Anger. Directed by Richardson in 1959, the movie – with Richard Burton, Claire Bloom, and Mary Ure – successfully opened up the play but trimmed its Suez Crisis polemic.
Woodfall followed up in the next five years with Richardson's The Entertainer (1960), A Taste of Honey (1961), The Loneliness of the Long Distance Runner (1962) and Tom Jones (1963); Karel Reisz's Saturday Night and Sunday Morning (1960); Desmond Davis's Girl With Green Eyes (1964); and Richard Lester's The Knack...and How to Get It (1965).
Starring the likes of Laurence Olivier (who gives his greatest screen performance in The Entertainer), Joan Plowright, Albert Finney, Rita Tushingham, Peter Finch, Shirley Anne Field, Tom Courtenay, Michael Crawford, Susannah York, and Edith Evans, these are the films featured, along with Look Back in Anger, on this BFI nine-disc DVD (or Blu-ray). But for A Kind of Loving, Billy Liar, and This Sporting Life, you could say that this collection is the whole kitchen sink. (Later on, Woodfall financed Ken Loach's masterpiece Kes, though it's not included here.)
A bold experimenter influenced by the nouvelle vague, Richardson was, if not a great auteur, a vital rallying-point for the film and theatrical talent that capitalized on the impetus provided by literature's Angry Young Men to sweep away the stultifying middle-class cinema that had long dominated British screens. Among his key collaborators were the cinematographer Walter Lassally and camera operator turned director Desmond Davis; Osborne, of course; and writers Shelagh Delaney and Edna O'Brien.
In telling stories of young women struggling to move forward, Delaney's script for A Taste of Honey and O'Brien's for Girl With Green Eyes, both vehicles for Tushingham, broke the mould of modern British movies as expressions of male existential angst. These and Lester's visually inventive The Knack – which controversially had Tushingham crying "Rape!" – now make the Oscar-winning Tom Jones, adapted by Osborne from Henry Fielding's novel, seem like a tedious indulgence by comparison.
The set is tricked out with magnificent extras, including interviews with Tushingham, Finney, Field, Murray Melvin, Lester, and the nonagenarian Davis, and a Walter Lassally video essay. Especially valuable are the Free Cinema shorts that preceded Woodfall's immersion in realism: Lindsay Anderson's O Dreamland (1953); Richardson and Reisz's Momma Don't Allow (1956); and Reisz's We Are the Lambeth Boys (1959).
Other shorts include three supported by the BFI Experimental Film Fund: Ten Bob in Winter (1963), a pioneering immigrant film by Jamaican-born Lloyd Reckord; Elizabeth Russell's experimental romantic whatsit Food for a Blush (1959); and Michael Gill's surreal fantasy about female self-determination, The Peaches (1964). These discs – and the accompanying 39-page booklet of essays – are a must-own for everyone interested in the evolution of British film.
Tony Richardson was, if not a great auteur, a vital rallying-point for the film and theatrical talent that capitalized on the impetus provided by literature's Angry Young Men
rating
Share this article