Unforgotten, Series 3, ITV review - death on the M1 |

reviews, news & interviews
Unforgotten, Series 3, ITV review - death on the M1
Unforgotten, Series 3, ITV review - death on the M1
Detectives Stuart and Khan are back to tackle another long-buried mystery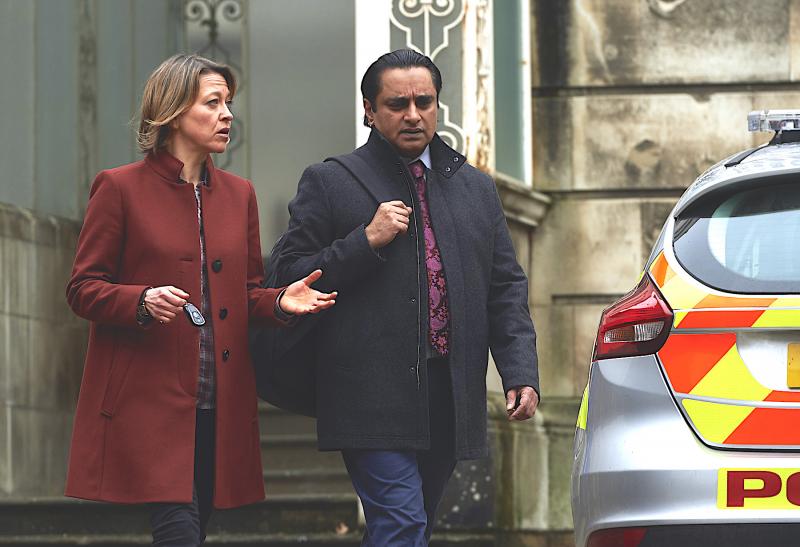 Another historical case for Cassie Stuart (Nicola Walker) and Sunny Khan (Sanjeev Bhaskar)
So it's back to London's Bishop Street police station for a third series of screenwriter Chris Lang's cold case saga.
The understated rapport of lead duo DI Cassie Stuart (Nicola Walker) and DS Sunny Khan (Sanjeev Bhaskar) has become one of TV's mini-treasures, and it was all present and correct in this opening episode.
It started, as these things often will, with the discovery of a body. Workmen were digging a drainage trench at the bottom end of the M1 when they chanced upon what turned out to be a human hip bone. The rest of the skeleton wasn't far away, and soon forensic bods were poring over it in the lab. Might it be an archaeological leftover from a previous era (apparently it's not that easy to tell straight off the bat)? Male or female, African, European or Asian? The boffins could only speculate.
But steadily the options were whittled down – the fact that the victim had had a fractured wrist repaired with a metal plate manufactured in Cyprus was a handy pointer – until our sleuths discerned that the deceased was a girl aged between 13 and 15. It wasn't long until they had a name – Hayley Reid. The empathetic Cassie was at pains to break the news to her family so as to minimise the trauma, insofar as that was possible.
But by then, Lang already had several other plates spinning nicely, involving a variety of characters in different parts of the country. We'd met Dr Tim Finch (a harassed-looking Alex Jennings), who was living under a cloud because of abusive and threatening comments he'd allegedly made to an elderly patient. A disciplinary tribunal is about to determine his fate. Then there was artist Chris Lowe (James Fleet), who lives in a camper van with his dog, but has developed a strong attachment to Jamila Faruk (Sasha Behar), whose young son he has been teaching to paint. So strong is this attachment, in fact, that he's splashed out four grand on a ring, which has left Jamila speechless.
So far, we have no idea what may connect them, nor what they might have in common with Pete Carr (Neil Morrissey, pictured above). Carr is a salesman for finance company Kincaid Murphy, but he's not selling enough investment products to make ends meet and his slimy-looking boss is about as sympathetic as a Rentokil operative tackling a cockroach infestation. Morrissey, who does a convincing line in sweaty desperation, has been reduced to defrauding elderly customers of their hard-earned savings. Which only leaves TV personality James Hollis (Kevin McNally, pictured above left), host of a science quiz show. All is not what it seems, of course. His glad-handing exterior hides his anxieties about his wayward cross-dressing son Eliot, who is evidently apt to vanish for days at a time on drink and drugs binges.
A tangled web is being weaved, but conclusions-wise it's too early to tell anything much. This first episode could have done with a little more dramatic forward motion to make you feel you were being propelled into the story rather than being treated to a leisurely survey of the surrounding landscape. On past form though, the tension will ratchet up steadily.