Reissue CDs Weekly: A Kaleidoscope of Sounds |

reviews, news & interviews
Reissue CDs Weekly: A Kaleidoscope of Sounds
Reissue CDs Weekly: A Kaleidoscope of Sounds
Superb collection of 'Psychedelic & Freakbeat Masterpieces'
A ragged Wimple Winch take to the woods to enjoy a spot of cognac
Once heard, Wimple Winch's "Save my Soul" is never forgotten. The A-side of a flop single originally issued in June 1966, it is one of the most tightly coiled British records from the Sixties and has sudden explosions of tension suggesting the band are ready to punch anyone within reach. Late the previous year, The Who's "My Generation" had taken pop music to new, hitherto unexplored, levels of aggression.
"Save my Soul" went much further. It is a landmark.
Nevertheless, before 1984 the Liverpool group's single was barely known. It had been included – in lo-fi – on the 1983 bootleg compilation Chocolate Soup For Diabetics Vol. 3 but its next reappearance in July 1984 became integral to a step change in the perception of British Sixties music after it was included on the Bam-Caruso label's legal compilation, The Psychedelic Snarl. The first volume in the seminal-for-real Rubble series, the album was compiled by designer, music historian and record collector Phil Smee. He coined a new term for this off-the-wall British music: freakbeat.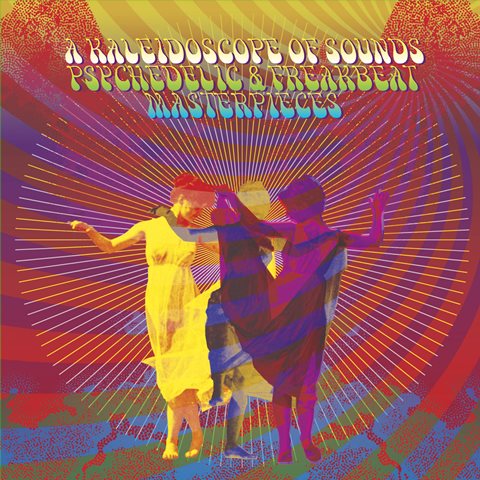 Now, "Save my Soul" is heard again as one of 14 tracks reissued on A Kaleidoscope of Sounds: Psychedelic & Freakbeat Masterpieces, a limited, 1000-edition box set containing seven seven-inch singles. Also included is The Open Mind's oddly Stooges-like "Magic Potion", a July 1969 single which was also collected on The Psychedelic Snarl. A Kaleidoscope of Sounds is annotated, compiled and designed by Phil Smee and, unsurprisingly, most of its remaining tracks were heard on various volumes of Rubble.
The other 12 tracks on A Kaleidoscope of Sounds are: Birds Birds' "Say Those Magic Words", Caleb's "Baby Your Phrasing is Bad", The Eyes' " When the Night Falls", Jason Crest's "Black Mass", The Fairytale's "Guess I Was Dreaming", Les Fleur De Lys' "Mud in Your Eye", Kaleidoscope's "Flight From Ashiya", The Longboatmen's "Take Her Any Time", The Poets' "In Your Tower", Sands' " Listen to the Sky", Tintern Abbey's "Beeside" and The Virgin Sleep's "Secret". Each is a classic as such and would not be recognised thus without the propagation undertaken by Smee in the 1980s.
Take Jason Crest's outrageous "Black Mass". It was a B-side which barely anyone paid attention to when it was issued in August 1969. In A Kaleidoscope of Sounds' liner notes, Smee describes it as "the cream of the crop. A doomy creation with backwards percussion and sepulchre like organ, a backwards guitar takes the solo… and [singer] Terry Clarke screeches and cackles invoking Hammer horror glory. [Their label] Philips were not happy releasing the song declaring it unfit for public consumption." It escaped as a B-side and is amongst the craziest, most intense records released by a British label. In 1984, it had featured on Rubble Volume Four: The 49 Minute Technicolor Dream.
Then there's Tintern Abbey's (pictured left) spectacular "Beeside" which was on the epochal and eye-opening first Chocolate Soup For Diabetics album in 1980 and then on Rubble Volume 12: Staircase to Nowhere in 1986. It is a peculiar, out-of-focus performance coloured by a diffuse bass line, Mellotron, hissing, whooshing cymbals and a vocal line so disengaged the singer may as well just be emerging from a self-induced coma – the Brit-psych era's equivalent of shoegazing. Fittingly, its B-side (not included here) had the lyric "fix me up with your sweet dose, now I'm feeling like a ghost."
A Kaleidoscope of Sounds sells for between £55 and £60, so isn't an impulse purchase. Being promoted as value for money due to originals of each single coming to a total price of £11,500 is spurious – this is a reissue package, so collector's market prices are irrelevant. Doubly so as one side of each single is reissued here.
More pertinent to what it is, it sounds amazing. A comparison with the Rubble versions of the tracks reveals a fresh wide-screen clarity and punchiness not previously apparent. Comparison with the original singles of Les Fleur De Lys' "Mud in Your Eye", Kaleidoscope's "Flight From Ashiya" and The Poets' "In Your Tower" discloses the same. These 14 tracks have never sounded better. Factor in too that A Kaleidoscope of Sounds : Psychedelic & Freakbeat Masterpieces includes some of the best predominantly British music – The Longboatmen were Swedish – from the Sixties and the outcome is a superb release.
Next Week: A bumper bundle of Teenage Fanclub – the reappearance of their Creation albums
Tintern Abbey's out-of-focus 'Beeside' is the Brit-psych era's equivalent of shoegazing
Explore topics
Share this article