Das Rheingold, Royal Opera review - high drama and dark comedy |

reviews, news & interviews
Das Rheingold, Royal Opera review - high drama and dark comedy
Das Rheingold, Royal Opera review - high drama and dark comedy
Strong casting and dynamic staging augur well for Covent Garden's latest Ring revival
Tuesday, 25 September 2018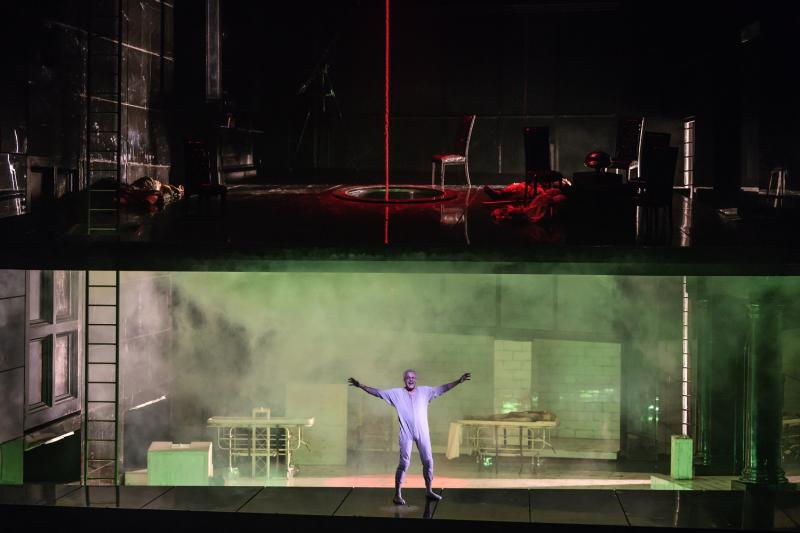 Johannes Martin Kränzle as Alberich
Keith Warner's production of Wagner's Der Ring des Nibelungen was first seen at Covent Garden between 2004 and 2006, and is now back for a third and final series of full runs, chiefly to catch the Brünnhilde of Nina Stemme in three of the operas, continuing into November.
The designs (by Stefanos Lazaridis) and dramaturgy have mostly aged well, aided by Warner's high-drama but low-concept approach. The casting for this
Rheingold
is less starry than before, but makes for a good ensemble – which is exactly what
Das Rheingold
requires.
For the opening scene, the depths of the Rhine are represented by snaky lines projected on a black backdrop. This is the only scene that felt dated, a futuristic virtual reality world, as imagined in an earlier time. Thankfully, the three Rhinemaidens, Lauren Fagan, Christina Bock and Angela Simkin (pictured below), got the singing off to an excellent start, the three voices buoyant and fresh, and blending beautifully.
The appearance of Johannes Martin Kränzle as Alberich set the tone for the drama to come. This Alberich is as comical and inept as he is malign, constantly active, often sarcastic, and usually verging on maniacal. Kränzle gave the finest performance in the show. He is a magnetic stage presence, and totally believable in every situation: whether crudely flirting with Rhinemaidens here, acting the mad professor in the Nibelheim scene, or the simpering hostage later on, it is all utterly convincing. Add to that a powerful but infinitely flexible and varied baritone voice, and you've got the whole package – one of the great Wagnerians of our times.
The second scene reveals the gods to be decadent aristocrats in a dilapidated mansion. The look here is faded Victorian with a hint of steam punk. The only weak link in this cast is John Lundgren as Wotan. Vocally, he was insecure, often verging on inaudible, though some of his more dramatic monologues came off better. But dramatically, too, he doesn't command the stage or hold the attention. Much better is Alan Oke as Loge. The production makes much of Loge's machinations, and Oke, a seasoned character singer, puts in an excellent performance, nimble, but also darkly manipulative.
Froh and Donner are played for comedy by Andrew Staples and Markus Eiche, grown children of the family but acting like adolescents. It's another of Warner's black comedy touches and it just about works. Sarah Connolly may be the only cast member here to have appeared in previous stagings of this production, and her Fircka is solid and dependable. Lise Davidsen stands out as Freia. She has a sweet-toned and effortlessly powerful voice, ideal for this role. Excellent giants too, Günther Groissböck as Fasolt and Brindley Sherratt as Fafner (pictured left), seasoned Wagnerians, and both on fine form.
For Alberich's Nibelheim, the floor rises to reveal the subterranean lair, a memorable piece of stagecraft. Nibelheim itself is a kind of morgue-cum-laboratory, with the Nibelung slaves being created as zombies. The transformations with the Tarnhelm, with Alberich transforming himself into a giant and then a toad, are very convincing, with a great King Kong pastiche from the giant. Gerhard Siegel is suitably frenetic and cowering as Mime, but the scene belongs to Kränzle and Oke.
Back on the mountain top, there is a final excellent voice to add to the lineup, Wiebke Lehmkuhl as Erda (pictured below with Lundren). Her alto is rich and complex but also smooth and seductive. Excellent support and projection, too – a commanding performance.
In the pit, Antonio Pappano leads a dramatic and flowing performance, as engaged as ever with his singers and players, but also more sympathetic to the style of the music than in earlier runs of this production. The continuity of the drama is his top priority, so he won't slow significantly, for example, at the Giants' entrance, nor dwell on the orchestral drama of the scene changes. Orchestral balances are unusual. The six harps are all in the pit, and mostly inaudible, while the timpani and percussion are in a box stage left, dominating proceedings. But the orchestral playing is excellent throughout, especially from the brass, who produce warm, elegant harmonies even at the most extreme dynamics.
This Ring cycle gets off to a promising start here, with a fine ensemble performance of Rheingold. Johannes Martin Kränzle is undoubtedly the star, but the casting is considerably enriched by the many fine voices in the smaller roles, particularly the Rhinemaidens, Giants, Freia and Erda. Kränzle's Alberich will be back for Siegfried and Götterdämmerung, although, as of Wednesday, when they reach Die Walküre, the entire cycle is likely to be dominated by Stemme's incomparable Brünnhilde.

Der Ring des Nibelungen continues at Royal Opera on Wednesday 26 September. The cycle is being recorded for future broadcast on BBC Radio 3.
Kränzle's Alberich is as comical as he is malign, constantly active, often sarcastic, and usually verging on maniacal
rating
Explore topics
Share this article