Peterloo review - Mike Leigh's angry historical drama |

reviews, news & interviews
Peterloo review - Mike Leigh's angry historical drama
Peterloo review - Mike Leigh's angry historical drama
Sprawling and wordy, but riveting
Thursday, 01 November 2018
Rory Kinnear (centre) gives a standout performance as the agitator Henry Hunt
Considering how the UK prides itself on having created the "Mother of Parliaments" and its citizens having once chopped off a king's head for thwarting its will, remarkably little is taught in our schools about one of the seminal events on the way to fully democratising this country: the Peterloo Massacre.
Mike Leigh's spawling, intricately detailed film will give you a good overview of that appalling day in British history; on 16 August 1819 an undisciplined and badly led group of mounted and foot soldiers – whose commanding officer had a more pressing date at the races – charged with sabres and bayonets drawn (pictured below) into a crowd of 60,000 unarmed people who were gathered in Saint Peter's Fields in Manchester to hear a speech calling for fairer representation at Westminster.
Detailed and often prolix though it is, Peterloo doesn't fill in all the blanks; you will be none the wiser at the end of the film how many were killed and injured that day, for instance (fifteen and several hundred, history records). But you will be fired with anger at the contempt the ruling class had for these northern working folk, impoverished by greedy mill owners and the protectionist Corn Laws.
The film starts at Waterloo where Wellington's army has routed Napoleon. A boy soldier, regimental bugler Joseph (David Moorst), is in a state of battle shock (which today would be diagnosed as PTSD). After the long trudge back home to Manchester, his only reward is the bugle and his filthy, battered redcoat, while Parliament votes to give the Duke £750,000 – an astonishingly high sum for the day.
But Joseph isn't our guide through a complicated and heavily peopled narrative (the film is stuffed to the gills with British stars – blink and you'll miss some) in which Leigh slowly builds up to the fateful day itself, drawing in all concerned parties as he tells the tale. Once back in the bosom of his mill-working family, Joseph largely fades into the background, while mother Nellie (Maxine Peake, pictured below), and father Joshua (Pearce Quigley) move to the fore.
The family, while not the main protagonists, provide the moral and emotional heart of the film as Leigh then moves on to the political and ruling classes, who were implacably opposed to extending the vote. The suffrage movements that had gained support in working-class towns they saw as seditious, revolutionary even. It's important to recall that both the French Revolution (1789-99) and the American War of Independence (1775-83) were within living memory.
These "upper class" characters – either chinless wonders like Prime Minister Lord Liverpool (Robert Wilfort), pompous local dignitaries such as frothing-at-the-mouth Manchester magistrate Rev Ethelson (Vincent Franklin), the paranoid Home Secretary Lord Sidmouth (Karl Johnson), who speaks of "the North" as another country, or the Prince Regent (Tim McInnerny), an idiot gorging on bonbons – are universally drawn as grotesques or caricatures. There's no doubt where Leigh's loyalties lie.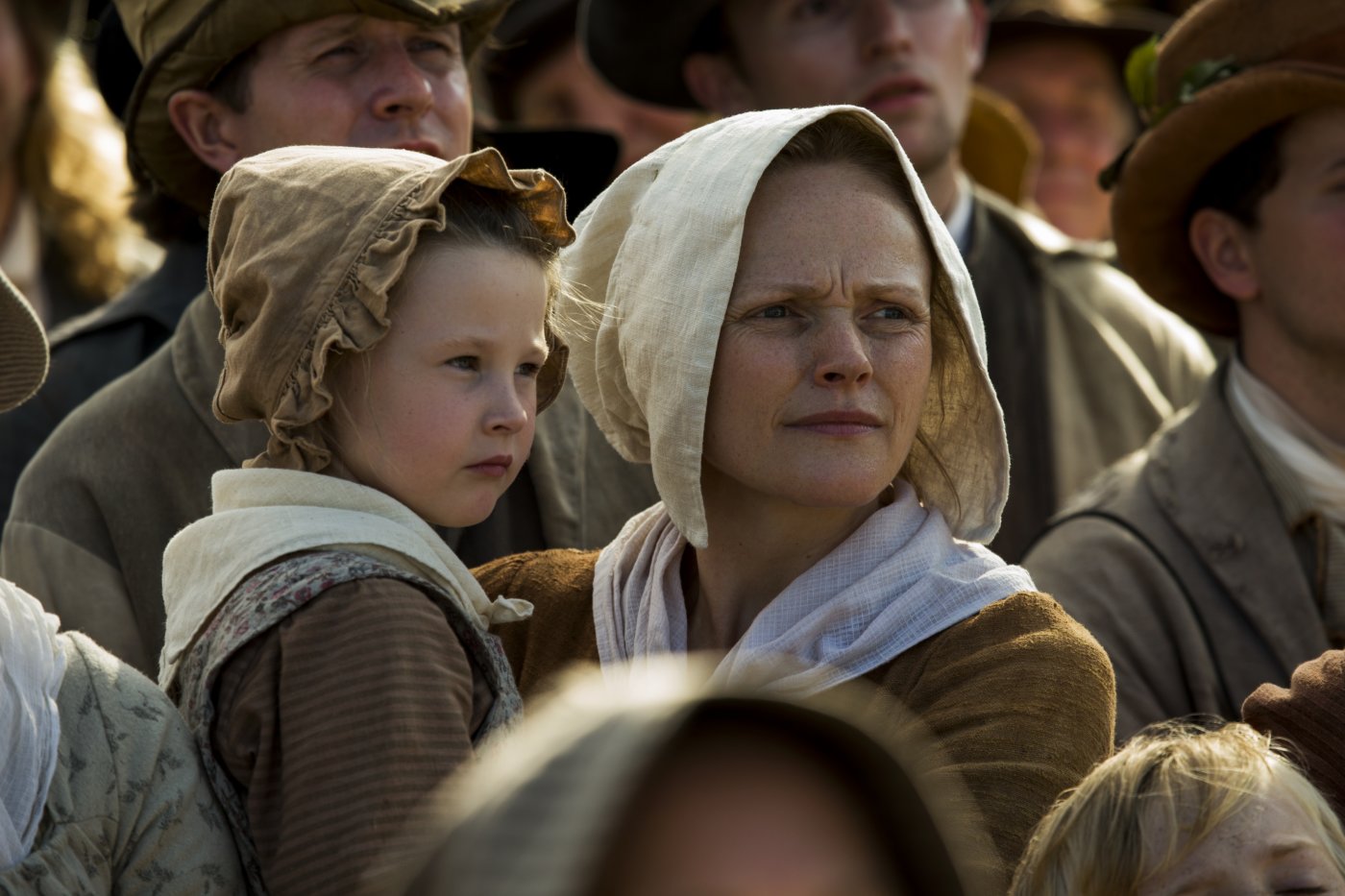 But he gives a more measured take on Henry Hunt (Rory Kinnear). "Orator Hunt" was a wealthy landowner but a principled agitator for fairer representation. A vain, narcissistic man who gloried in his own celebrity before the word was invented, the "Wiltshire peacock" – never seen in public without his white beaverskin hat – was none the less a man with his heart in the right place where it came to democracy.
Leigh allows himself some subtle humour with Hunt. Having been forced to avoid arrest by staying at the house of one of the Manchester agitators – in what he regards as inferior accommodation – Hunt assumes the tradesman's wife is a servant as she shows him to his room. "Bring me a light repast," he barks at her. "What's a light repast?" she says, mystified.
Despite its talkiness, Peterloo never drags in its two-and-a-half-hour length, and there are standout performances from Peake, Kinnear, Franklin and Johnson as the film moves inexorably to the shocking events of that fateful day in Manchester. Let's hope that the Peterloo massacre now takes its rightful place on the UK curriculum.
The 'upper class' characters are universally drawn as grotesques or caricatures. There's no doubt where Leigh's loyalties lie
rating
Explore topics
Share this article