Fantastic Beasts: The Crimes of Grindelwald review - mischief not quite managed |

reviews, news & interviews
Fantastic Beasts: The Crimes of Grindelwald review - mischief not quite managed
Fantastic Beasts: The Crimes of Grindelwald review - mischief not quite managed
Convoluted mythology stops second Potter prequel from flying
Friends reunited: Eddie Redmayne and Dan Fogler return as Newt and Jacob
Eddie Redmayne reprises his role as the bashful but brilliant Magizoologist, Newt Scamander (pictured below), joined by muggle-baker Jacob Kowalski (Dan Fogler), and witches Tina (Katherine Waterston) and Queenie Goldstein (Alison Sudol). Leaving New York, the quartet from the first film travel to a jazz-age Paris on the hunt for the troubled orphan Credence Barebone (Ezra Miller), who is cursed with a powerful parasitic magical entity.
Meanwhile, dark wizard and proto-Nazi Grindelwald (Johnny Depp) conducts a daring escape from the American Ministry of Magic, MACUSA, and flees to Europe intent on stirring up a war between muggles and pure-blood wizards.
The script is provided by J.K. Rowling, who makes her second solo outing as a screenwriter for the franchise, while the film is helmed once again by director David Yates. In this case however, coherency of plot has been sacrificed in favour of detours into the details of Rowling's magical world.
A lot of screen time is given over to the myriad of mythical monsters (there are many new additions as well as old friends) and fantastical backdrops. While this is entertaining up to a point, often it becomes reminiscent of the obsessively detailed appendices that Tolkien added to The Lord of the Rings books. Peter Jackson managed to balance the needs of detail and plot for his adaptations (at least until the release of the extended editions), and the same approach might have helped here.
Attention to detail and myriad subplots were among the most beguiling qualities of Rowling's books. A good screenwriter could have stripped back the detail-heavy plots to work more effectively in the language of film. Unfortunately, Crimes of Grindelwald is bloated with unnecessary subplots and narrative detours that leave you feeling lost. It feels more like sitting an O.W.L. exam on how much Potter history you can remember, rather than being allowed to relax and enjoy the magic before your eyes.
Speaking of history, the broader historical context is hammered home. The looming rise of Nazism in the human world is echoed in Grindelwald's fascist schemes. There are also some jarring references to major historical events of the time that serve to jolt viewers out of the fantasy world of the film. More problematic is the lingering sense that today's political issues are also being crowbarred in – even in the Wizarding World we can't escape Trump and Brexit.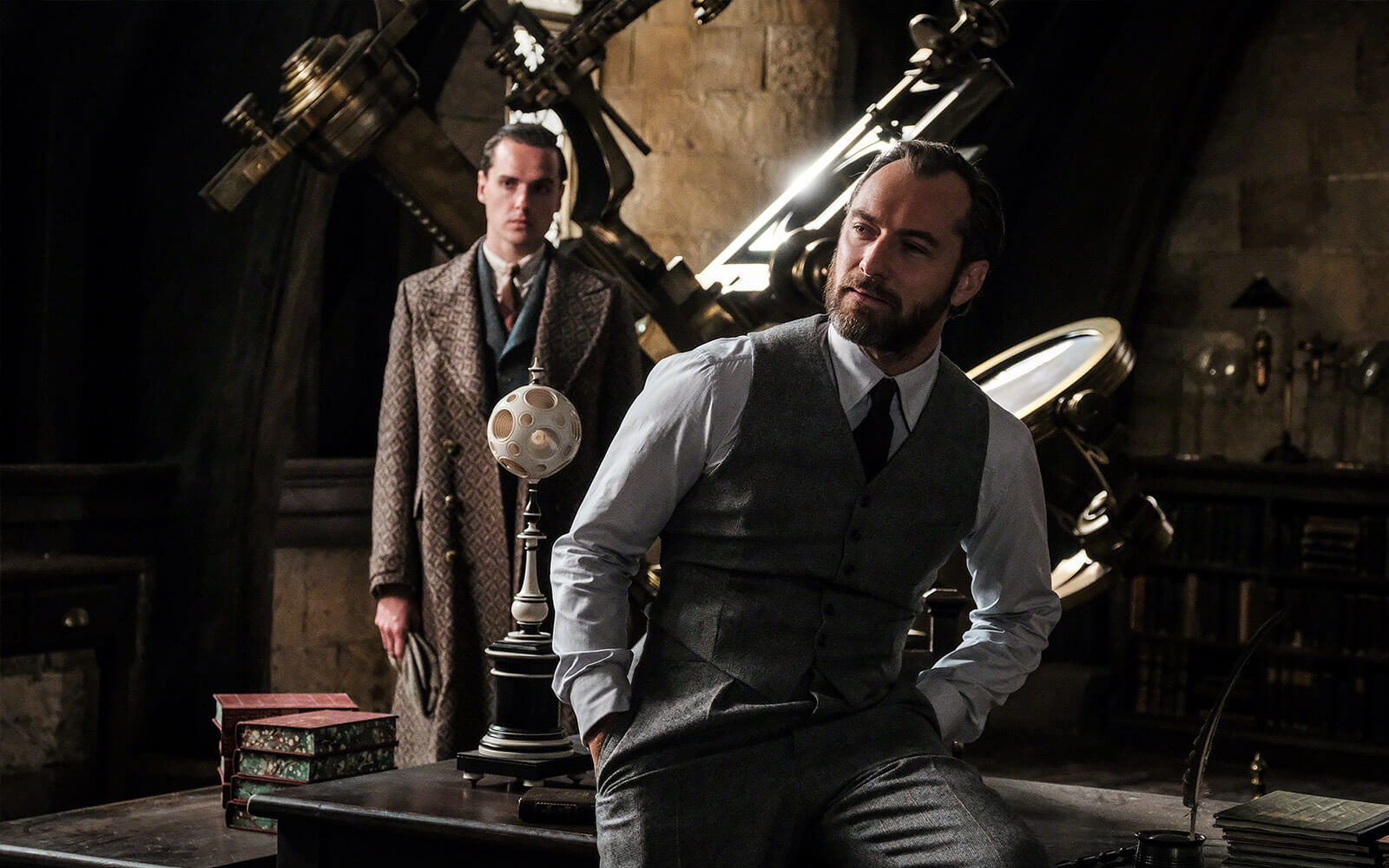 Yet, for all these problems, the inherent Rowling magic is still very much present, helped by James Newton Howard's soaring score. Depp's Grindelwald is a sinister delight, complete with a snarling, RP accent. Jude Law's much-anticipated Dumbledore (pictured above) is a triumph, conveyed with the right amount of wit and charm, and the scenes (as seen in the trailers) at Hogwarts will no doubt be squeal-inducing for fans.
Disappointingly, the youthful love affair between Dumbledore and Grindelwald is given short-shrift, with Dumbledore rather wetly saying in a brief scene "we were closer than brothers". In 2018, you would hope a major studio would have a bit more courage. Homophobic McCarthy era-esque excuses about historical context don't wash when people are walking around with wands.
This aside, praise is due to new members of the cast, including Claudia Kim's Nagini (whom will no doubt become more significant in forthcoming films) and Zoë Kravitz's Leta Lestrange who has an important role to play.
Fans of the Harry Potter films are now older, and Fantastic Beasts has attempted to grow with that audience, while still attracting new fans. That's a problematic tight-rope to walk, and there is a sense that this prequel-sequel has just missed its mark. Mischief not quite managed.
Even in the Wizarding World we can't escape Trump and Brexit
rating
Explore topics
Share this article