EFG London Jazz Festival 2018, round-up review - winners young and old |

reviews, news & interviews
EFG London Jazz Festival 2018, round-up review - winners young and old
EFG London Jazz Festival 2018, round-up review - winners young and old
Highlights from Xhosa Cole, Leo Richardson, Stan Sulzmann, Richard Galliano and more
Charismatic: BBC Young Jazz Musician Winner Xhosa Cole with Gwilym Simcock and Paula Gardiner
Jazz musicians of just about all ages and persuasions have been on show in this year's 10-day EFG London Jazz Festival. Some were making their first mark, some taking stock of who and where they are, some trying new things or changing where they're headed, others who've said yes to commissions, and others whose craft, identity and choices are totally persuasive.
Charles Mingus got it right. "In my music," he said, "I'm trying to play the truth of what I am. The reason it's difficult is because I'm changing all the time."
One musician who has a whole career in front of him and who is bound to change and develop is 22-year old Xhosa Cole, a long, tall and Dexter-ish tenor saxophonist from Handsworth in Birmingham, who is the new and already popular title-holder of BBC Young Jazz Musician 2018. The final of the competition was held on Saturday night in the Queen Elizabeth Hall and screened on BBC Four last night. He was, without doubt, the most charismatic of the performers, although my ears were also taken by two players who were perhaps more in the mould of "musicians' musicians", electric bassist Seth Tackaberry, who gave an astonishingly impressive performance, notably in Pat Metheny's tune "James"; and Scottish pianist Fergus McCreadie who elicited touching praise from piano great Monty Alexander, who, speaking clearly from the heart said: "I heard a humble spirit." As a TV show, it all hung together well, whereas the recording in the Queen Elizabeth Hall needed an embarrassing amount of presentational and productional fluffs and re-takes – how ironic for a jazz competition.
Another young-ish tenor saxophonist left a very strong impression with his gig on Wednesday at the Spice of Life club in Soho. Leo Richardson's 2017 album The Chase, with a guest appearance from that daredevil of a previous generation Alan Skidmore, made it into several 2017 best-of lists. Richardson has just recorded another album, which includes another two-tenor roast, this time with Alex Garnett. Richardson's quartet is also interesting for the sheer range of appealing characters and personalities in it, from the quirkily humorous Rick Simpson to the virtuosically insouciant Tim Thornton to the constantly provoking Chris Draper.
An ethereal, meditative, other-worldly and above all memorable set came from the duo of Anglo-Polish singer/violinist Alice Zawadzki and the Korean taegum (bamboo flute) player Hyelim Kim (pictured above by Monika S Jakubowska), in a concert which made its way into Serious's K-Music Festival as well as their EFG London Jazz Festival. Both performers also recited poetry, respectively in English and Korean, with clarity and real emotion.
Kim and Zawadzki were the opening act for Korean singer Youn Sun Nah, who, according to widely-circulating rumour, is in the process of turning the title of her 2017 album She Moves On into a prediction. Having built a substantial career in Korea and then in Europe, while based in France, she has now set her sights firmly in the direction of the American market, and is moving to another record label. She has built a substantial fan base who cheered everything she did and for whom she can now do no wrong, but to me the state of that transition she is currently in feels more like a narrowing of her capabilities. She gets stuck into a Bonnie Raitt early '90s vibe. She does it well, but mostly stays there.
Another unusual direction was the collaboration of former Snarky Puppy keyboardist Bill Laurance with Cologne's WDR Big Band (pictured above by John Watson/jazzcamera.co.uk). This band is full of players whose touch and judgement are infallible: drummer Hans Dekker, bassist John Goldsby and alto saxophonist Karolina Strassmayr come to mind, for example. At their best, as in a Vince Mendoza programme I heard last year in Germany, they can be astonishingly light-footed. Here, on the other hand, from what I heard, I found Laurance's chord sequences and Mintzer's arrangements made for something rather more deliberate and leaden. From the loud whooping and cheering I heard from the seats all around me, I doubt if this was a feeling widely shared.
A British musician whose presence we can sometimes take for granted is tenor saxophonist Dave O'Higgins. I heard very good reports of his concert as a member of Darius Brubeck's Quartet at Kings Place, and I heard him on the afternoon of the same day in the company of the trumpet and drum-playing Fishwick brothers in a free foyer concert at Cadogan Hall. O'Higgins's ease and fluency as soloist are totally persuasive, and in this concert presenting compositions by Cedar Walton and Duke Pearson he made these complex sequences understandable, persuasive and fresh.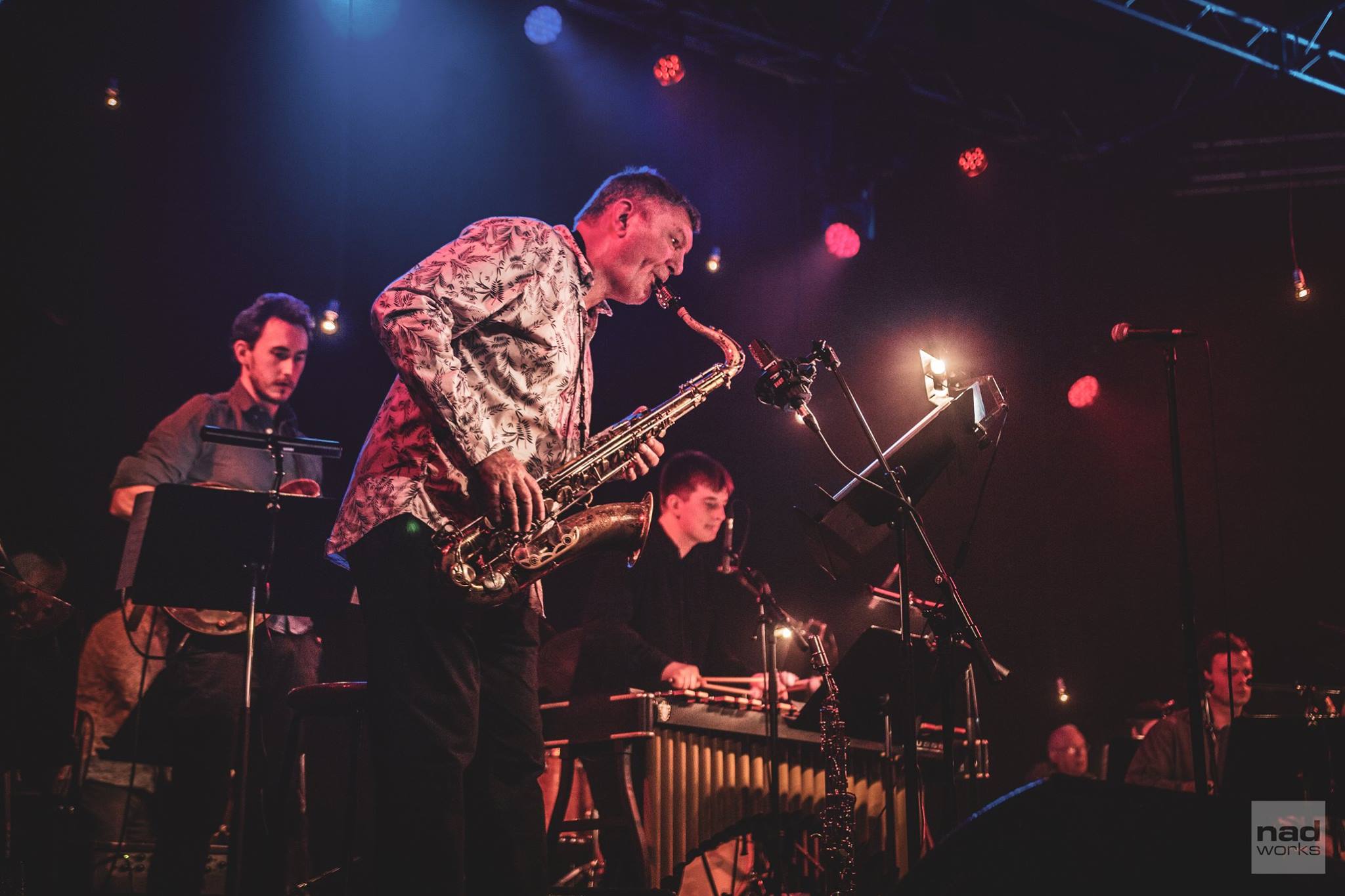 Far more inventive big-band writing was on display in another concert in the Purcell Room. Stan Sulzmann (pictured above by Nadja von Massow) is a pivotal and hugely influential figure in the UK's jazz scene – has been building a catalogue of compositions for jazz orchestra. There is nobody else with Sulzmann's instinct for how to make melodies and countermelodies combine, intertwine and just be on the way somewhere. He celebrated his 70th birthday with a generation-spanning band of top-flight players. I came away with the impression on first hearing that one of his arrangements, of the Bacharach tune "You'll Never Get to Heaven", might well be a masterpiece. This was an uplifting and emotional occasion, and the music rose to it.
Just as my pick from the first weekend of the festival was the solo performance by Bill Frisell, the concert which has left the deepest impression from the rest of the festival was another masterful solo recital, this time by French accordionist Richard Galliano in the Wigmore Hall. Galliano's effortless way of taking the listener from Bach to Piazzola to Satie and Granados, into the blues and out again was mesmerizing. Some musical wags say that nobody plays Michel Legrand's music with less respect than the composer himself. By contrast there may be nobody who plays it better than Richard Galliano. His medley intertwining "Windmills of My Mind" with the "Chanson de Maxence/ You Must Believe in Spring" and the "Valse des Lilas" was irresistible and unmissable.
Xhosa Cole, the BBC Young Jazz Musician winner is a long, tall and Dexter-ish tenor saxophonist from Handsworth in Birmingham
rating
Explore topics
Share this article