The Curious Incident of the Dog in the Night-Time, Piccadilly Theatre review - back for a heart-tugging encore |

reviews, news & interviews
The Curious Incident of the Dog in the Night-Time, Piccadilly Theatre review - back for a heart-tugging encore
The Curious Incident of the Dog in the Night-Time, Piccadilly Theatre review - back for a heart-tugging encore
Award-winning adaptation of Mark Haddon's novel retains its ingenuity and pathos
Well-traveled: Joshua Jenkins (centre) in 'The Curious Incident of the Dog in the Night-Time'
One emotional high point in The Curious Incident of the Dog in the Night-Time, the much-lauded Simon Stephens adaptation that is back in our midst once more, comes when the teenage Christopher Boone is floated in the air as part of his dream of being an astronaut.
It's a touchingly improbable, escapist fantasy
–
that a teenager with autism would be launched in a spacecraft
–
and it comes via a piece of stage magic when he is borne aloft by the rest of the ensemble cast, his pet rat, Toby, flying in tandem. Perhaps space is the solitary place where he won't panic and where he exists free of the fear of being touched.
There are further heart-tugging highlights, as one might imagine from this West End reprise of a National Theatre hit from 2012 that won seven Olivier Awards and five Tonys and now joins its director Marianne Elliott's concurrent London stagings of War Horse and Company in a neat London hattrick. At one point, Joshua Jenkins, making his West End debut as Christopher though he has played the part on the UK tour and internationally since 2015, jumps into the well of a tube track in pursuit of the same beloved rat, oblivious to the fatal danger and the rising panic of passengers trying to pull him to safety. His vulnerability makes protectors of the audience.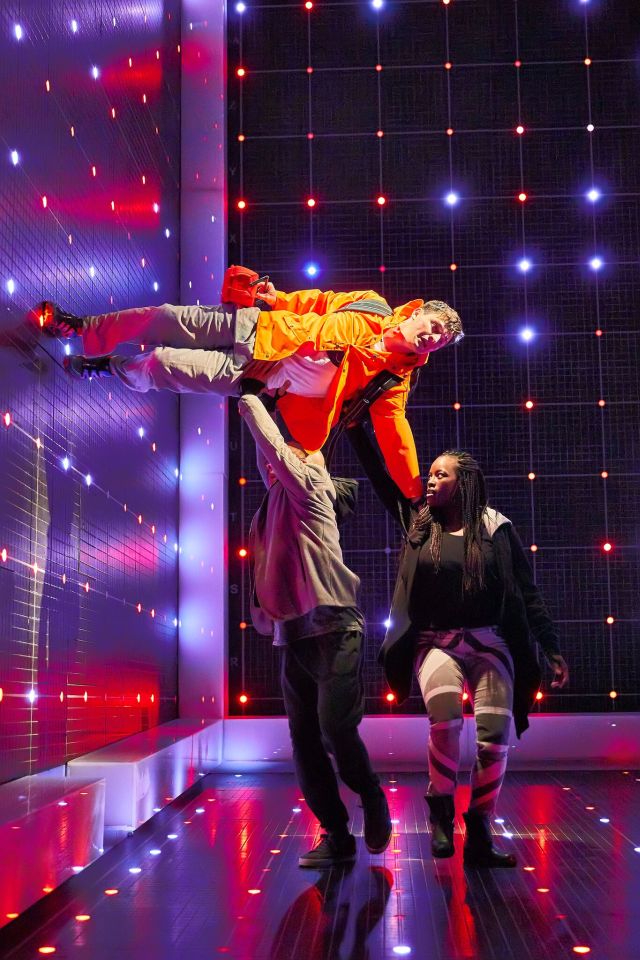 At this point, it's hard to quarrel with the play's pedigree – well, you could, but it might be a tad pointless. One doughty Australian writer gave this Curious Incident a mere three stars during its Antipodean tour, but such appraisals are so much water shaken off a duck's back. Mark Haddon with his 2003 novel made his 15-year-old hero the iconic embodiment of the frailty of someone with what Christopher calls "behavioural problems" - be it Asperger syndrome or autism or some less tangible label.
The designer Bunny Christie's set (pictured right) is a stark cube, with the lines and letters of graph paper across the walls, there to be lighted at will. We see minimalist dots of colour: an orange plastic chair, yellow and black football, various folders. The action starts with Christopher confronting the corpse of the dog in question, brutally bloodied, with a garden fork stuck in it. Like any good detective, Christopher decides to investigate, dog murdering not being normal adult behaviour; Christopher senses innately that this event may be symptomatic of a larger crime. And yet it remains a mystery, as perhaps with any mental condition, as to how much Christopher's disabiltiies are a defence mechanism against the tension in the adult world around him: the affairs, arguments, incipient violence.
It may seem an impossible task to meet the expectations of Haddon's literary creation, which makes for a huge, complicated and exhausting role onstage. But Jenkins anchors it strongly so as to allow a proper development of his vital relationship with his father, Ed: Stuart Laing invests that part with a subtle mix of clumsiness, care and failure to cope. Emma Beattie, as Judy, transitions excellently from the alluring dream of Christopher's dead mum to a much more fallible reality. Julie Hale (pictured above) is sweet and steady as his guiding companion and teacher, Siobhan, and I particularly liked Lynette Clark, pullng at the emotions persuasively as the cosy neighbour, Mrs Alexander: she's as comforting as buttered toast and tea.
The production has been on the road a long time, and there is that suspicion of lack of freshness; the upside is pinpoint timing, precisely rehearsed – the train runs absolutely on time and the animals behave miraculously.
The first half of the play is about the detective work and sustains an excellent through-narrative. The second, which I liked less, is louder and more diffuse, reaching for laughs and building toward the denouement of whether Christopher will make his exam. A low point has to be the occasional bursts of violent light and white noise, deployed to illustrate mental panic, and these are surely loud enough to scare off more sensitive souls in the audience. I can only wonder if the true terror of autism isn't more silent and internal: a mental world imploding and better shown through acting than amps.
The Curious Incident of the Dog in the Night-Time at the Piccadilly Theatre to 27 April.
There is that suspicion of lack of freshness [but] the upside is pinpoint timing, precisely rehearsed
rating
Share this article