Katya Kabanova, Royal Opera review - inner torment incarnate |

reviews, news & interviews
Katya Kabanova, Royal Opera review - inner torment incarnate
Katya Kabanova, Royal Opera review - inner torment incarnate
Ruthless focus in production and central performance, not quite so much from the pit
Tuesday, 05 February 2019
Amanda Majeski as an endlessly anguished Katya
Backstories, we're told, are a crucial part of stage visionary Richard Jones's rehearsal process.
Janáček
, or rather Russian playwright Ostrovsky on whose
The Storm
the composer based
Katya Kabanova
, gives several of his hemmed-in characters narratives to suggest what they were and why they are where they are now (not good), stuck in a deadly dull – or just plain deadly – provincial town. It's a tribute to Jones's outwardly spare production that we want to know more.
Is the mental health of Katya now, married to a drinker and bullied by her stepmother, the result of persecution by this Borough on the Volga, or was she always a bit strange? What's the story between the picture of a girl looking happy holding a pigeon – flying always much on Katya's mind – and the traumatised woman sitting on a bench as the dropcloth rises? The main thing is that we come to care very quickly, given Amanda Majeski's characterisation, painful to watch but always beautifully sung, with a host of appropriate colours in the rich soprano with its radiant top and full chest voice (Majeski pictured below with Pavel Černoch as Boris).
Antony McDonald's sparse sets are a claustrophobic state of mind, too: Katya is literally boxed in, while the great river lies beyond, in the pit and the stalls, fishermen casting their reels and taunting the girl with their catch (you sense the males who harass her are mocking her rather than libidinously eyeing her up). Lucy Carter's glaring pools of light that come up to fram Katya on either side of the comfortless 1970s Soviet-era living-room of a merchant family add to the hallucinogenic portions of her Act 1 narrative to the Kabanovs' ward Varvara, her only ally.
Here time stands still for poor Katya; we seem to get inside her messed-up head. It's what Edward Gardner does best, getting the Royal Opera Orchestra to colour the stretches of stasis with eerie luminosity. Paradoxically this is Janáček's most lyrical opera but also his most comfortless, with nothing beyond the tragedy. Surprisingly for a conductor who's given outstanding performances of Peter Grimes and The Mastersingers, his is not, as yet at least, a very together interpretation. The composer's empathetic phrases can sound beautiful, but need more backbone; the brass, admittedly given some very difficult writing, was not on finest form last night. One expected more after the orchestra's electrifyng delivery for Mark Wigglesworth in the first opera of the Royal Opera's new Janáček series, From the House of the Dead (and indeed Wigglesworth's conducting of ENO's searing Katya on Gardner's watch was so good I went twice).
Fortunately the stage performances pull focus. Pavel Černoch's handsome Boris would seem to be a good match, both physically, vocally and in his troubled soul, for the married woman he seems to be genuinely infatuated by (that slight rocking when he meets her outside the house at night, first seen in the Presentation of the Rose in Jones's Glyndebourne Rosenkavalier, tells us as much). Emily Edmonds's Varvara and Andrew Tortise as her educated hippyish boyfriend Kudryash are appropriately the lighter pair, though she sounds more like a very light soprano rather than the advertised mezzo; not a problem when the relationship with its fleeting but delighted fumbles, no more able to settle in this awkward setting under a street lamp than the other pair, is so deftly-clumsily delineated (Edmonds and Tortise pictured above).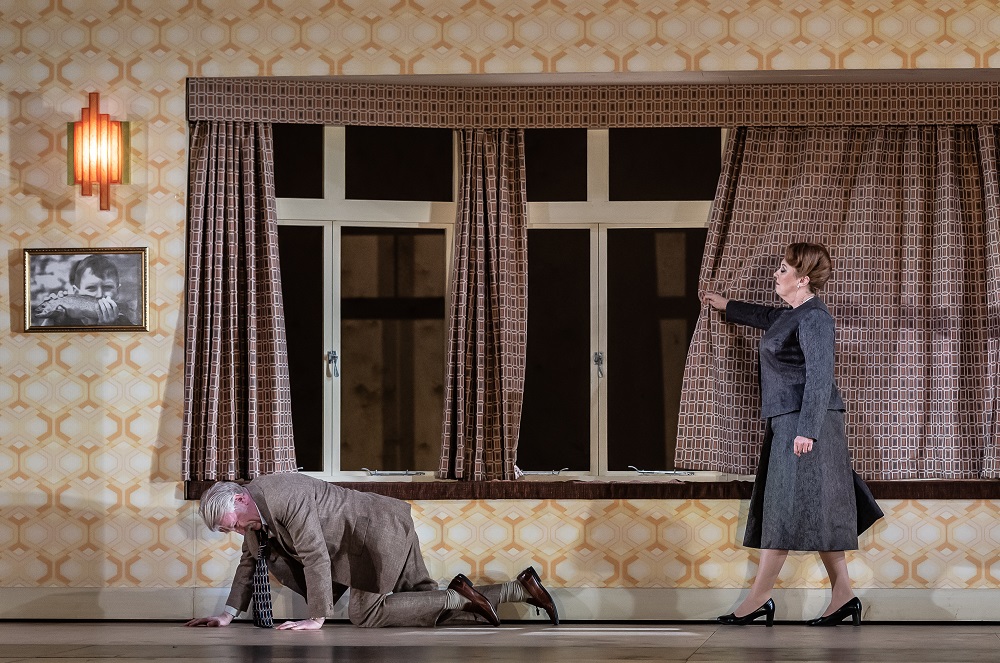 It's hard for any singers to make the mother-in-law from hell and Boris's awful uncle Dikoj anything more than caricatural monsters, but Susan Bickley and Clive Bayley have plenty of help from Jones's tightly choreographed movement, in conjunction with his invaluable colleague Sarah Fahie, to keep it real. So the grotesque little sado-masochistic scene between them gets no cheap titters as they move very creepily from stage left to centre (pictured above). And (spoiler notice) trust Jones not to leave us with Kabanicha the tight-lipped moral hypocrite thanking everyone over the body of the drowned daughter-in-law. Between them, Bickley, Majeski and Andrew Staples as weak husband Tichon create a final scene unlike any other you'll have seen in this opera - the second devastating tableau of the last few minutes. The image and the sound that have branded themselves on my mind and soul, though, are of a woman on a bench hitting ever lower depths of despair. Respect to Majeski and Jones for that harrowing.