Ek, CBSO, Gražinytė-Tyla, Symphony Hall, Birmingham review - epics of sea and land |

reviews, news & interviews
Ek, CBSO, Gražinytė-Tyla, Symphony Hall, Birmingham review - epics of sea and land
Ek, CBSO, Gražinytė-Tyla, Symphony Hall, Birmingham review - epics of sea and land
Mirga pairs a Lithuanian late-romantic tone poem and familiar Grieg in an unusual context
Mirga Gražinytė-Tyla conducting the CBSO in Čiurlionis's 'The Sea'
British concert audiences now know and love one great Lithuanian, among the most communicative and individual conductors in the world today (note I don't even need to prefix "conductors" with "women").
On Saturday night, Lithuania's Independence Day passing untrumpeted save for a flag-wave or two, Mirga Gražinytė-Tyla introduced lucky Birmingham listeners to an ambitious orchestral tone-poem by another,
Mikalojus Konstantinas Čiurlionis
(1875-1911), the country's national hero among composers. With her customary programming genius, always matched by the playing of what is now "her"
City of Birmingham Symphony Orchestra
, she made sure its mesmerising sprawl and fragments of themes tossed up by the waves of its aqueous subject-matter was balanced perfectly by the lyric genius of some of
Grieg
's
Peer Gynt
miniatures, compellingly connected.
Assembling the large orchestra necessary for Čiurlionis's The Sea, a work on the same scale as Strauss's Also sprach Zarathustra which partly inspired it, and then getting enough rehearsal-time to do its elaborate, many-stranded marine odyssey justice is no easy task. Complicating the audience's concentration was the decision to get Birmingham-born kinetic artist Norman Perryman to accompany it, maybe a swim too far.
Justification lies in Čiurlionis's own painting, which overtook his (relatively small) composing oeuvre in the last years of a short life. But he kept the two apart, implying visuals we need to conjure from the music and giving his art suggestively musical titles (the 1908 triptych A Sonata of the Sea bears individual titles "Allegro", "Andante" and "Finale", pictured right). The different parts of the brain struggle to co-ordinate sound with image. Perryman has studied the score and knows what he wants at most points (the bigger picture below): a large orange suns burns before the central storm, a moonscape follows it. But there are more moments of stasis than in the music or indeed in the sea itself, and to end with sludge brown when Čiurlionis has a bright-blue or green E major seemed like one of several non-correspondences (so much for the artist's synaesthesia).
But is the music any good? It's ambitious, certainly, if over-indebted to Strauss at points. More worrying to me live than in the three recordings I've heard was the excess of thick orchestral organ pedals (Birmingham's king of instruments comes into its own at times, too). But there seems to be real genius in the nocturnal barcarolle of the last third, woodwind and string wisps of real individuality tossed on a by now gentler ocean. Mirga's perfect balance between phrase-shaping and keepin the whole afloat was much in evidence here. You really do sense a poetic response to infinity, one which deserves to end quietly, fading to nothingness, rather than with the conventional late-romantic apotheosis, cymbals crashing again, which Čiurlionis - mistakenly, I think - decided upon.
The full orchestra required left us with rather larger than usual forces - 16 first vioins, for a start - in the Peer Gynt sequence. Mirga turned them to striking advantage, bearing in mind that the numbers were shorn of their dramatic context, by essaying laments of Mahlerian scale for the bride abducted and deserted by bad lad Peer and the dying mother whose end he tries to ease with a story of a journey to heaven's gate. Her already celebrated sense of continuity gave us telling pairs of movements: the wedding celebrations of the Overture/Prelude, with stamping colleagues for viola-player Adam Romer's splendid Hardanger fiddle impersonations, and the same music knife-twisted for Ingrid's plaint; Åse's death followed by bright morning; Solveig's tender song obliterated by the storm scene of Peer's homecoming, only for tender redemption to win out.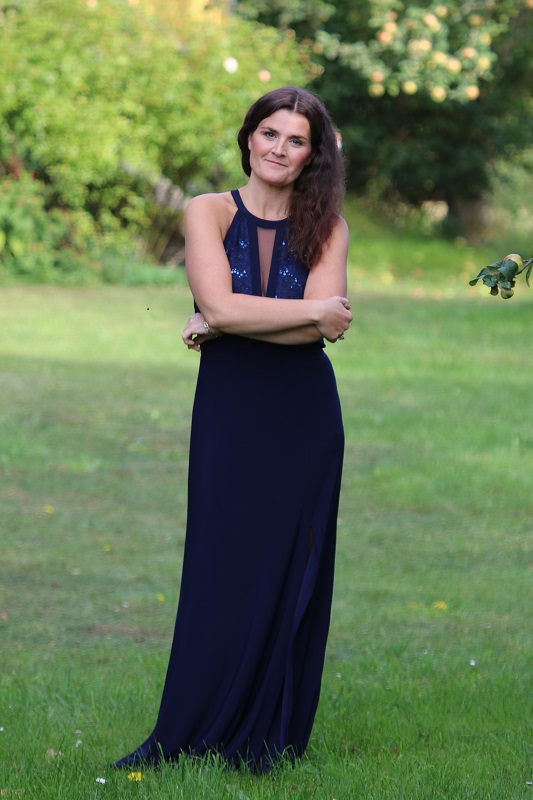 Clara Ek's girlish purity here (the soprano pictured left by Urban Astron) reminded one of the end of Mahler's Fourth Symphony (no matter that Solveig in the play is now old and half-blind; this selection had its own logic). The chorus had a whale of a time as trolls tearing at our anti-hero's flesh (a couple of accented pizzicati did that, too, as "In the Hall of the Mountain King" gets under way), and helped with their chorales to make the final stages moving.
The full works of the complete incidental music to Ibsen's epic would have given us those melodramas where Grieg comes closest to the playwright's darker supernatural satire; but then that would have taken a whole evening, and to have the bonus of a Lithuanian rarity was of inestimable value. And who else but Mirga could sign up for a contract with a major record-company (Deutsche Grammophon) and insist on the tough Weinberg symphony she conducted so powerfully earlier this season for her first release and music by contemporary Lithuanian composer Raminta Šerkšnytė for her second. That will take her back to Lithuania, but the Birmingham side of things is secure and assured; after Rattle, Oramo and Nelsons, the CBSO is already well into yet another golden age.
Mirga turned the large body of strings to striking advantage in Grieg's 'Peer Gynt' music, its laments on a Mahlerian scale
rating
Explore topics
Share this article