On the Basis of Sex review – real-life legal drama |

reviews, news & interviews
On the Basis of Sex review – real-life legal drama
On the Basis of Sex review – real-life legal drama
Felicity Jones is ground-breaking lawyer Ruth Bader Ginsburg in a feelgood with smarts
Wednesday, 20 February 2019
Taking on the men in suits: Felicity Jones in 'On the Basis of Sex'
When the world is as crazy as it is right now, its political life dominated by dolts and villains, it needs a new kind of hero. That's why Americans are embracing an octogenarian woman with more guts and integrity than virtually anyone at her level of public life, and why in quick succession we've had two films about her.
The Oscar-nominated documentary RBG was released in January and is still available in some cinemas and on streaming platforms. It tells the story of the now 85-year-old Supreme Court justice Ruth Bader Ginsburg, a remarkable woman who in the Seventies was instrumental in laying the foundation of equal rights for women in the US and is still going strong as an outspoken if minority liberal voice at America's highest echelon of the law.
The documentary also delights in a marriage almost too good to be true, a living advertisement for Ginsburg's ideal of gender equality, and in the unusual transformation of this tiny, unassuming old lady into a cultural icon, embraced by the nation's youth and fondly dubbed 'the Notorious RBG'.
It's a cracking doc, revelatory and inspiring. And so some might question the need for a fictionalised version of Ginsburg's younger life, On the Basis of Sex, especially when it fails to match RBG's depth and impact.However, it's not impossible to enjoy a correspondence between the two films. The documentary offers the breadth, depth and resonance of a whole life, the feature an enjoyable, smart, at times also inspiring "origin story" – an appropriate notion given Ginsburg's near-superhero status – focussing on her education and tribulations as a young lawyer and the case that led her on the trailblazing path. Both shine a light on one of the more dynamic and meaningful careers in legal history.
On the Basis of Sex is directed by Mimi Leder, whose work on television (ER, The West Wing, The Leftovers) is admittedly more impressive than in film (The Peacemaker, Deep Impact) and written by Ginsburg's nephew Daniel Stiepleman, whose artistic licence with his relative's history no doubt comes with a blessing. Together they set up a story that's a briskly efficient reminder of the staggering gender inequality in the period in which Ginsberg came of age, and the enormous mountain she had to climb.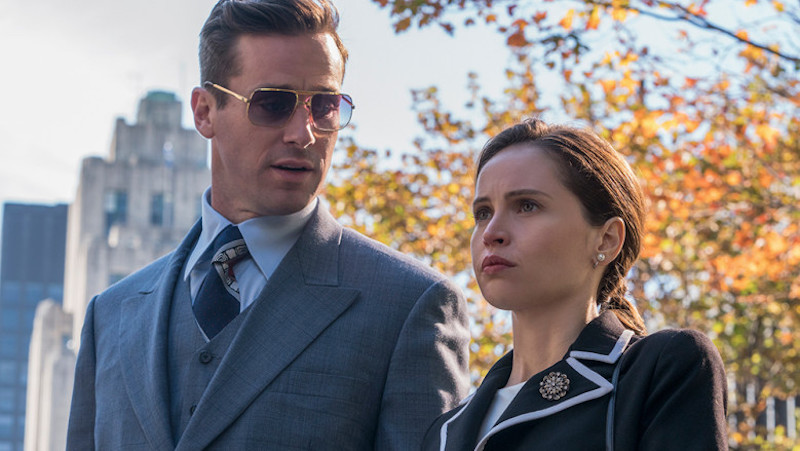 Leder's opening shot evocatively reflects what that mountain looks like: a sea of men in suits. It's only when the camera comes down to street level that we see, buried within this mass of monochrome uniformity, the tiny form of a woman. It's 1957 and Ginsburg (Felicity Jones) is one of only nine women admitted into Harvard Law School, a token concession they are reminded of at every turn, not least by the monstrous Dean Griswald (Sam Waterston, who has specialised in shifty lawyers, from Law & Order to Miss Sloane). At his annual dinner, the dean cruelly challenges the nine to stand up and explain "why you're occupying a place that could have gone to a man." Only Ginsburg gives the appropriately ironic response.
At this time she is already married, to fellow law student Martin (Armie Hammer, pictured above, with Jones), who's not only a dreamboat, but has a respect for women – he is cheerily in awe of his wife's intellect and ability – that is wholly atypical of male attitudes of the time. When Marty falls seriously ill at college, his wife doubles her workload and childcare and steers him through his course; for years thereafter he will be her rock.
On graduating, Ginsburg finds that no firm is interested in hiring a woman, and has to settle for teaching. Fast-forward to the Seventies, and the fight for gender equality is hitting the streets. But she continues to believe that a key to progress is through the law, where gender-based discrimination is embedded.
Professors can still represent clients. And when Marty, now a successful tax lawyer, steers a promising case in her direction, she eyes her chance. On the surface, the discrimination appears to be against a man, who has been refused a tax deduction for the care of his mother, in part because he has never married; the real discriminatory thinking being that women, not men are expected to be at home to do the caring.
The film flits between the family home and the courtroom, between Ruth's tussles with her teenage daughter Jane (the impressive Cailee Spaeny, pictured above, centre, with Jones and Kathy Bates), who's keen to make her own mark as an activist, and the lawyer's battle with the might of the government's legal defence, all male of course, and led by the Harvard old guard.
There's outrage, humiliation, uncertainty, triumph. While at times the film feels like a conveyor belt of familiar tropes and tensions, it does capture the insight of Ginsburg's legal ambition – to build equality in the law, step by step – and nuance in the fact that, in this legal drama, the lawyer's own tribulations are exactly those that she's trying to overcome for others. And in that sense, the film certainly hits its emotional beats.
An English rosy may seem strange casting for a Brooklyn Jew, but Jones has an innate feistiness and focus (strikingly evident in her two best-known performances, in Rogue One and The Theory of Everything) that well serves her subject. Kathy Bates offers a characteristically bullish cameo as campaigning lawyer Dorothy Kenyon, and Justin Theroux bristles as Mel Wulf, the legal director of the American Civil Rights Union, who lends Ginsburg's case the ACRU's clout but proves something of a chauvinist himself – a telling indication of just what she was up against.