Idomeneo, English Touring Opera review – honest excellence |

reviews, news & interviews
Idomeneo, English Touring Opera review – honest excellence
Idomeneo, English Touring Opera review – honest excellence
Strong singing and fuss-free direction do justice to Mozart's dark masterpiece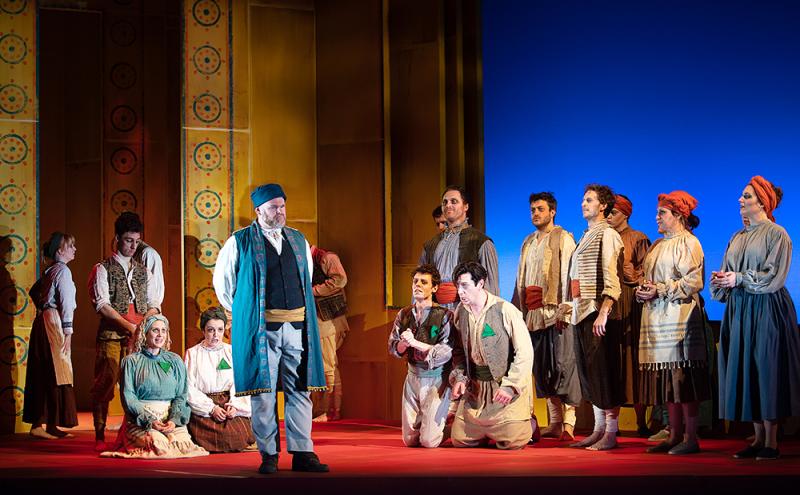 Corrupted power: Christopher Turner as Idomeneo
Selfish, cunning, cynical, the older generation has screwed up the world with aggression abroad and dishonesty at home. Can their children make it good again? This family drama of transgression and reparation threads through Idomeneo, the opera that Mozart – who had his own troublesome issues with both biological fathers and father-figure patrons – premiered in Munich in 1781.
As it lifts the (by then) somewhat musty conventions of
opera seria
to formerly unimagined heights in a plot about returnees from the Trojan War and the cost their offspring pay for the elders' bloodstained vanity, Mozart's music needs not just singers of a proper calibre. It calls for a production that avoids all show-off fuss to let the extraordinary drama of his scoring breathe.
Kicking off its spring tour at Hackney Empire – that time-capsule music-hall that makes a gorgeous opera-house – English Touring Opera delivered on both fronts. A quartet of principals sang with consistent strength and sensitivity while the direction by ETO's veteran capo James Conway made its points without clutter or gimmickry. In the pit, meanwhile, Jonathan Peter Kenny conducted an orchestra that, if it lacked some of the heft and polish you might find in grander companies, played with a bracing zest, bite and tang. It made the most of writing, especially for the perky woodwinds, that claims its own shaping role in the action. Mozart composed with the celebrated Mannheim Orchestra in mind – they played at the Munich premiere – and the full-flavoured interjections from the pit don't just accompany but amplify the plot.
A sort of pound-shop Odysseus, Idomeneo, King of Crete, has bargained with the gods (never a good ruse) to save his skin from the ever-present sea – summoned here by the shifting colours viewed through the sliding panels of an austere, confining palace wall. In a simple, straightforward set conceived for flexible touring, Rory Beaton's lighting and Frankie Bradshaw's design must do a lot of work with minimal distractions. As they open and close, either in part or fully, the angled apertures behind the bare interior space reveal the clamour and danger of the outside world. There the passions of gods, nature and humankind will blow away every footling plan to master fate.
The king, coming back from his Trojan folly, has agreed to sacrifice the first mortal he meets on shore as the price of his safety: it proves to be his son, Idamante, secretly beloved by the exiled Trojan princess, Ilia. For her part, Elettra – daughter of Agamemnon and Clytemnestra – stalks the Cretan palace in a smouldering fury of thwarted will and unrequited love (for Idamante). Elettra is in some ways Mozart's masterstroke, impassioned and unreconciled in every white-hot note she sings.
Paula Sides (pictured below) started a little too light and frail, I thought, but her impact deepened through the yearning lyricism of "Idol mio". By the time of her full-throttle last-scene explosions in "D'Oreste, dAjace…", the voice – both vulnerable and vindictive – felt like a weapon of vengeance as well-honed and beadily aimed as knife she wielded.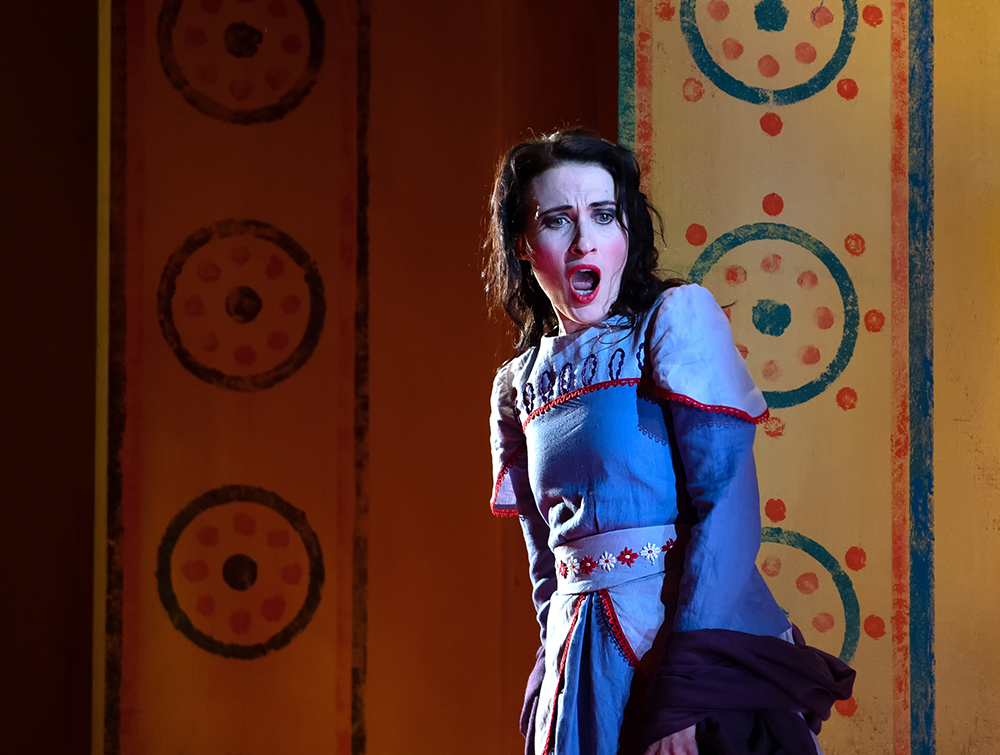 Guilt or grief (sometimes both) plague Idomeneo's crime-burdened court. In Conway's reading, characters spend a lot of time on their knees – and have to sing from that position. That sets a challenge to voices as well as joints, and at times it felt like a directorial tic, although the sounds that resulted never felt unduly sawn-off. Shrunken and diminished, this damaged family must plead for mercy and pity from the divine powers, and from one another. Behind, in that vividly-lit exterior space, the forcefully-sung chorus of Trojan captives and beleagured locals show that Crete's malaise has spread from the corrupted head to envenom an entire society.
Desperate to escape his vow to the sea-god to sacrifice Idamanate, Christopher Turner's Idomeneo (pictured two above with John-Colyn Gyeantey) has to sound both shifty and majestic in the same, extended breath. Turner has a commanding presence and a lustrous, chest-driven voice that gleamed with a dark menace in his second-act aria "Fuor del mar". (The English lyrics, projected onto screens at either side of the stage, worked as effectively as fancier surtitle systems.) As the lonely Trojan princess who must make a new home and life in this house crammed with guilty secrets, Galina Averina as Ilia (pictured below with Catherine Carby) began hesitantly but bloomed into the radiance and poise of a character who will help to rescue and redeem this broken home.
We see her first slumped in a corner of the palace: the clinging earth often seems to claim these burdened folk as much as the raging sea. Once or twice, I wondered if the stark inside-outside division imposed by the set locked the singers into its geometry and so compromised the intimacy of the music – for instance, in Ilia's heart-stopping (and finely sung) "Zefiretti lusinghieri". For the most part, though, less proved to be more in Conway's clean-lined, colour-coded staging. As Idamante, the breeches role composed for a star castrato, Australian mezzo Catherine Carby achieved nobility without solemnity. Her nicely detailed performance combined vocal assurance with a candour and freshness that fits this unassuming saviour. As the courtier-confidant Arbace, John-Colyn Gyeantey contributed some savoury touches of smoky, grainy commentary, as well-seasoned in the all-important recitatives as in his aria.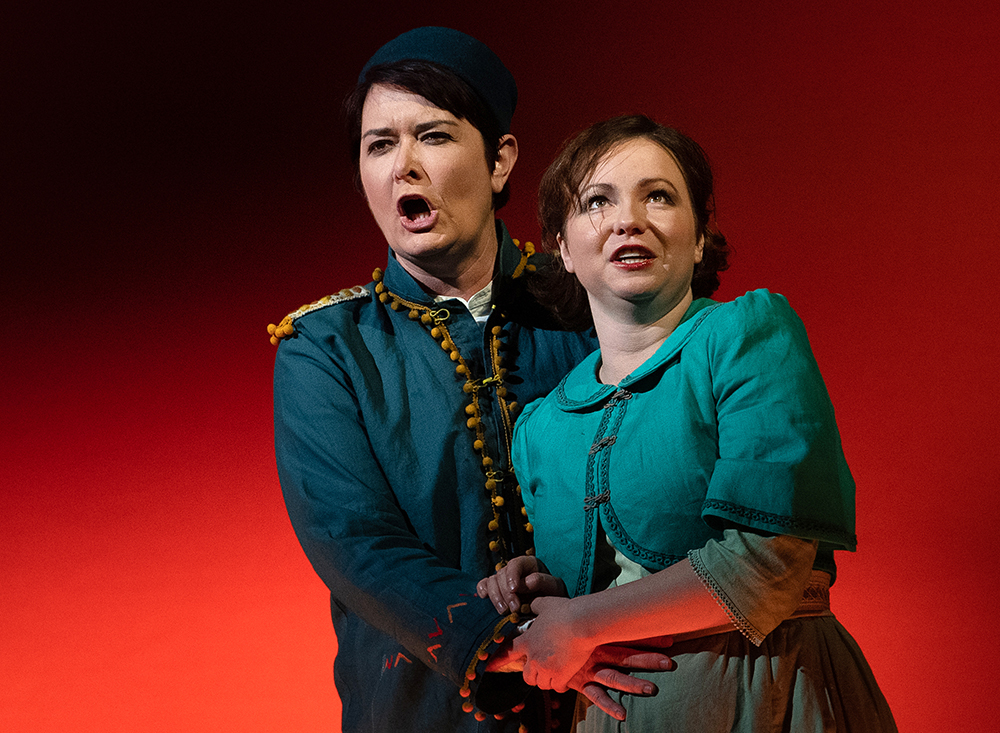 Dressed in the manner of late-Ottoman peasants and fisherfolk, the chorus weighed in with electrifying passages that displayed both a fierce togetherness and the projective power of a much more numerous troupe. At the close, they visibly broke through from the old world to the new as they breached the wall separating palace from shore to enter the domain of power: a place rejuvenated by the gods' offstage cancellation of Idomeneo's rash vow.
Although kept (for now) from murder or self-harm, "desperate Elettra" still embodies the unhealed wounds of the Trojan bloodbath, and the abusive patriarchal power that enabled it. Paula Sides, by now in her terrifying stride, lent a hectic frisson of danger to the revolutionary third-act quartet. That bravura piece most clearly looks forward, in its multi-faceted ensemble writing, to the operatic summits Mozart would soon scale. Honest, thoughtful, musically both robust and refined, this was an Idomeneo to win the hearts of audiences so far acquainted only with Don Giovanni, Così and Figaro. The rest of the ETO's tour venues have a real treat in store.
Less proved to be more in James Conway's clean-lined, colour-coded staging
rating
Explore topics
Share this article