Louise Bourgeois, Kettle's Yard, Cambridge review - a slender but choice selection |

reviews, news & interviews
Louise Bourgeois, Kettle's Yard, Cambridge review - a slender but choice selection
Louise Bourgeois, Kettle's Yard, Cambridge review - a slender but choice selection
Representative samples cry out for the domestic setting of Jim Ede's house
Louise Bourgeois, 'Couple I', 1996
Pink walls, slightly dusky in the subdued light of a room shielded from the wintry sun, suggest the bodily concerns of this show, which through the touring collection Artists' Rooms, boldly reviews Louise Bourgeois's career in a single, modestly sized, exhibition space at Kettle's Yard.
For a prolific
artist
associated with large-scale
sculptures
, the most obvious question is "How?". But though four sculptures are featured, including one of the
Cell
series, this is a show that makes much of Bourgeois's works on paper, including the 16-piece series,
A L'Infini
, where painting and drawing combine with print making. The result is a show so summary that it is glib in its coherence, with Bourgeois's familiar themes of identity and personal history,
female
sexuality and the physical constituents of the body, recurring with such constancy and frequency that she seems more than anything an artist with unnerving clarity of focus.
Even so, there is a sense of process, and of interests evolving. Printmaking – etching – was part of Bourgeois's artistic toolkit before she took to sculpture, and the mechanical preoccupations of The Stretch take her into the natural territory of the sculptor. A strand of some apparently biological, ickily malleable material is threaded and manipulated through a series of rigid implements, the forces exerted by and through materials of contrasting properties eliciting a curiously visceral response in the viewer.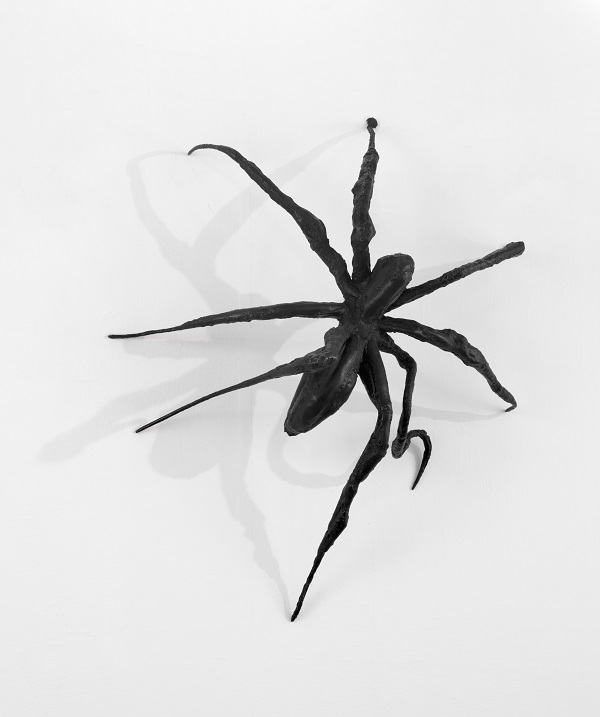 Forces locked in tension animate Couple I (main picture), a sculpture made from textiles, and suspended from the ceiling like a sack, or a child's swing, or a piece of meat. It is a work that gains power from its many contradictions: two bodies wrapped around each other so as to become one suggest the leaden mass of a corpse more than the pulsating bodies of lovers entwined. If from one angle the dangling legs suggest a position of extreme relaxation, like that of a baby carried in a sling, from another it seems more like the kind of stress position perfected in torture chambers.
A spider lurks in a corner, up near the ceiling, without doubt the most famous of Bourgeois's contradictions in sculpture. She always said she had the utmost regard for spiders, and through them represented her mother, who she said was her best friend. But however arachnophile one might be, there is no question of the menacing nature of these sculptures, and it is a vision of feminity and of motherhood that is fierce, terrifying and omnipotent. Likewise Tits, from 1967, which cast in a single bronze piece recalls a bullet bent out of shape more than the yielding warmth of a bosom. It has, still, a brooding, aggressive eroticism, the smooth bronze with its burnished areolas compellingly tactile in a way that parallels some of the most memorable works in the permanent collection at Kettle's Yard, brought together in the house-museum established by art collector Jim Ede in 1956. One longs to see it displayed in a room, near Gaudier-Breska's Caritas, 1914, or the tactile little fetish sculpture Torpedo Fish (Toy), 1914.
Less amenable to display within Ede's collection is the major work of the show, a series of etchings with pencil and watercolour from 2008-9, that conjure a womblike world in bloody, watery, skeins, the alpha and omega of existence, and the gamut of Bourgeois's work. Seen alongside her sculptures, they present an aspect of the artist's work that will be less familiar to many, but anchored in useful examples of her most celebrated works.
Louise Bourgeois at Kettle's Yard, Cambridge until 24 March
'Couple I' is a work that gains power from its many contradictions
rating
Explore topics
Share this article