A German Life, Bridge Theatre review - Maggie Smith triumphs again |

reviews, news & interviews
A German Life, Bridge Theatre review - Maggie Smith triumphs again
A German Life, Bridge Theatre review - Maggie Smith triumphs again
This memoir of a Berlin secretary in the Nazi era is the theatre event of the year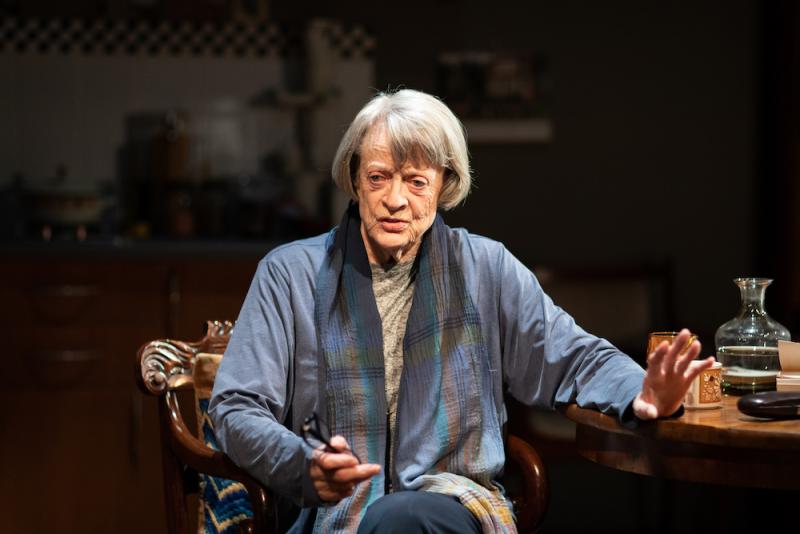 Guiltless guile: Maggie Smith in 'A German Life'
Maggie Smith is not only a national treasure, but every casting director's go-to old bat. Now 84 years young, she is our favourite grande dame, or fantasy grandma.
With an
acting career
of nearly 70 years, an instantly recognisable face and voice, and several shelves groaning with awards, she returns to the London stage for the first time in 12 years, tempted by Nicholas Hytner to perform a one-woman show at his high-profile
Bridge Theatre
. This time, the much-honoured Dame will be playing neither a dowager nor a professor, nor a Shakespearean heroine, but instead a real-life German secretary.
Her name is Brunhilde Pomsel, and she was born in Berlin in 1911. Having left school at 15, she trained as a secretary and worked for a Jewish insurance broker and then for a Nazi – at one point, for both at the same time: "Jew in the morning, Nazi in the afternoon". She was a rather nondescript bespectacled brunette, but she had one vital skill: she could do great shorthand. This got her a job in the news department of the Third Reich's Broadcasting Corporation in 1933. Here, she was told to join the Nazi Party. And she obeyed. In 1942, she was given the job of shorthand secretary to Joseph Goebbels, the Nazi propaganda minister. She was there when Berlin was fire-bombed in 1945, and when the top Nazis committed suicide. Yet through it all she claims she knew little about the Holocaust, and that she was more interested in men and clothes.
Behind the banality of evil is sheer bad faith
Alone on stage for 100 minutes, Smith mesmerises the audience, not with her familiar waspish putdowns or crazy flightiness, but with something much more insidious and sinister: complete ordinariness. She is compelling because of her calm normality, an old woman having trouble with her memory. Seated for the whole time, her knees pressed tightly together, her gestures are spare but revealing. When she says how much she loved Berlin, her arms make an expansive arc; when she talks about the persecution of the Jews, she bows her head; to help her memory she taps her cranium. When recalling the horrific air raids she briefly touches her stomach. This restraint draws us in.
Christopher Hampton's beautifully succinct monologue is based on the 30 hours of interviews which Pomsel gave to a group of Austrian film-makers about a year before she died at the age of 106 in 2017. Their documentary, Ein Deutsches Leben, came out in 2016. Hampton's version is magic: he builds up a picture of a young woman who claims to have no interest in politics, almost fooling us into believing her protestations, before showing the moral challenges of knowing her Jewish friend Eva Löwenthal, and finally producing a last-minute revelation that is shocking it its implications. Despite her claims of not being ethically troubled, the odour of deception hangs in the air. Behind the banality of evil is sheer bad faith.
Gradually, Smith shows how Pomsel has inner strength. Her voice rises in rapture as she describes her joy at being young and then flutters with muffled incredulity as she describes Goebbels, a well-dressed small man who she thinks has a manicure every day, turning into a "demented midget" when he makes his "total war" speech in 1943. But, for the rest, Smith uses her powers to radiate a quiet confidence that is stronger than exaggeration. Whenever she is being evasive, she hesitates, stumbles, regroups. Like the memoirs of Traudl Junge, Hitler's secretary, there's a real sense here that ordinary life in the office takes place by light of the sickly glow of a monstrous regime and to the horrific soundtrack of the apocalyptic destruction that was wrought by the Nazis.
Pomsel claims that she feels no guilt, but her postwar experiences as a prisoner of the Russians (she spent five years in the same concentration camps which were used in the Holocaust) illustrate how a twist of fate can change anyone's life. Yet her casual racism, the comments about Jews and money, her deliberate ignorance about whether someone she met at the Berlin Olympics was Japanese or Indian, are enough to make anyone uncomfortable. While one can easily agree with her attitude that most Nazi propaganda was aimed at creating a ridiculous level of mass hysteria, she also illustrates the fact that many ordinary Germans supported the regime through dogged loyalty and everyday work.
Sitting in Anna Fleischle's kitchen setting (pictured above), Smith looks comfortable enough, suggesting the complacency of a person who knows that her self-serving evasiveness will protect her from reprisal. As directed by Jonathan Kent, who uses the venue's thrust stage to gradually bring Smith closer to us, this stage picture gets the "twilight of the gods" treatment from Jon Clark's lighting, and Paul Groothuis's radio soundtrack reminds us of real historical events. The overall effect is like taking several steps in the normalisation of political extremism. If it is true that not every citizen can be a resistance hero under a dictatorship, it is equally right that those that make a career out of complicity with barbarism cannot be easily forgiven. This ethical point seeps out of Smith's compelling performance, and is a timely reminder of how easy it is to support the wrong side. Without doubt, this is the theatre event of the year.
Despite her claims of not feeling ethically troubled, the odour of deception hangs in the air
rating
Share this article