Rokia Traoré: Né So, Brighton Festival review - an Afro-psychedelic head-fry |

reviews, news & interviews
Rokia Traoré: Né So, Brighton Festival review - an Afro-psychedelic head-fry
Rokia Traoré: Né So, Brighton Festival review - an Afro-psychedelic head-fry
Focusing mainly on her last two albums the Malian musician hypnotizes her audience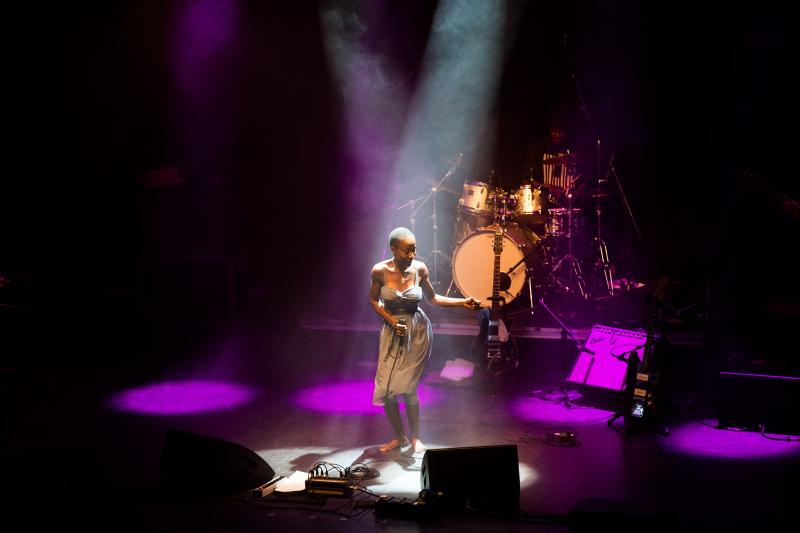 Rokia Traoré puts her guitar down and cuts some shapes
The last thing many were expecting from Rokia Traoré's opening appearance at this year's Brighton Festival was an Afro-psychedelic head-fry, yet she and her four-piece band prove thoroughly capable of swirling our minds right off out of it. When she returns at the end of the concert and announces she's going to play one last song. A voice shouts out, "Make it a long one!" Happily, it is.
The final number, "Köté Don", is a culmination of the evening's ethos, dragging listeners away once more into precisely estimated - yet elastic - patterns of rockin', revolving minimalism.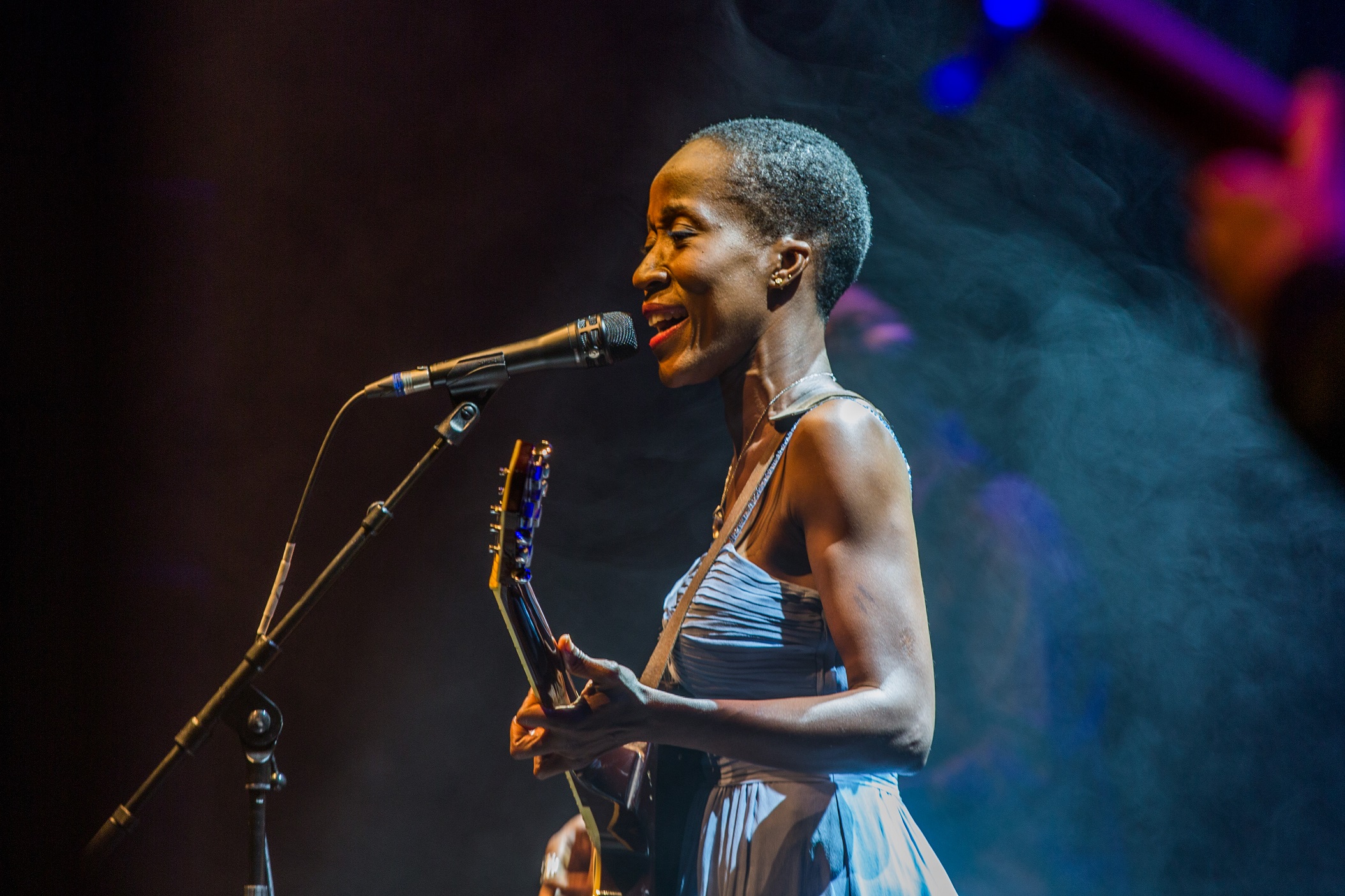 Dating back 16 years, "Köté Don" is the oldest song in tonight's set for the Malian musician has entitled the concert for her latest album, 2016's Né So. She is Guest Director of this year's Brighton Festival and is performing two more concerts with other themes but tonight the emphasis is firmly on a classic rock band format of Traoré and riff kingpin Stefano Pilia on guitar, Rody Cereyon on bass and Saidou Ilboudou on drums. There is, however, one African sweetener in the form of Mama Diabaté on the ngoni. This is a small, wooden lute-type instrument from which a very particular high-pitched tinkling twang emanates. Once used to accompany the story-songs of Mali's jeli (griot) musicians, tonight it adds key sonic filigree to the core rhythms of the other instruments.
Traoré appears initially in a buttoned fawn jacket but soon discards this to reveal a shoulderless pale blue knee-length dress. She is slight of figure, short of hair, her guitar looks enormous against her, but this sense of vulnerability is cut through with strength and charisma. On "Amour" she generates a sense of intimacy among the guitar play but, by contrast, is equally cable of whipping up a hypnotic drone-pulse, on a ten minute version of "Obikè". Such is the mantric potency I'm occasionally reminded of globally-influenced alt-rock experimentalists such as Goat.
While half the set if drawn from Né So, at least four songs derive from 2013's Beautiful Africa, including the title track which turns into a highlight. Traoré's voice rides atop the music's urgent repetition, a passionate message of love for her continent flowing forth. The compelling relentlessness is then contrasted with the lovely calm of slow-burning oldie "Zen", whose balmy beginning belies the funk that follows, with Traore dumping her guitar in favour of cutting some shapes.
I am in the seated balcony and by this point am envious of the dancing ranks downstairs in the stalls, a moving human savanna. All around is morgue-like up here, with some actually asleep. It makes me wonder if they're here to be part of this or just because it's the opening night of the festival and there is a social onus to attend. My partner and I retreat to the back to the balcony where we can sway and sway into this sound. Rokia Traoré is gently persuasive and, eventually, irresistible.
Below: Watch Rokia Traoré's Brighton Festival trailer
She is slight of figure, short of hair, her guitar looks enormous against her, but this sense of vulnerability is cut through with strength
rating
Share this article