The Virtues, Channel 4 review - close and personal with stunning Stephen Graham |

reviews, news & interviews
The Virtues, Channel 4 review - close and personal with stunning Stephen Graham
The Virtues, Channel 4 review - close and personal with stunning Stephen Graham
Shane Meadows returns to directing TV with brutal realism
The Brooder: Stephen Graham as 'Joseph'
The Virtues (Channel 4) sees director Shane Meadows (Dead Man's Shoes, This Is England) reunite with actor Stephen Graham in what is certainly their most raw and emotionally bruising project to date.
Meadows returns to familiar territory, with themes of disaffection and
familial
separation mapped over a small cast of characters who are grappling with emotional turmoil. Graham, in a career standout performance, has never seemed so bare – or so
dramatically
powerful – as he is here. It is a supremely controlled display of a man in chaos, grasping for redemption.
He plays Joseph, a middle-aged labourer who is just able to keep himself afloat by helping a friend with various jobs. Joseph has learnt that his ex Debbie (Juliet Ellis) will take his son Shea (Shea Michael-Shaw) away to live in Australia. It is news that Joseph has accepted with stoicism but which he clearly finds unbearable. Or to use a manly euphemism, he's "knackered", which is pretty much the first word spoken by a character and which hovers throughout as the show's overarching mood. It is in Stephen Graham's sagging eyes, searching through the wreckage of a traumatic past. It is the pared-back script, which eschews dense dialogue in favour of silent gestures wrought with pent-up feeling. It is even in the camerawork, which sits back and lets the action (or inaction) unfold, or which simply stares at Joseph, who also does a lot of staring, out into undiscovered emotional territory. In other words, this is minimalist social realism. But Meadows succeeds in his approach if only because by slimming down he achieves a maximum of emotion.
The effect is shattering during the farewell dinner scene in which Joseph is invited to a kind of Last Supper with Debbie, Shea and Debbie's new partner David (Vauxhall Jermaine). We watch patiently through all the banalities that accompany such a social gathering. Joseph is asked about his job. He engages with David, restraining any ill feeling that may be lurking. Debbie talks about finding an apartment and appropriate schooling in Australia. Then Shea says that he's excited to move, but worried about missing everyone back home. The comment is too much for Joseph, who fails to conceal tears, and apologises as he tries to swallow his emotion and carry on with normality.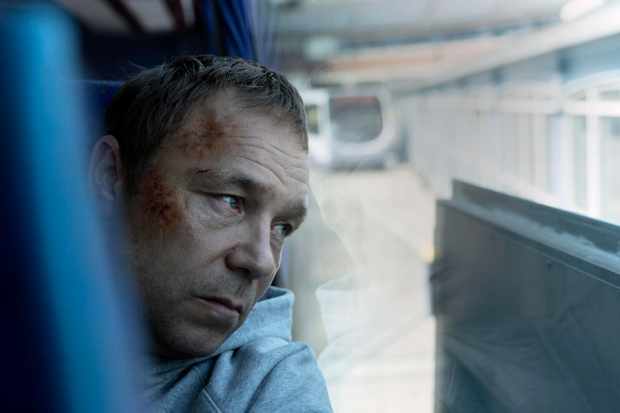 Meadows and co-writer Jack Thorne keep the histories of the characters largely unexplained. What we are given instead is close visual observation of the minutiae of expressions that gradually reveal truths. It is a daring move, and one that works because of the complexity and subtlety of Stephen Graham, who in almost every eye-glance or hand movement describes an entire trait or attitude. When we see him alone in a pub, hunched in a corner, nervously caressing a full pint, pondering whether or not to take his first sip, so much is suggested about the kind of damage Joseph had inflicted on previous relationships.
The Virtues is the opposite of grand, sweeping storytelling: this is raw, squalid, honest realism. In the muck of misery it explores, there surfaces a pressing question: how should we respond to Stephen's plight? Does Meadows ask us to seek out the virtues in Joseph? How do we square up the pain he has caused with the pain that has been caused to him? The answer, of course, is that it's meant to be left open. But the questions are irrelevant because you'll probably be too knackered after watching this to have anything left to give.