CD: Morrissey - California Son |

reviews, news & interviews
CD: Morrissey - California Son
CD: Morrissey - California Son
An often ear-pleasing covers album, but from a singer who urgently needs an artistic statement that clarifies his worldview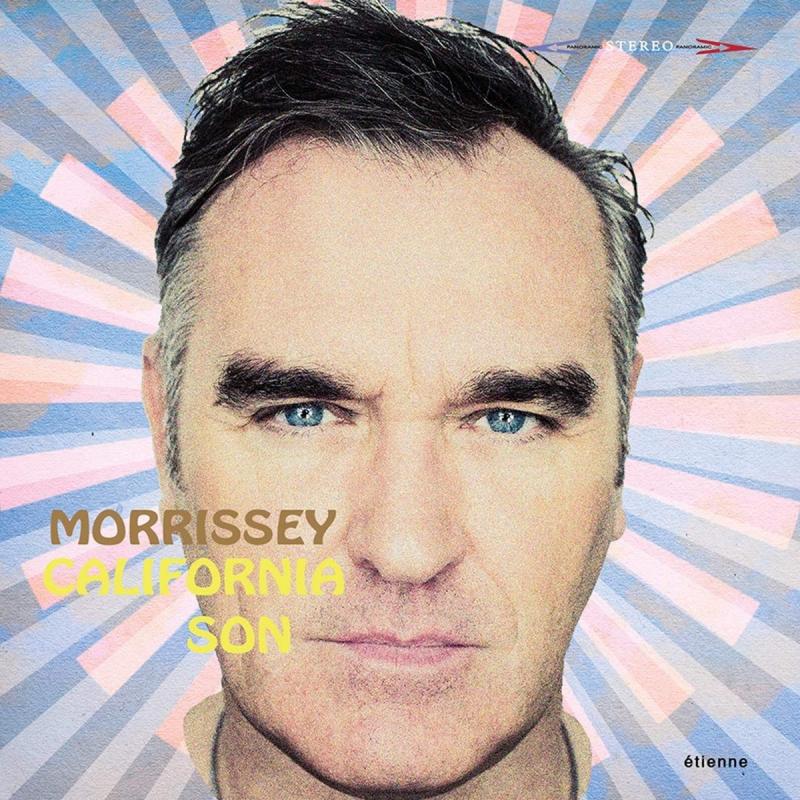 But is everybody having fun with this warm California son?
Unfortunately, it's now reached the point where it's impossible to mention Morrissey without politics overshadowing music. His recent wearing of a For Britain Party lapel pin on US TV is only the latest in a catalogue of public stances that seem to indicate he's a fan of the far right.
His new album, an imaginative explosion of intriguing cover versions, including multiple collaborations, may be an attempt to move the conversation on but, for many, things have already gone too far.
From mid-Seventies Bowie to 21st century John Lydon, Morrissey's home of Los Angeles can do strange things to iconic British musicians. They become frozen in time, their view of Britain out-of-touch, their press interviews overcome with a warped nostalgia curdling to something more misguided. It also affects the music. California Son is Morrissey's most LA album. Parts of it could be prime time Tom Jones, notably the stomping, brassy take on Gary Puckett and the Union Gap's "Lady Willpower" and the light, frolicking stab at Dionne Warwick's "Loneliness Remembers What Happiness Forgets".
Such musical vamping is welcome from this dour enigma, although going too far on another kitsch Sixties hit, "Wedding Bell Blues", featuring Green Day's Billie Joe Armstrong. The album could even be regarded as Morrissey's eccentric sally into Rod Stewart-style Great American Songbook territory, with an impressive, reverb-laden, castanet-clad version of Roy Orbison's "It's Over", but he's ever a fan of meatier lyrics as on the chewy, guitar-led "Morning Starship" and Tim Hardin's elegy for doomed comedian Lenny Bruce, "Lenny's Tune". Perhaps best, though, is the noisy, almost avant-jazz rendering of Buffy Sainte-Marie's complex, sinister "Suffer the Little Children".
In terms of his views, Morrissey chooses to blur the lines, as ever, giving us young Bob Dylan's "Only a Pawn in the Game", a song that famously suggests the assassin of civil rights activist Medgar Evers was due sympathy as the product of a broken system. He even manages to choose an ambiguous, observational song by radical left folkie Phil Ochs – "Days of Decision" - where he could have picked one of many by the singer that make an absolute stand against racism.
Perhaps California Son's most telling line is from a likeable torch song version of Melanie's "Some Say I Got Devil": "And though I'd like to tell you/Exactly how I feel/Somehow the music hides it and conceals it." Not good enough. This is an enjoyable album but if Morrissey feels he's been misrepresented, he should offer clarity. The summative pop lyric of the year isn't from the man who once led The Smiths, it's from a recent single by The Specials and it goes, "We never fought for freedom/For nasty little brutes like you/To come undo the work we do/You bring shame on this country for true." And Morrissey would do well to heed that.
Below: Morrissey perfoming Jobriath's 1973 song "Morning Starship" while wearing the infamous lapel pin on The Tonight Show With Jimmy Fallon in May 2019
Musical vamping is welcome from this dour enigma
rating
Share this article